Rescued Baby Aardvark Loves Sleeping In Dog Beds
When it's hot, she climbs into the bathtub to sleep.
The baby aardvark had lost her mom.
She was found near a pipeline on a farm in Namibia. When a woman picked her up, she saw that the aardvark's feet were covered in sores. The baby must have tried to follow her mom over the pipeline and gotten stuck.
The aardvark was also very weak and very dehydrated - she'd probably been alone for a couple days.
The woman searched for the aardvark's mother, but couldn't find her anywhere. The next thing she did was phone Erika de Jager, a local veterinarian, and ask if she'd take care of the aardvark baby.
"I was so happy," De Jager tells The Dodo. "Aardvarks are extremely rare to see in real life and many people have never seen one. I said, 'When can you drop her off?' And she said, 'Right away.'"
De Jager runs a small animal rehabilitation center called ZURI Orphanagefrom her home. She'd taken care of many animals before, including cats, doves, snakes, eagles and porcupines ...
... but she'd only taken care of one other aardvark.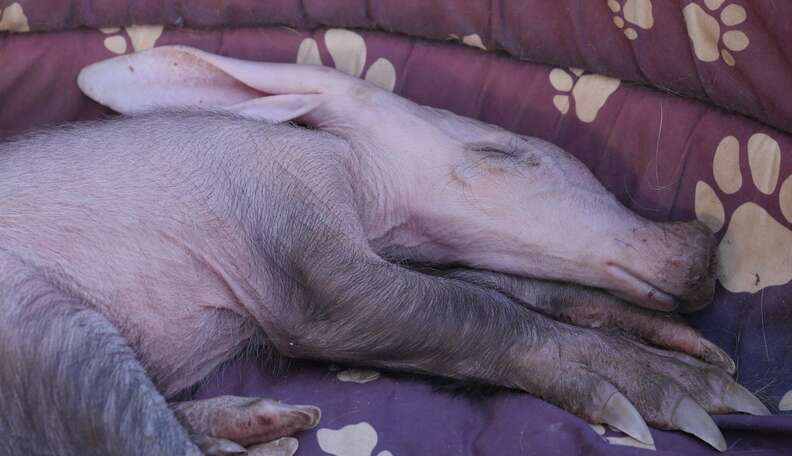 De Jager had named her other rescued aardvark E.T. after the extraterrestrial movie character. In keeping with the E.T. theme, she named the new baby Gertie, which was the name of the little girl in the movie.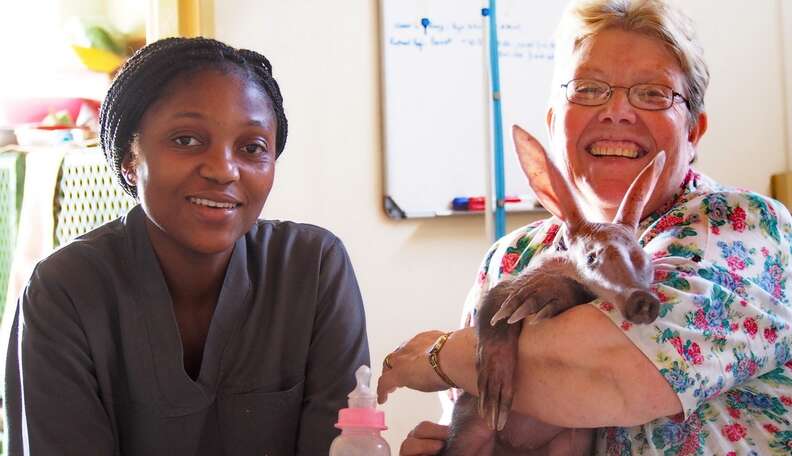 Gertie the aardvark was probably about 4 to 6 weeks old, but De Jager couldn't tell for sure. What she did know with certainty was that Gertie was in bad shape.
"It took me three days to get her to drink," De Jager said. "I bought every single baby bottle and teat under the sun."
Eventually Gertie did drink - voraciously. De Jager feeds Gertie kitten milk, which has the right fat content for her. She's fed every couple of hours.
Aardvarks are nocturnal creatures, so when Gertie isn't eating, she sleeps ...
... and she sleeps a lot.
De Jager usually prepares dog beds padded with pillows for Gertie ...
... but when it's too hot, Gertie will sleep in the bathtub.
Since De Jager works at a veterinary clinic during the day, she takes Gertie with her so she can keep an eye on her. "She mostly still sleeps and we take her out for walks when she wakes up," she says. "Aardvarks are very clean animals. They dig a hole in the sand and cover it up when they are finished when they need to urinate or defecate. She makes a sound like a baby goat."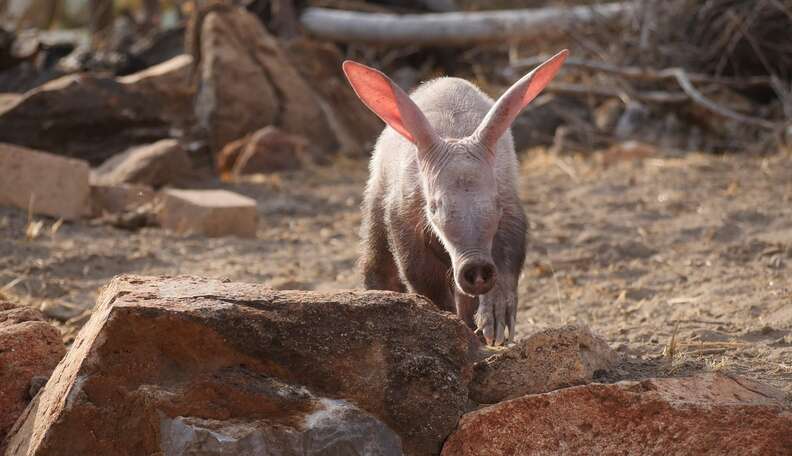 When Gertie gets bigger and stronger, she'll be released back into the wild.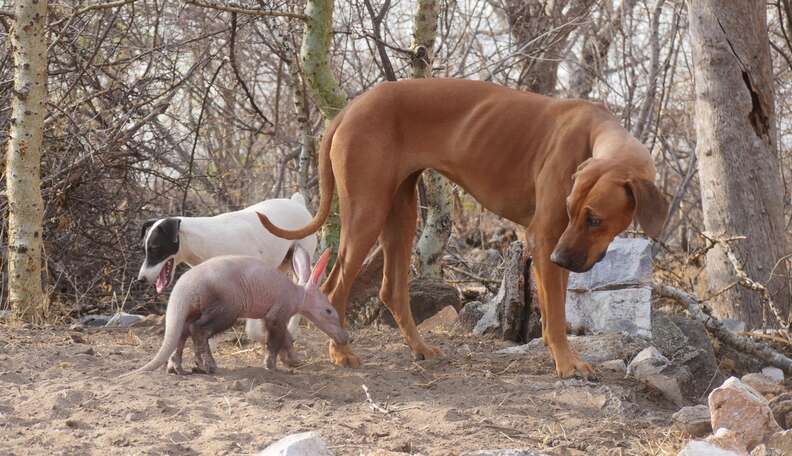 But for now, De Jager is loving every minute with Gertie.
"I love to watch her," De Jager says. "She's so beautiful. They are so rare, and I feel like a million dollars being so lucky to raise her."
To help aardvarks and other African animals, you can support ZURI orphanage by donating here.