Shelter Sends Rescue Puppies To Deliver Valentine's Day Gifts
They're hoping it helps find them a forever home ❤️
For the past seven years On Valentine's Day, instead of sending ordinary flowers or candy, Brother Wolf Animal Rescue has been delivering what it calls "puppygrams."
Basically, people can place orders with the rescue, based in Asheville, North Carolina, to send their loved ones roses, a card and a cupcake - all delivered by an adorable, adoptable puppy. Those who are feeling extra generous can even upgrade to two puppies, who will deliver a cupcake, a dozen roses and four handmade truffles.
"We first came across the idea on a fundraising message board back in 2011, and it just took off here in Asheville the first time we tried it," Jackie Teeple of Brother Wolf Animal Rescue told The Dodo. "We also use local bakeries, chocolatiers and florists for the supplies so it's a great way to support our local businesses as well."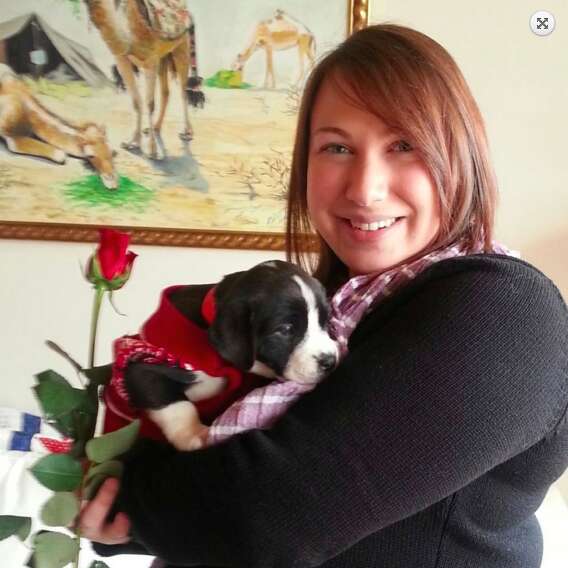 All of the puppies who make the deliveries are adoptable, and this year, 10 of the puppies involved have an incredible rescue story, making their deliveries even sweeter.
Morgan the pregnant dog was homeless and about to give birth, so she took shelter under a deserted home to have her puppies. Unfortunately, the little family ended up stuck under there in the freezing cold, until a construction crew working on the home heard tiny cries coming from underneath the floorboards.
The construction workers quickly got permission to pull up the floorboards, and were able to rescue Morgan and her 10 newborn puppies. The owners of the home reached out to Brother Wolf Animal Rescue to see if they could take the mom and her puppies, and they of course agreed.
Morgan and her family immediately went into foster care, where the puppies grew stronger and healthier every day. The puppies are around 8 weeks old now, and finally looking for their forever homes.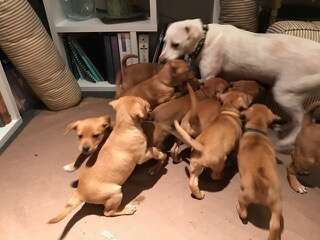 "All puppies are available for adoption, and are scheduled for spay/neuter tomorrow," Teeple said. "Folks can complete an application online or at our center, work with an adoption counselor to make sure it's a good fit, then take the pups home once they're back from surgery!"
This year, the rescue will be delivering over 100 puppygrams to dorms, schools, homes and businesses, all with the help of Morgan's adorable crew. Not only will hundreds of people get a sweet surprise, but the puppies will no doubt get tons of love too - and maybe even find incredible homes in the process.