2-Legged Dog Survives By Hopping Like A Kangaroo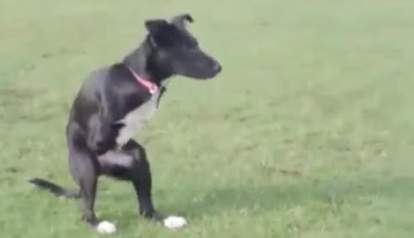 <p> <a class="checked-link" href="https://www.youtube.com/watch?v=FsEhm_dssb4">YouTube/TrendingNow</a><span></span><br></p>
Roo may be a 5-month-old puppy, but she's been mistaken for a bouncy marsupial more than once. With no front legs, she's learned to hop around on her two back ones, just like her namesake - the kangaroo.
Born in Romania, Roo was only 16 weeks old when she was taken in by Safe Rescue for Dogs, a U.K. charity that rehomes canines, many who need special medical care and attention.
(YouTube/TrendingNow)
By the time she arrived at the rescue, Roo had already figured out how to get around using only her hind legs.
"She didn't stop jumping around, and her favourite trick was to bounce off the sofa onto the other dogs," Kelly Hare, the co-founder and director of Safe Rescue for Dogs told the Telegraph. "She has never known life with four legs so it's not like she looks at other dogs and wishes she had four legs. She's just making the best of what she has and doing a fine job of it."
Ian and Nikki Dick of Northumberland, U.K., a firefighter and nurse, were delighted to adopt Roo. When she joined their family in December the couple already had six other rescue dogs, but Ian and Nikki made it clear that Roo can hold her own.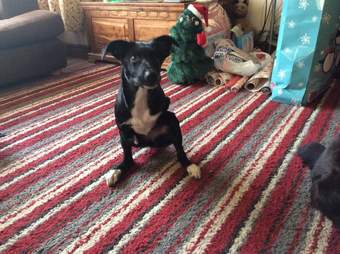 "Roo doesn't know any different to hopping on her two back legs but she still laps up all the fuss from people who always stop and do a double take when they see her because they think she is a kangaroo," Nikki told the Telegraph.
Roo's new family eventually wants to get her a set of wheels to make getting around a little easier, and Safe Rescue for Dogs has set up a fundraising page to help pay for Roo's wheels as well as her weekly hydrotherapy sessions.
(Facebook/Safe Rescue for Dogs)
"If they hadn't brought Roo to the U.K., she would not have survived living on the streets with two legs. She wouldn't be here now," Nikki said. "Despite what she has been through she is full of personality and so loving and we feel very lucky to have her. She might look like a kangaroo but to us she is just our little puppy Roo."
Roo isn't the first two-legged dog named after his Australian look-alike. This puppy born without his front limbs got help from a San Diego–based company who made him a mobility cart.
Watch Roo in action below: