Pig Wants To Snuggle So Much She Won't Let Dad Off Couch
George the rescue pig just can't get enough cuddle time on the couch with her owner - which makes complete sense, because couches are cozy, and everyone loves snuggles.
After a rough start, George was lucky to find a forever home to grow up in, and she seems to be loving her life... and her couch. (And, yes, George is a girl).
When Rob Robol of Columbus, Ohio, saw an ad on Craigslist posted by a man looking for a good home for his potbellied pig, Robol immediately knew he wanted to help. He didn't want to risk the pig being sent to a shelter.
George's previous owner had recently been injured in a car accident and could no longer take care of his 11-month-old pig, so he wanted to find her a loving home.
And that's how the love story between George and Robol began.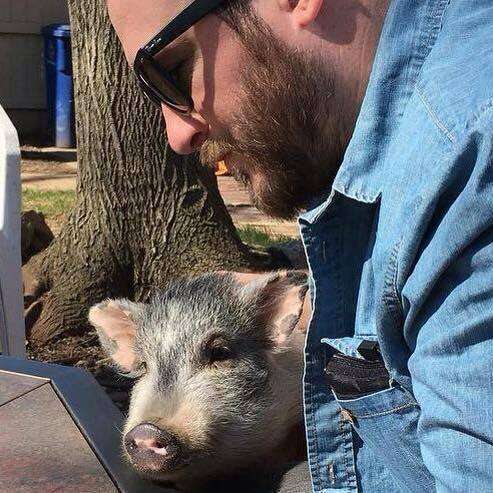 George, who was named after Robol's best friend who passed away the same day he rescued her, is now 17 months old and loving every minute of her life. She stays busy playing outside and running around the house.
"I have a big fenced-in backyard and a livestock permit through the city's board of health," Robol tells The Dodo. "A lot of our time is spent back there rooting, running around and playing in piles of leaves. We also go on hikes in the country."
In fact, she plays so hard during the day that she spends her evenings totally tuckered out. But there's just one problem (a 50 pound problem) - she refuses to leave the couch when it's bedtime.
"At night, she won't leave the couch because she's a lazy ragamuffin who loves to Netflix and chill - just like her dad," Robol says.
"When it's finally time to go to sleep, she'll growl and moan for a while and put all of her weight into me," he adds.
"Then when I push hard enough, and she knows there are no more 'few more minutes,' she'll hop up on her feet, give me one last disappointed look and then climb down off the couch and head into her room."
That's right. George has her very own room. Robol lives in a duplex, and since the other side of the house is empty, George sleeps in the extra kitchen. Robol is planning on putting in a 'piggy door' so George can go into the backyard as she pleases.
"I sleep upstairs," he explains. "She comes upstairs to watch movies (if we want to lay on the bed instead of the couch) or when she has to take baths. She's really good with stairs, but I try not to have her climb a ton because their bodies just aren't built for doing so."
As she gets more and more comfortable in her home, she's becoming more adamant about not wanting to go to sleep at bedtime.
"Lately she'll climb down off the couch and wait until I get up," Robol says. "Then she will run around the coffee table, hop back on the couch and hide her head behind pillows thinking I can't see her."
"Sometimes I'll fall asleep on the couch with her, and she gives my nose a little nibble when I (allegedly) start to snore," he says.
Robol is giving George a beautiful, loving life as she grows into an adult. It's important to remember that potbellied pigs do grow up. They don't stay young and small forever. So if you're thinking about adding a pig to your family, inform yourself of what it takes, and, of course, always consider rescuing.