Piglet Rescued From Factory Farm Thinks She's A Dog Now
"She considers dogs to be her people."
The first clue that the piglet had come from a factory farm was her tail. Or lack of a tail, to be precise.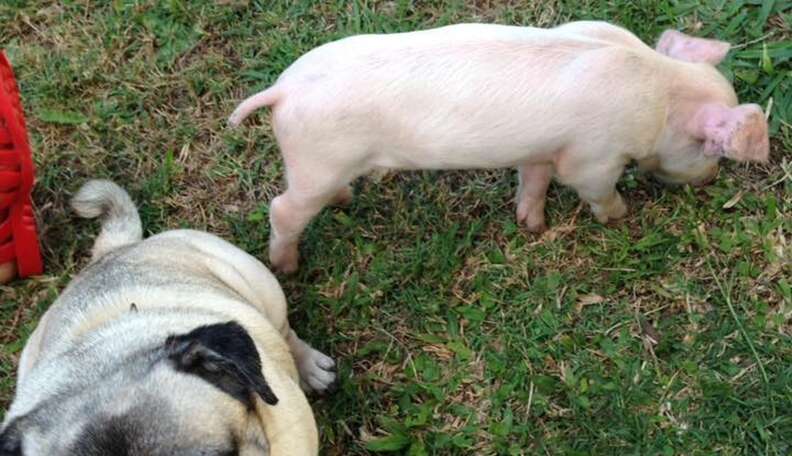 In factory farms, it's standard practice for farmers to dock piglets' tails so other pigs don't bite them, which is something they can do when kept in stressful environments.
The second clue was that the piglet was a white large breed, the kind of pig typically used in meat production.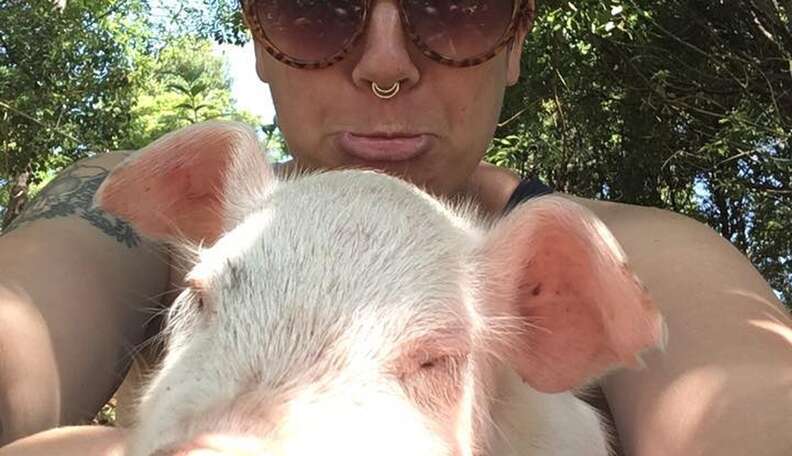 The piglet had mysteriously arrived in a crate outside the gate of Sugarshine Farm Sanctuary, an animal haven in New South Wales, Australia. Kelly Nelder, the cofounder of Sugarshine, figured an animal lover rescued the piglet from a factory farm and delivered her to the sanctuary for a better life.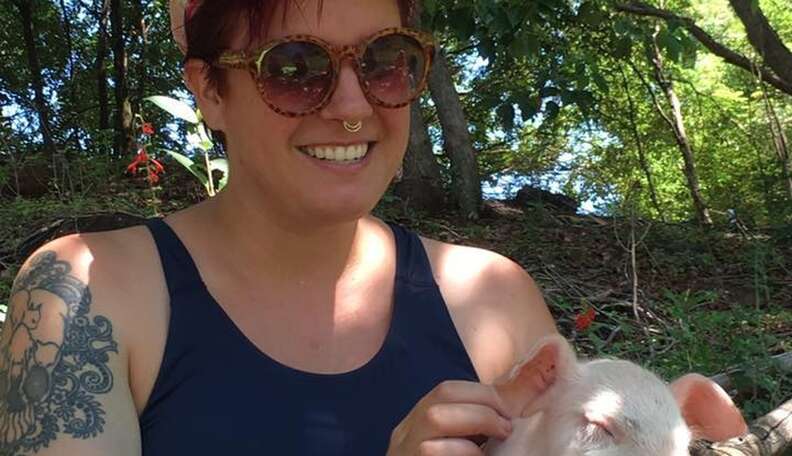 Whatever the case, Nelder and the sanctuary volunteers fell immediately, head-over-heels in love with the piglet, whom they named Dreamy.
But Dreamy was only about 2 weeks old - she should have still been living with her mother - and whatever she experienced before she was rescued had taken its toll on her.
"[Dreamy] was quite listless and withdrawn when she arrived," Nelder told The Dodo. "Her eyes had no spark and she was disinterested in what was going on around her."
But as Dreamy began to explore the world around her, and likely feel fresh air for the first time in her life, everything changed.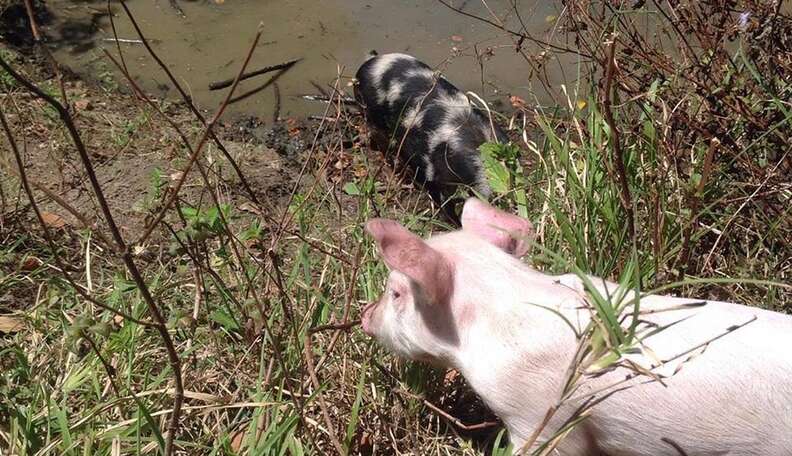 "Dreamy adapted to [sanctuary] life immediately," Nelder said. "She clambered over rocks, nibbled on grass (and spat it out again), chased and snuggled with the dogs, climbed onto my bed and ran around in circles."
She also began to take the little naps that earned her her name. "Dreamy loves to nap and when she does she is obviously dreaming of adventures - her legs kick and wriggle like she is running free and she has the sweetest gentle smile on her face when she sleeps," Nelder said. "So we thought that Dreamy was the perfect name for this little dreamboat."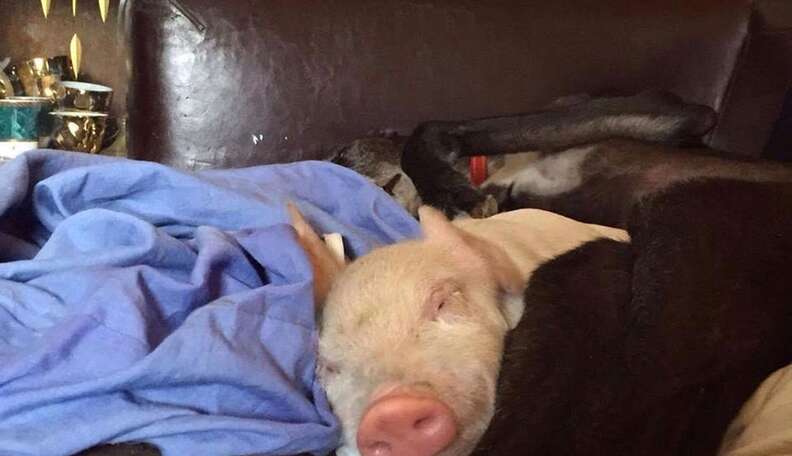 "We were worried she would be overwhelmed but she revelled in everything and it was like she couldn't get enough of her new world," Nelder added.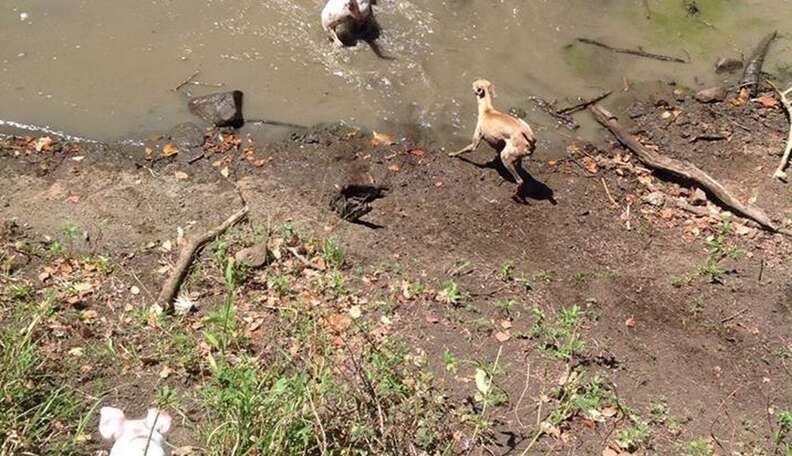 Dreamy quickly grew to enjoy everything at the sanctuary, and discovered she particularly loved hanging out with the four rescue dogs - Wally, Pencil, Blanco and Isabel.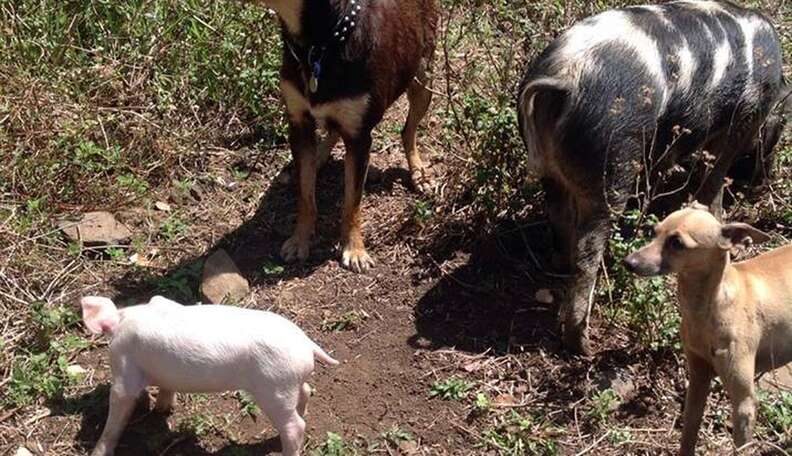 Dreamy started following the dogs everywhere - she wanted to do everything they did. Now she goes on walks with the dogs, plays with the dogs' toys and chases the dogs around Nelder's living room.
More than anything else, Dreamy loves snuggling and snoozing with the dogs.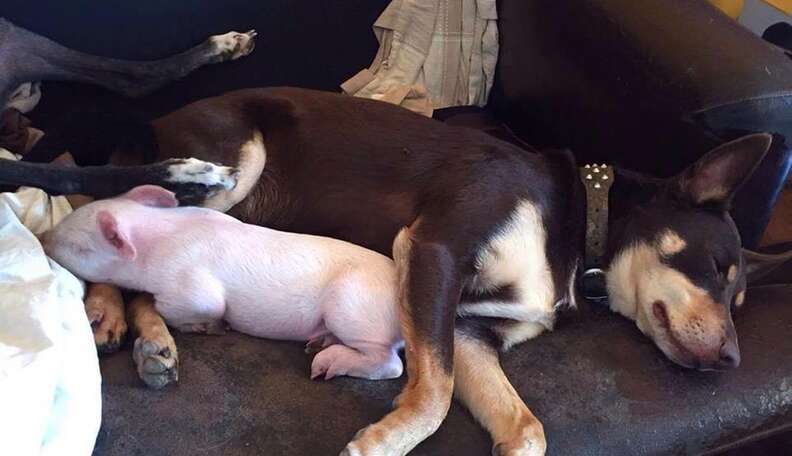 "We'd hoped that Dreamy would bond with some of the other young pigs at the sanctuary but she considers dogs to be her people," Nelder said. "They started to bond after Dreamy kept climbing on them and one day, mid-climb, she just dropped off to sleep on top of Wally dog."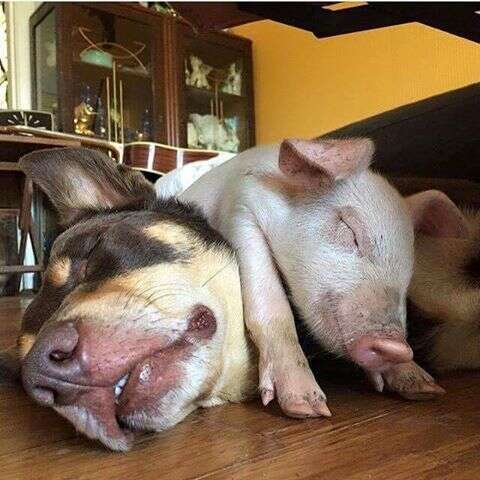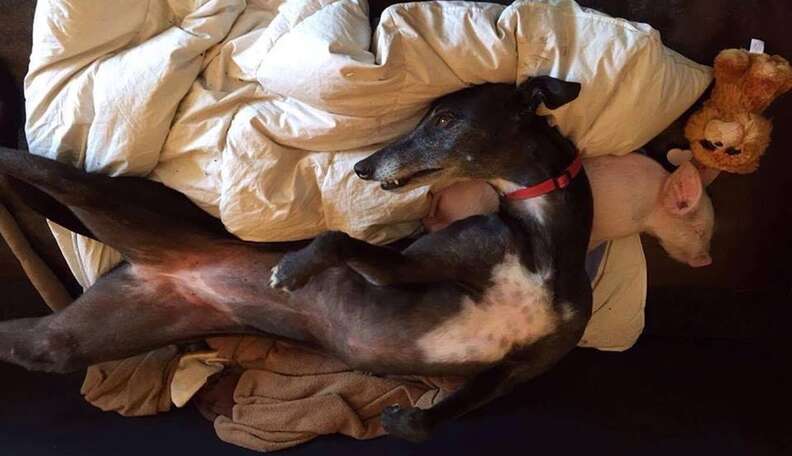 ... or curled up beside a dog. This is how Dreamy likes it.
The dogs seem to love snuggling as much as Dreamy does. But the cat? Well ... she's a different story.
"Snowy is a rescue cat with a big personality, and that personality doesn't want a pesky pig hanging around cramping his style," Nelder noted. "Dreamy thought Snowy was an odd-looking dog who might like a snuggle like the dogs, but quickly found out differently."
Dreamy might not have had any luck with Snowy, but Dreamy doesn't seem to mind - she has plenty of other friends at Sugarshine.
"Nothing seems to faze Dreamy," Nelder explained. "She wants to experience everything she can in life. Pigs are so lovable, mischievous and affectionate. They deserve to be a part of the joys of life, like warm sunshine, a chance to explore this amazing world we live in and to experience love just like a pet dog, cat or any other animal should have."