Piglet Saved From Barbecue Loves To Be Held In His New Dad's Arms
"He was just so cute. I had to have him."
For the first three weeks of Albert's life, he lived on a farm with his mom and four siblings. He spent his days nursing and sleeping, cuddling up to his brothers and sisters to keep warm.
Karen Acoveno
Albert should have stayed with his family for many more weeks, but everything changed when a group of five young men visited the farm. They wanted to buy pigs to roast on spits, according to Mike Stura, founder of Skylands Animal Sanctuary and Rescue, and they set their sights on Albert and his siblings, who were Kunekune pigs.
"As far as I understand, four of them bought piglets, and one did not," Stura told The Dodo. "Albert was the runt, and the farmer asked the fifth kid if he wanted the runt because he was so tiny, and the kid said 'Yes.' But he took him home to his parents - he didn't want to kill him."
Skylands Animal Sanctuary and Rescue
The guy's parents agreed to help find Albert a home. They initially contacted Farm Sanctuary in New York. Farm Sanctuary wanted to help, but couldn't take Albert because the sanctuary was already at capacity. So Farm Sanctuary got in touch with Stura in New Jersey.
But Stura wasn't sure if he could keep Albert, either. He already had nine big pigs at his sanctuary and, in his opinion, he didn't have any more room. But Stura decided to commit to helping Albert find his forever home, and he met the guy's parents at an abandoned gas station halfway between their homes.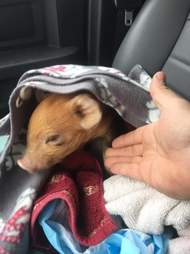 Skylands Animal Sanctuary and Rescue
"I got out of my truck, and the husband got out of his truck, and he and I were standing there talking," Stura said. "We introduced each other while the wife was sitting in the pickup truck. So I'm talking to them, and I said, 'We'll find him a good home. Don't worry.' I took three steps forward and looked into the window, and she had this little pig wrapped up in a tiny, polka-dot baby blanket. And I said, 'OK, I'll be keeping him.' He was just so cute. I had to have him."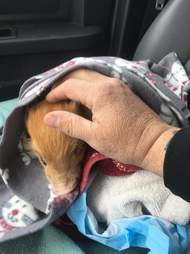 Skylands Animal Sanctuary and Rescue
Stura fell in madly love with Albert's pink snout, fuzzy body and tiny physique. "He's just so small," Stura said. "He's three quarters of a loaf of white bread."
Albert is a runt, so he'll probably always be on the smaller side. Still, when he grows up, Stura expects him to weigh between 200 and 350 pounds.
Albert also loves cuddles, more than any pig Stura has encountered.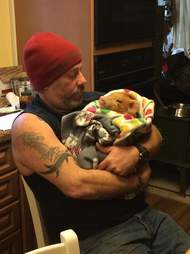 Susie Coston
"You could wrap him in a blanket, and he'll just stay there, like a baby," Stura said. "He won't even try to get away at all, which is funny because pigs don't like to be picked up at times. But he loves to be held. He seems to like people."
Susie Coston
"Even inside the house, he gets into a pile of blankets," Stura added. "He'll bury himself and you can't even see him. You look at him and all you see is a little nose sticking out."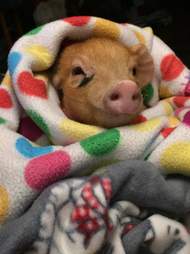 Karen Acoveno
Since Albert is so small and fragile, Stura's been keeping him inside. But Albert's still managed to make some friends.
"He did get to meet a couple of the little goats that I have," Stura said. "They got to be next to each other in crates for a day or two. He also got to meet a little turkey girl that I just brought in, as well as a little chicken girl."
Albert enjoyed a few days at the sanctuary, but then he got sick with gastrointestinal issues. Really sick, in fact. Stura blames the rapid changes in Albert's diet.
Karen Acoveno
"He'd been on his mother's milk," Stura said. "Then when he got to that guy's parents, they fed him pellets. Then they gave him goat milk."
Stura didn't want to take any chances with Albert's health, especially since he was so small. So he whisked him off to the Cornell University Hospital for Animals for treatment.
Skylands Animal Sanctuary and Rescue
Thankfully, Albert didn't need to stay at the hospital for long.
"The doctor just called and said I could go pick him up," Stura said. "He's doing fine. They straightened him out just by keeping him on a special diet of milk replacement."
Stura can't wait to see him again and to watch Albert grow up.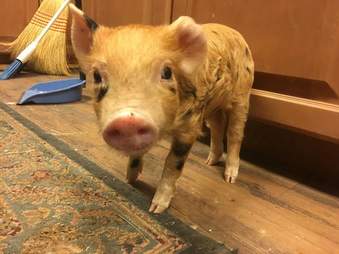 Skylands Animal Sanctuary and Rescue
To help Skylands Animal Sanctuary and Rescue save piglets like Albert - as well as cows, chickens, sheep, goats and other farm animals - you can make a donation here.