Pig Found On City Streets Is About To Make His First Real Friend
He's crushing really hard on her.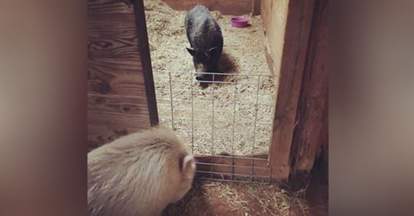 Authorities in Atlanta, Georgia, don't usually deal with stray pigs. Dogs and cats, sure.
But animal control officers were at a bit of a loss when it came to the pig they brought in last month. The full-grown pig, who would eventually be named Arnold, had been roaming the busy downtown streets.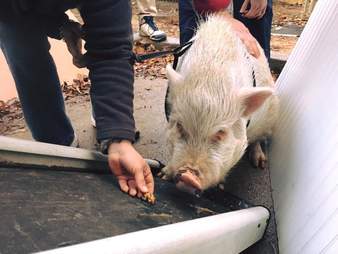 The Tucker Farm
Unsure how to find a family for a stray pig, the department didn't even feature him on its adoption page.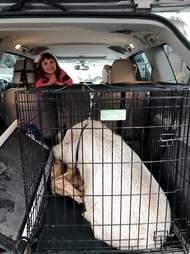 The Tucker Farm
It was a good thing Elizabeth LaBauve-Williams just happened to already own one very lonely pig named Charlotte - a pig who desperately needed another pig to call friend.
The Tucker Farm
In fact, Charlotte may have never known another pig in her entire life. She had been rescued from a hoarding situation two months earlier, where she spent her days in a tiny space.
She arrived at the farm sick and emaciated.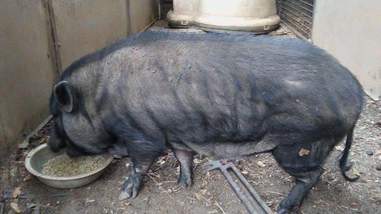 The Tucker Farm
Gradually, she got her strength back. But even on the farm, among dogs and goats and other animals, Charlotte was starting to feel like the odd pig out.
LaBauve-Williams says being the farm's sole pig was wearing on her and causing her to act out, even trying to smash her way through the barn.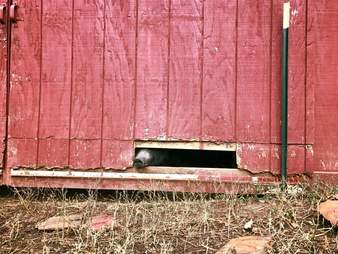 The Tucker Farm
"She doesn't really know how to be a pig," LaBauve-Williams, who owns The Tucker Farm in Atlanta, tells The Dodo.
The Tucker Farm
When she heard about Arnold from a friend at a local shelter, LaBauve-Williams figured he might make a good companion for Charlotte.
The Tucker Farm
But at first, LaBauve-Williams was told the stray pig weighed somewhere between 200 and 300 pounds - nearly twice as much as Charlotte. And likely too much pig for a small operation like the Tucker Farm.
"I stepped back for a minute," she says. "I kind of let it go for a little while and thought on it."
Then a friend from the shelter messaged her last weekend, saying a goat had arrived. The shelter needed the space.
It seemed Arnold, despite being a pig, would meet the same fate as any dog who had been at the shelter too long: euthanasia.
LaBauve-Williams decided to pay Arnold a visit.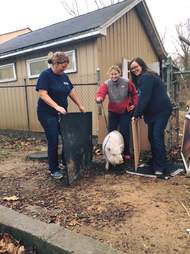 The Tucker Farm
The first thing she noticed was Arnold wasn't as big as advertised, maybe only about 150 pounds.
"He was very sweet," she recalls.
But you can't just sign out a pig from a shelter. Arnold needed a certified rescue group to sign off on the adoption.
So, LaBauve-Williams called her friend Jason Flatt, founder of Friends to the Forlorn Pitbull Rescue.
Flatt hadn't rescued a pig before. But Arnold was still a life that needed saving.
"I just facilitated it for a the right reason," he tells The Dodo. "To save a life. That's what I'm about."
And so Arnold headed to the farm, where he would finally get to meet Charlotte.
But, like a lot of good love stories, their first encounter was somewhat of a misfire.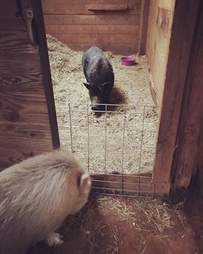 The Tucker Farm
Charlotte was nervous. What sort of animal is this?
Arnold was rash. He came on too strong.
"We are taking it very slowly," LaBauve-Williams says. "Pigs can fight at first. We let them meet through fencing. That's where we're at now. He really wants to get to Charlotte."
The Tucker Farm
For now, Arnold will have to make do with Charlotte just being a snort away, albeit with a fence between them - and dreams of the big love to come.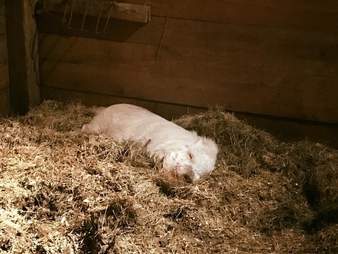 The Tucker Farm
"He's doing great. He sleeps in his stall. But his biggest thing is that he really wants to get at Charlotte."
Baby steps, Arnold. Courtship is all about patience.
When these pigs finally get used to each other and maybe even form a bond, they will both be up for adoption.
Maybe even together. Depending on how the whole love thing goes.
The Tucker Farm
Think you might be interested?