On the spur of the moment, Kelly Nelder decided to go to the beach. She called the dogs - Isabel, Wally and Pencil - who leapt straight into the car. As Nelder tried to shut the car door, Baby Pig scurried up and tried to jump in, too.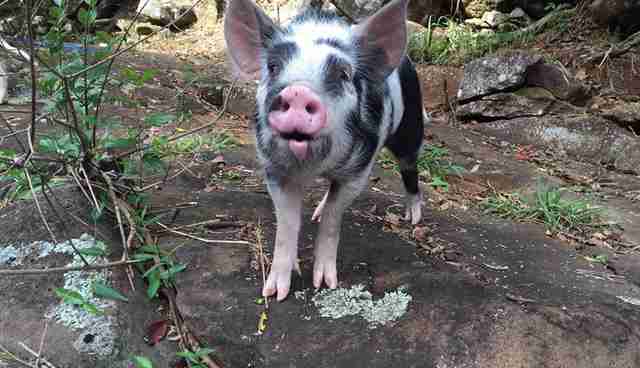 A pig at the beach? Baby Pig had never been there before. In fact, the 4-month-old pig hadn't really been anywhere. She'd been born into a commercial farm before being rescued by a local person and taken to live at Sugarshine Farm Sanctuary, an animal refuge in New South Wales, Australia. If Baby hadn't been saved, she'd have been slaughtered within the first year - if not first few months - of her life.
Nelder, the co-founder of Sugarshine Sanctuary, decided Baby was coming with them.
And Baby couldn't have been happier.
She loved digging in the sand ...
... frolicking with the dogs...
Baby was a little scared of the waves, but she stayed close to Isabel the greyhound, who'd lick her ears whenever Baby was close.
Baby Pig also loved making new friends. "As soon as we got to the beach, she ran up to the nearest family and greeted them one by one by giving them little snout kisses," Nelder told The Dodo. "She played with their dog, who wasn't too sure what kind of dog Baby was. Of course, Baby also checked if the family had any treats for her."
Baby lucked out when a little girl shared her ice cream, and a teenage boy shared his fries. But when Baby tried to crash the family picnic, and only got offered bread crusts, she wasn't happy - Baby wanted all the picnic food.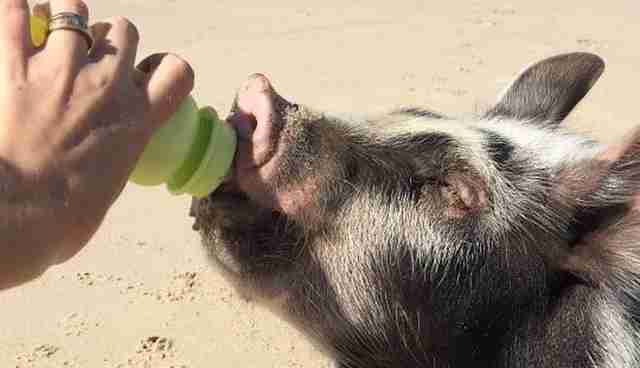 When there wasn't any food to mooch, Baby gobbled up seaweed and drank from the bottle Nelder offered her.
Baby was having so much fun at the beach, she didn't want to leave. "When it was time to go, she threw a big tantrum, much to the amusement of people at the beach," says Nelder. "The dogs looked mortified. It took us about 30 minutes of chasing her around the park and offering bribes before we could get her in the car. As soon as she got in she fell fast asleep making little snouty snores."
The beach trip was such a success, Nelder took Baby on another adventure - this time to a beautiful waterhole only known to a few locals. "Baby loved trotting along with her human and dog friends," Nelder said. "When she got to the waterhole, she found a big piece of watermelon there that someone had left, so she was in heaven."
The nice day nearly turned bad when Baby had a little accident. "She liked to cool her little trotters at the edge of the waterhole but she took a step too far and slipped into the deep water, dropping like a stone," Nelder said. "We all screamed out 'Baby!' But then she bobbed to the surface. Then we screamed again as she was drifting to the edge of the waterfall, but Baby just swam around and clambered back up on the rock without a care in the world."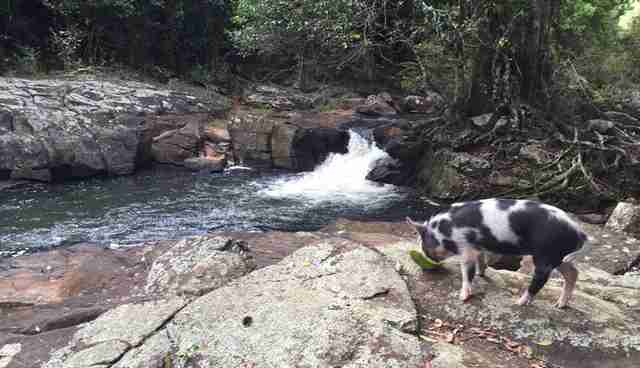 Baby spent the rest of the afternoon snuggling with Nelder in the sun.
"The comment we hear the most is from surprised people who say 'she's just like a dog!'" said Nelder. "And it's true in many ways. Baby is playful, loves being patted, enjoys going for walks, adores cuddles, has her favorite toys and just wants to be your friend."
You can read more about Baby and her friend Bunny Calf, whom Baby helped recover from a serious illness.
Sugarshine Farm Sanctuary is an animal haven in New South Wales, Australia, that approaches animal rescue in a non-judgmental way. They believe animals need love, affection, mental health and joy, as much as they need food, water and shelter. To support Sugarshine, you can donate here.