Tiny Newborn Rhino Refuses To Give Up After Losing His Mom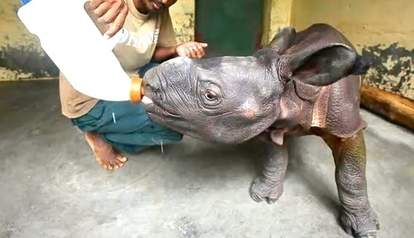 <p>Subhamoy Bhattacharjee<span></span></p>
Subhamoy Bhattacharjee
"The calf was discovered near a torrential stream, swollen due to heavy rain," Rupa Gandhi Chaudhury, joint director for WTI, told The Dodo. "The mother may have crossed over or gone ahead. All attempts were made by the rescue team to look for the mother, but she was not found."
The calf was obviously not strong enough to keep up with his mother against the floodwaters, she added.
Subhamoy Bhattacharjee
Although poaching is a significant problem in the Kaziranga region, Chaudhury said there is no evidence that the mother was killed for her horn at this time.
Meanwhile, the exceedingly vulnerable newborn is the youngest rhino that CWRC has cared for since its inception in 2002.
Subhamoy Bhattacharjee Chaudhury said the animal is under 24/7 watch by animal keepers, "who are like foster mothers," and veterinarians. The caregiving team is treating the infant for dehydration: He receives bottle-fed milk formula every two hours and will continue to do so until he reaches 2 months of age.
Subhamoy Bhattacharjee
If he survives, he will eventually be fed blades of grass "to nibble" and then some multigrain supplements.
In the wild, rhino calves get weaned off their mothers' milk around 18 months of age, said Chaudhury, so the round-the-clock care is vital: The animal is likely in trauma because of losing his mother and now finding himself in a completely foreign environment.
At the CWRC sanctuary, there is one other orphaned rhino; the calf was found in the backyard of a village home, injured with tiger attack marks. For now, the two rhinos are being kept separately, Chaudhury explained, but might later be placed in adjacent paddocks.
Subhamoy Bhattacharjee
The long-term hope is that this days-old rhino will ultimately be released back into the wild, perhaps in tandem with the other rhino also at the sanctuary. "From a monitoring point of view, it is easier to track them if they are radio-collared and released together because, if one of the collars falls off, the team will know there is another rhino close by," said Chaudhury.
In fact, the organizations recently released two male rhinos, "and they have been found moving around Kaziranga together," she added.
For now, this tiny rhino will be continually observed with the hope that he stabilizes. In an email this morning from India, Chaudhury said the rhino's umbilical cord just fell off his body today.
To donate to IFAW, please go here.