Rescue Kitten Is The Only One Who Can Help Dog With Her Anxiety
"I remember we got him in the morning and that night he laid on the couch with Lucy, which we couldn't believe."
Before she met Pete, a golden retriever named Lucy used to fall apart when her owners had to leave the house. Especially Joe, who frequently went away on business trips.
"She's always been really close with my husband," Lindsey Getz, Joe's wife, told The Dodo. "A few years back, he took a job where he had to travel more often. When the suitcase comes out, she starts to cry. She lies in bed all day instead of getting up. She doesn't want to go to the bathroom."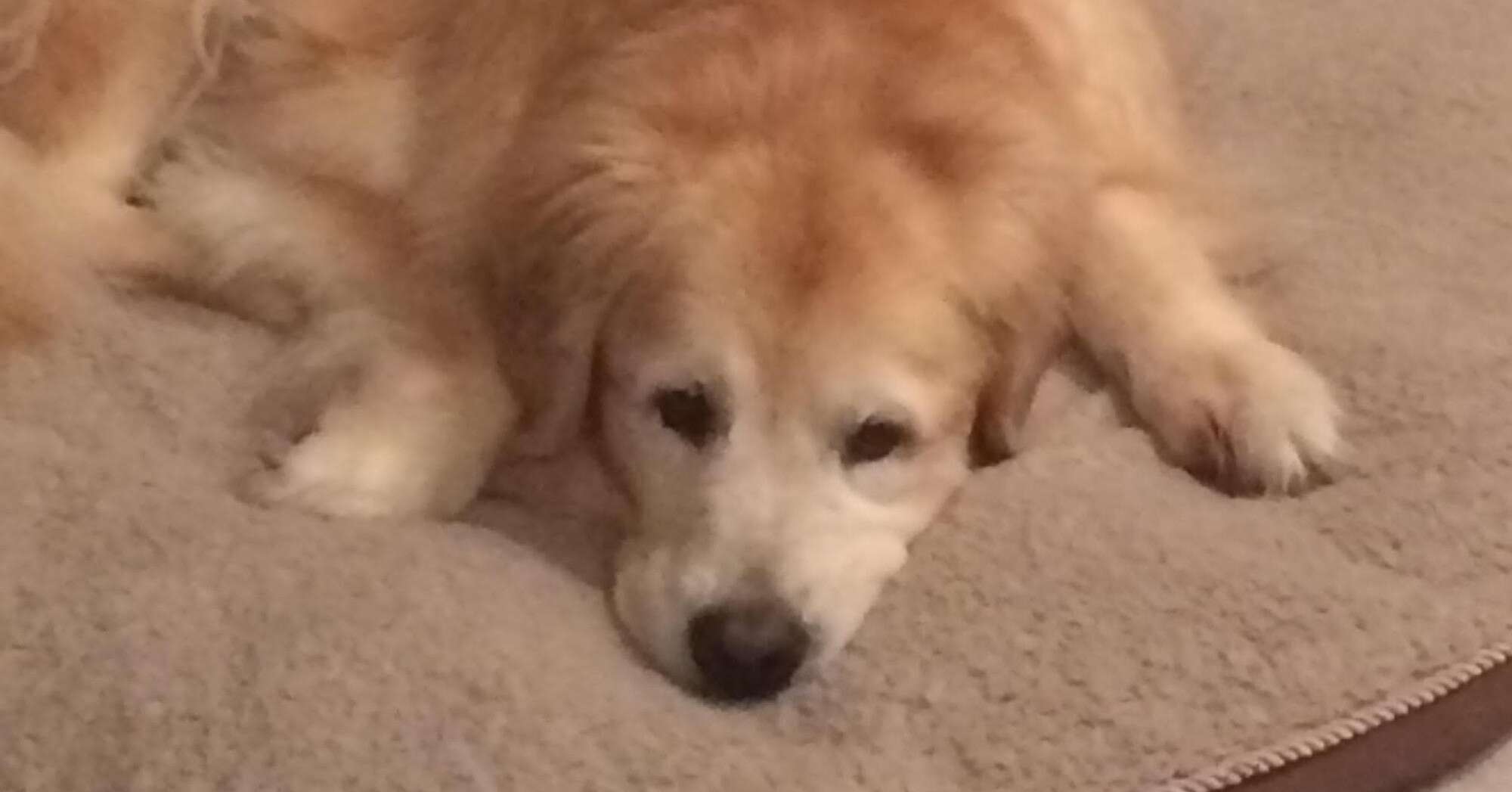 Lucy's separation anxiety got so bad, the vet recommended antidepressants. But Lucy was already on thyroid medication, and Getz was reluctant to put her on anything else.
So Getz tried finding another solution - she set up FaceTime sessions between Lucy and her husband on her iPhone when he was away; she laid out her husband's clothes on the floor. But nothing worked.
"It was a major stress," Getz said. "I would feel really guilty if he was gone, and I had to leave her for a while."
Getz and her husband had another issue - even though their two kids, ages 3 and 6, loved Lucy and the family's older cat Bailey, they were begging Getz and her husband for another pet.
Getz and her husband caved, but they didn't get another dog - they got a kitten named Pete.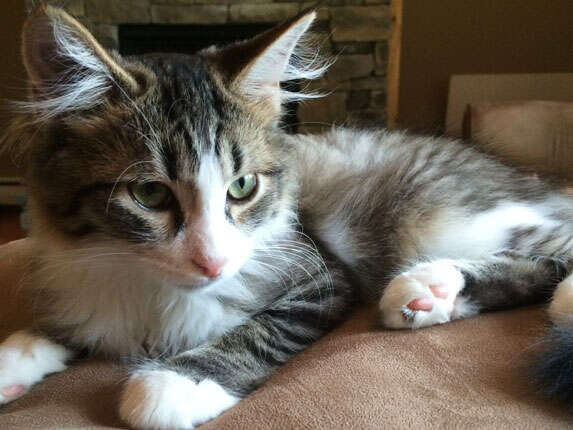 Pete had been picked up as a stray in Kentucky, and ended up being transferred to Forever Home Animal Rescue, a shelter in Pennsylvania. "The description of him really interested us," Getz said. "It said he had a really easygoing temperament, and that he was a really laid-back kitten."
Pete was initially scared when he arrived at his new home. "He was a little overwhelmed from coming from the rescue to a house with a dog, and two loud kids," Getz said. "So he did hide a lot the first day."
But it didn't take long for Pete to adjust, and to become that laid-back kitten the shelter had described. Not only did he bond with the kids, he also became fast friends with Lucy.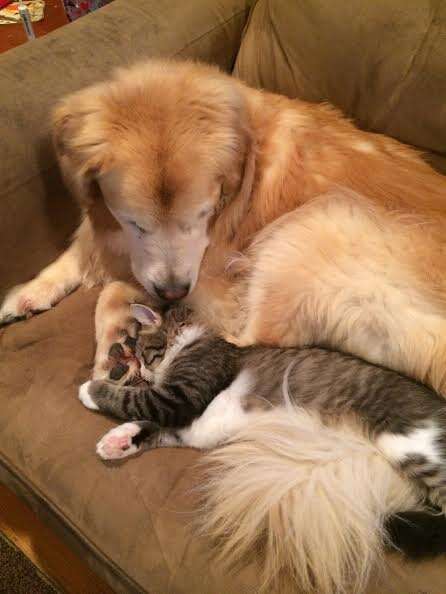 "I remember we got him in the morning and that night he laid on the couch with Lucy, which we couldn't believe," Getz said. "He was willing to hang out with a dog, and I don't know if he'd ever seen a dog before. Pete was grooming Lucy's paws a couple days after we got him."
Now Lucy and Pete are inseparable - they snuggle, groom each other and play together.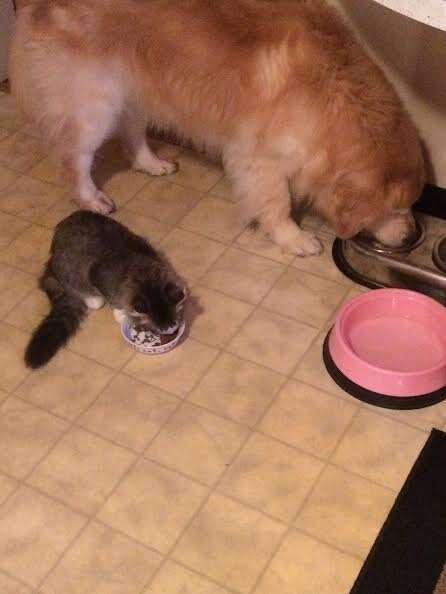 "Lucy's almost 10, so she's definitely a pretty senior dog," Getz said. "But I'll see her get toys out, which she hasn't done in so many years. And she'll show them to him."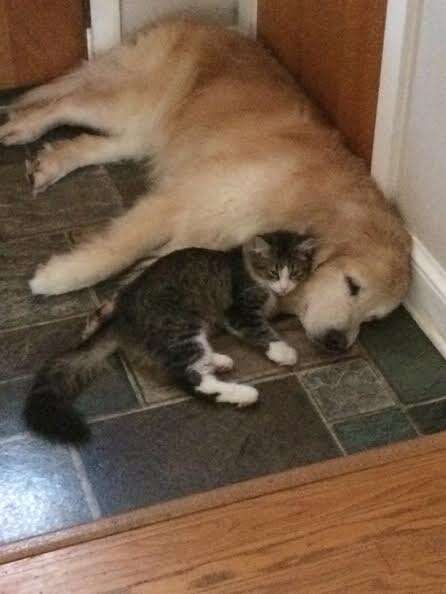 The most amazing thing about Pete is that he seemed to cure Lucy's separation anxiety. "Her mood is much better," Getz said. "She'll still whimper a bit when she sees the suitcase come out, but it's so much better."
"They're always together," Getz added. "They're either curled up by the door, or on the couch. So I feel like she's never alone."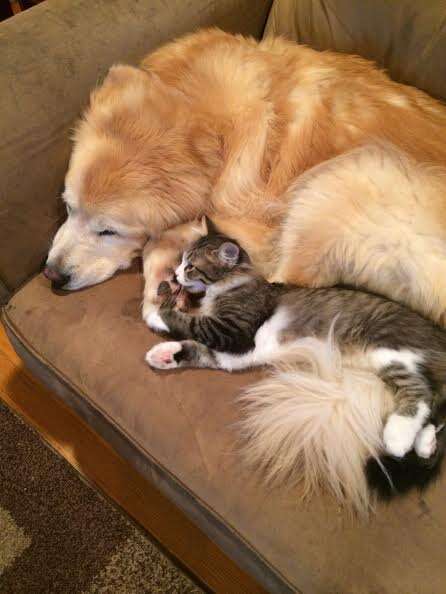 Now the Getz family can't imagine life without Pete. "We are so glad we adopted Pete," Getz said. "He's definitely everything we were looking for in a pet. He's changed our life - and he changed Lucy's life."
To help Forever Home Animal Rescue save more kittens like Pete - as well as dogs, rabbits and other animals - you can make a donation here.