Woman Rescues Sick Duckling — And Ends Up With The Perfect Therapy Animal
"I will never understand why I was sent her, but I know she is special."
When a tiny duckling was born very sick, she was rescued by a woman who understands how it feels to need a little extra love and support.
Puff the duck was born at a farm supply store, incredibly sick. At only a day old, the other ducklings were running all over her while she lay in a heap on the floor. The people at the store were planning on throwing her away - until someone noticed her.
Ashley Scott was at the store when she noticed poor little Puff, barely breathing. When she found out the store was planning on throwing her out, she quickly decided to take Puff back to her North Carolina home with her.
"After seeing her barely breathing and not able to keep her head up, I had to save her," Scott told The Dodo.
Puff was so tiny and fragile when Scott first brought her home that she had to be fed from a dropper. As Puff began to grow, Scott realized she was having trouble learning how to do things that come naturally to other ducks, like swimming and flying. Puff was terrified of water and had no idea how to flap her wings, so Scott showed her how.
"I had to slowly introduce her to water with baths and showers," Scott said. "She never got into deep water, until one summer when I put on flippers in the pool and showed her how to swim. She rode on my back, then out of nowhere she dove under and swam."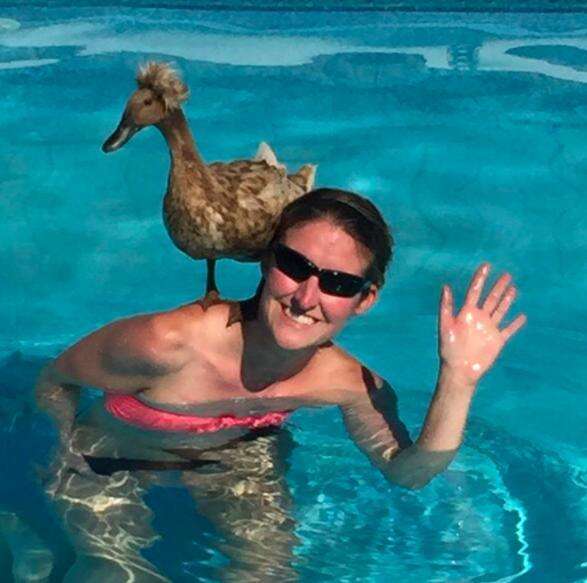 Scott would also run back and forth in her yard, flapping her arms like crazy, while Puff ran behind her and tried to imitate her. One day, Puff finally spread her wings and took off into the air.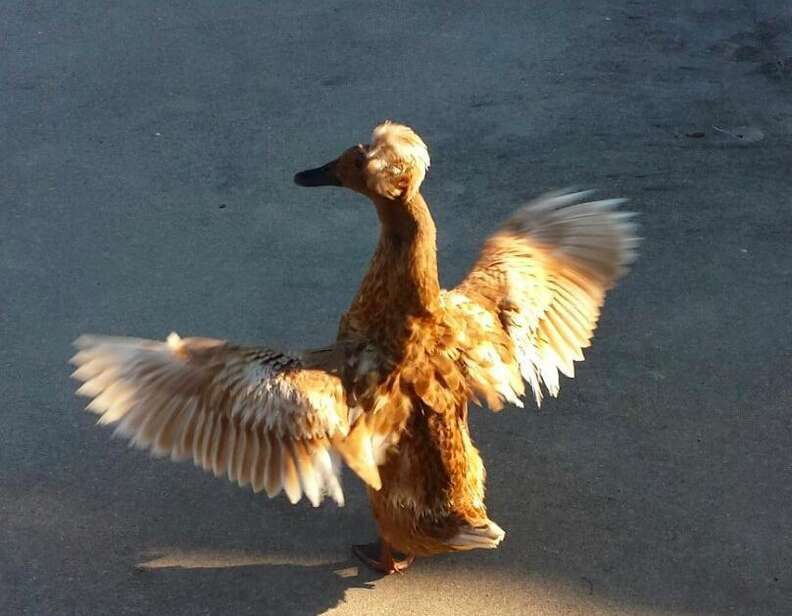 Puff still isn't much of a flyer, though, because she would rather be by her mom's side - especially when her mom needs her the most.
Scott suffers from a very rare autoimmune disease, and from the very beginning, Puff could sense that she needed extra support. She sits with her while she gets her breathing treatments, and cuddles with her when she has bouts of severe sickness. Somehow, Puff can even sense when Scott's symptoms are about to flare up, and tries to let her know.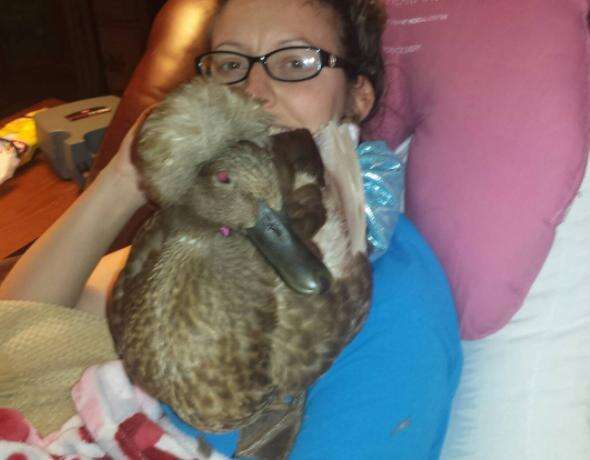 "She will get extra quacky days before my flare-ups start," Scott said. "It's almost like she can sense them. It's truly amazing. She will be very screamy trying to let us know something. We couldn't figure what was wrong at first. The next thing we knew, I got super sick."
Puff was rescued as a tiny, sickly duckling, and somehow grew into the greatest therapy duck for her new mom. She knows exactly what her mom needs when she's feeling sick, and sympathizes with her so much more than anyone thought she could.
When Scott first started getting sick around Puff, Puff started showing signs of getting sick, too. She lost weight, stopped laying eggs, and her feathers looked unhealthy. Scott brought her to the vet, who couldn't find anything really wrong with her. The conclusion was that Puff was most likely having sympathy symptoms after seeing Scott so sick.
"Because she loved me so much she was basically heartbroken to see me so sick and it was causing her to have symptoms," Scott said.
Puff has helped Scott learn to cope with her illness, and she's thankful for that every single day.
Before Puff, Scott wasn't as comfortable sharing her struggles, and now, people all over the world reach out to Scott and Puff to share what they're going through and show their support.
"We feel like anyone, no matter your journey, big or small, it's so important to feel like it's OK to share it," Scott said. "If it wasn't for Puff, I'm not sure where I would be in my journey. Puff and I started to give back and we want to share awareness to advocate for yourself always. I will never understand why I was sent her, but I know she is special."