Rescue Dogs Can't Believe They Get To Play With 4,000 Tennis Balls
"For a dog in a shelter, being adopted is as amazing as being able to jump into a pool full of tennis balls."
Back in 2014, a man named Chris lost his best friend, a dog named Everything. He was devastated, and two years after Everything passed away, he decided he wanted to do something to honor her memory.
Chris made a post on Instagram offering to send tennis balls to anyone who commented and asked for one. His goal was to encourage people to spend more time with their pups while they still had the chance - and the story ended up going viral, with hundreds of people commenting on the post.
When Daniel Reitman of Dan's Dog Walking and Pet Sitting in Long Island, New York, saw a video on Facebook about what Chris was doing, he was touched by the gesture. He decided he wanted to help Everything's dad in his quest to help dogs all over the world.
"After seeing the video about Everything, we started thinking of different ways we could use tennis balls, and while the idea of filling my parents' pool with thousands of tennis balls started as a joke, we were so excited to make it a reality this past October," Reitman told The Dodo. "It was after we came up with the idea that I had the idea that, for a dog in a shelter, being adopted is as amazing as being able to jump into a pool full of tennis balls."
Reitman has two rescue dogs of his own, Kyle and Caleb, and so he decided to film them playing in a pool filled with 4,000 tennis balls to show how wonderful adoption is for a dog ...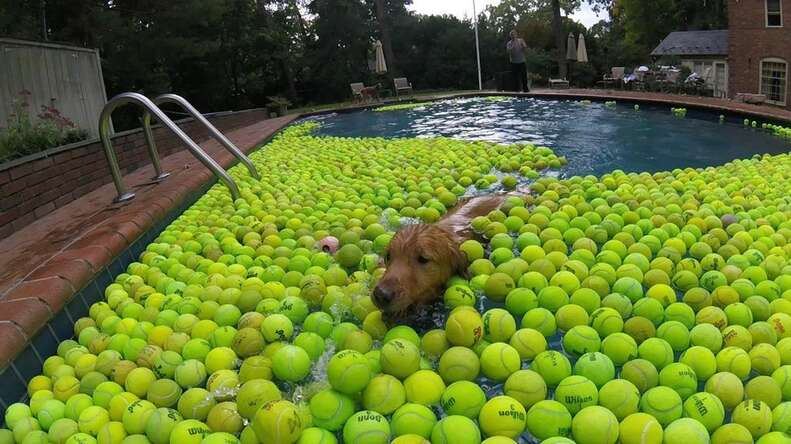 ... and it definitely got the message across.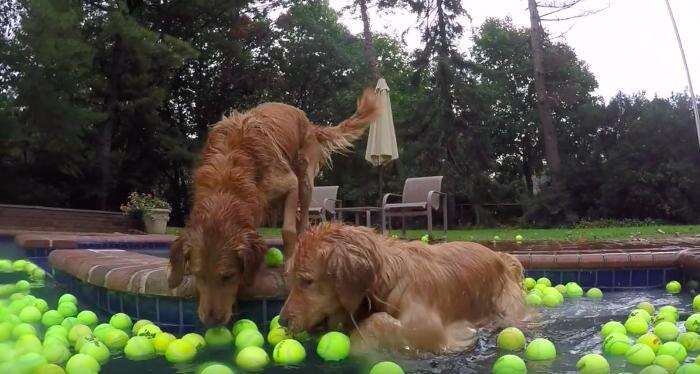 After the video was made, Reitman and his team were stuck with 4,000 tennis balls, and absolutely no place to put them.
"I bought enough to the point where I had to rent a storage space because they filled our offices," Reitman said.
And so, instead of keeping them, Reitman decided to follow in Chris's footsteps and use them to give back. Dan's Dog Walking and Pet Sitting posted on its Facebook page asking everyone to watch the video and tag their favorite animal shelter. Then, they'd send each shelter a bag full of tennis balls. Reitman's hope was that every dog who got adopted could take one of the tennis balls home with him - and use it to start making memories with his new family. The response was overwhelming, and more than 500 shelters were tagged in the Facebook post.
"We did the math and we have enough for us to be able to send a bag to up to 200 shelters," Reitman said. "If anyone would be interested in donating additional tennis balls we would be happy to package them up and send them out to the additional 300 shelters on our list, which is still growing every day."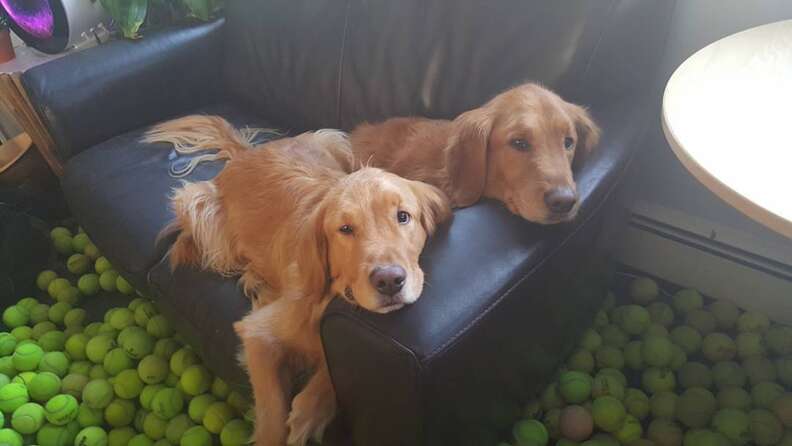 Four thousand tennis balls may seem like a lot, but there are so many shelters out there helping dogs in need, and Reitman and his team are looking to help as many of them as they can.
"We are going to be making another video showing everywhere these donations are being sent, as well as our goals moving forward to help get more support for our local shelters and finding forever homes for pets everywhere," Reitman said.
This entire initiative came from one man who missed his best friend, and has now turned into a movement that's helping raise awareness for shelter dogs everywhere.
If you would like to help Dan's Dog Walking and Pet Sitting collect more tennis balls to send to shelters, you can send them to: Dan's Dog Walking and Pet Sitting, 55 Channel Drive, 2nd Floor, Port Washington, NY, 11050.