No one knows how long an old dog has left when he arrives at the shelter. They're often abandoned with little to no information, their age anyone's guess.
But Melvin? He was old. At least, his body said so: severe heart murmur, a mouthful of rotten teeth and a litany of other health complaints.
And everybody knew how much time he had left. Because he was scheduled for euthanasia.
In fact, Melvin was slated to be put down the day Christina Hackett of the Animal Foundation of America (AFA) showed up at the Los Angeles shelter.
"I got there two minutes before five, when they were going to close," she tells The Dodo.
Then suddenly, Melvin had all the time in the world.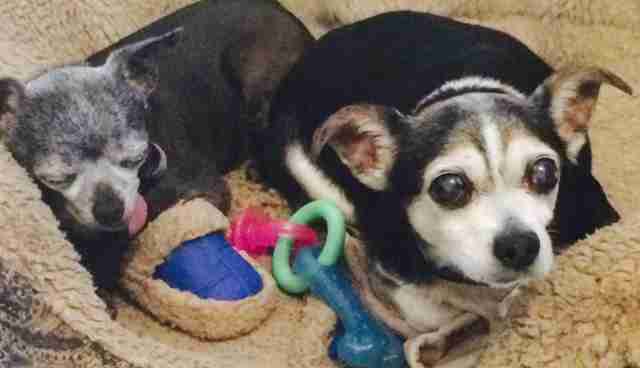 "We went ahead and we pulled him because we don't believe any dog should pass that way," Hackett says. "You're a senior. That's not the way you should go."
After a full medical assessment, Melvin's rescuers were left with a difficult decision. The dog's teeth were so bad, they would all have to be removed. But that process could aggravate an already failing heart.
"At his age, if we put him under anesthesia with his heart condition the way it is now ... he might not make it," Hackett says.
They decided Melvin's quality of life, at this point, was paramount.
In other words, let the spoilage ensue.
Melvin was joined by Charlie, also a rescue from a Los Angeles shelter. And Sophie. And Russell the cat.
All rescues. All going, literally, from death's door to the lap of luxury.
Every few weeks, these animals are picked up from their foster homes (or, forever fosters as they're called) and brought to Hackett's home, where it's spa day all day long.
"They come over and they have play dates with their friends," she says. "There are long-termers here with me that they know.
"They get their nails done. Sophie gets her fingernails painted pink. She's the girl. They gets baths. Their nails trimmed. They have a great time."