Ever wondered what your favorite "Game of Thrones" character would look like as a dog or cat (or, in one case, a horse)? We took inspiration from the Royal Society for the Prevention of Cruelty to Animals and joined forces with rescue shelters and adoption agencies to imagine the heroes and heroines of Westeros if they were furry and four-legged.
Check out our "GoT" doppelgängers below, then share your own (on Twitter or Instagram) by using #GameOfPets, and including the name of the character your animal most resembles, so we can include it on your list.
The American Society for the Prevention of Cruelty to Animals paired these cats and dogs:
Daenarys/Gia
"Like Daenarys Targaryen, Gia is a white-haired beauty with her Mother of Dragons gaze."
Melisandre/Snuggles
"With those gorgeous eyes, Snuggles, like Melisandre, can bewitch her way into the coldest of hearts."
Sansa/Greta
"Greta is a 4-year-old lab mix who, like Sansa Stark, is patiently waiting for her rescuer."
Arya/Baby
"Babythe pit bull is small, like Arya Stark, but that doesn't mean she's timid. She's as strong and passionate as anyone you'll meet!"
Bran/Boo Boo
"When Boo Boo arrived at the APSCA, he was emaciated and, like Bran Stark, badly debilitated, with pressure sores all over his body. But he doesn't let his past physical difficulties get him down and keeps his head up."
Tyrion/Jacque
"Like Tyrion Lannister, Jacque is scrappy and sharp on his feet, and quick to protect those he loves from forces unknown."
From the Philadelphia Animal Welfare Society comes these cats and dogs and their "Song Of Ice And Fire" twins: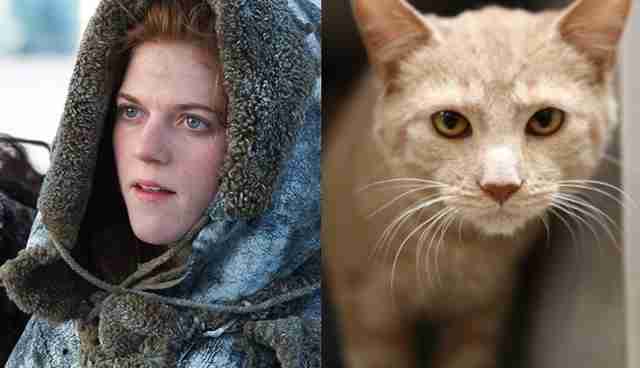 Ygritte/Tangerine
Tangerine is "feisty," like Ygritte. A "kitten at heart," "with a real lust for life" who "is sure to make a playful and adventurous companion."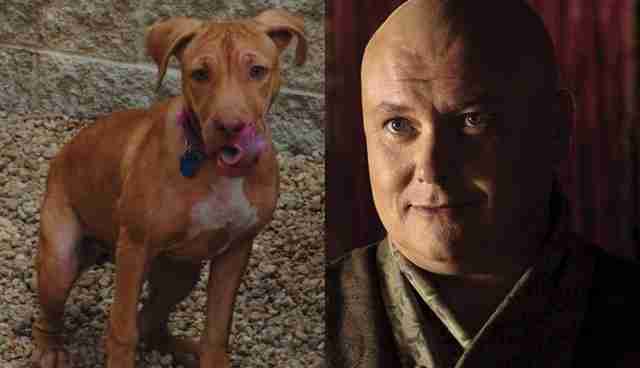 Lilo/Varys
"Sweet and affectionate, Lilo is a great dog for a family." And like Varys, she's desperate to ingratiate herself. "She just wiggles all over in her efforts to please!"
The RSPCA matched these dogs - and a horse - with their favorite characters: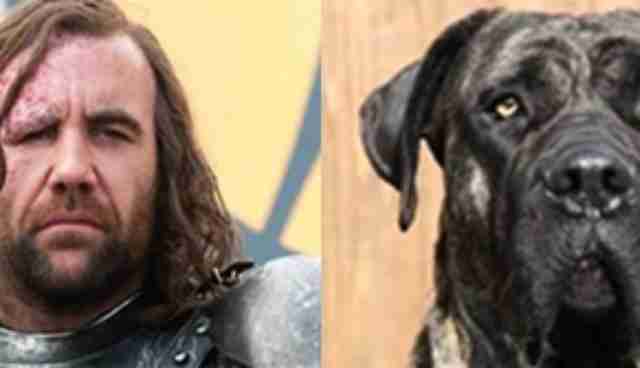 The Hound/Barry
"Three year old gentle giant Barry is a bull mastiff and is staying at our South Godstone centre. He is recovering from an operation on his hind leg and needs a loving home to give him some TLC. Barry is as gentle as The Hound is fearsome, but both are equally brave when it comes to enduring hardships."
Khal Drogo/Clipper
"Poor Clipper has had a rough ride after being rescued from the floods in December. He is four-years-old and stands at 12.2hh he is staying in Surrey and is fully microchipped and passported. While Khal Drogo may lead a famously nomadic life as a powerful Horse-Lord, gorgeous Clipper just wants somewhere to settle down."
Jon Snow/Buster
"Two-year-old cocker spaniel Buster came into the care of our Birmingham centre after his owners failed to seek veterinary attention for his fractured foreleg. Just like Jon Snow in Game of Thrones he is dogged, loyal and has puppy-dog eyes to die for!"
And Animal Care & Control Of NYC have a cat and rabbit that would be right at home in King's Landing: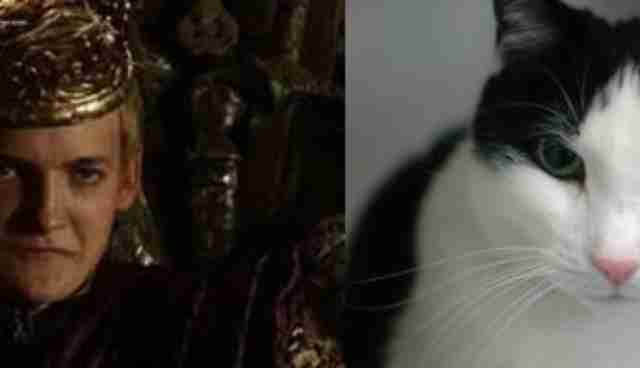 King Joffrey/Oreo
"Oreo, an approximately six-year-old cat, is the resident king of the Brooklyn Care Center! From a lofty perch in his luxurious cat condo, he looks down upon his subjects with a regal air that one would expect from a mighty king like Joffrey. (But Oreo is a democratic and benevolent ruler and lets all of his feline subjects have a fair say in the politics of the realm.)" Visit the Brooklyn Care Center to adopt Oreo.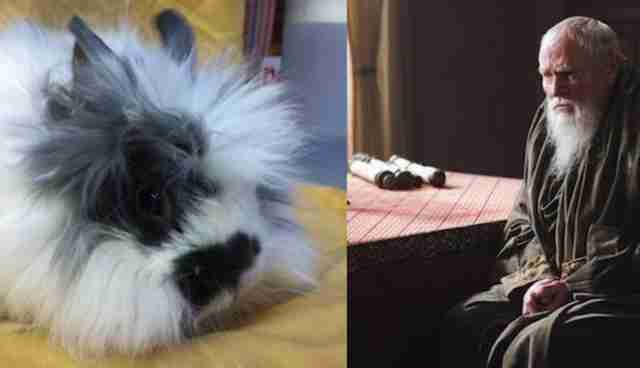 Motin/Pycelle
"Despite his youthful age of approximately 10 months, Motin has an old soul like Pycelle. With his wise eyes, he acts as the Grand Maester for all of our rabbits and offers them sage counsel. He is currently available for adoption off-site in a foster home. To adopt Motin, please email AC&C: fosters@nycacc.org."