Dog Who Could Barely Walk Now Goes On Adventures Across The Country
<p><strong></strong><em>Thomas Dilworth</em><span></span><span></span></p>
<p><strong></strong><em>Thomas Dilworth</em><span></span><span></span></p>
Mel is an 8-year-old rescue pit bull who has a neurological disease that affects his balance. The disease is not painful at all - it just makes moving around a little challenging.
"We went to the Yonkers Animal Shelter to see another dog when we noticed Mel," Mel's dad, Tom Dilworth, told The Dodo. "I had stopped for a moment when he then placed his head on my leg. Well, that was it!"
After being adopted, it was a few weeks before his parents noticed that Mel's balance was a little off - and getting worse. Once he was diagnosed, Mel's parents decided to give him the greatest gift of all: a wheelchair.
With help from Eddie's Wheels for Pets, Mel can now go anywhere and everywhere he never could before. The first time Mel used his new wheels, he was a little hesitant ...
Now, Mel often acts as the leader of his family's excursions ...
... and is even a little faster than his dad now.
"If he knows he's different, he does not let it show. He still thinks he can walk and often gets up and tries," Dilworth said. "Once he is in his wheels, watch out or he will roll over your feet!"
Mel's dad is a professional photographer, which means Mel gets to go on the BEST adventures - and have them all documented.
Mel, who lives in New York, has traveled to Connecticut, Colorado, Florida and everywhere in between. There's nowhere he can't conquer.
He never lets his disability get in the way of where he can go ...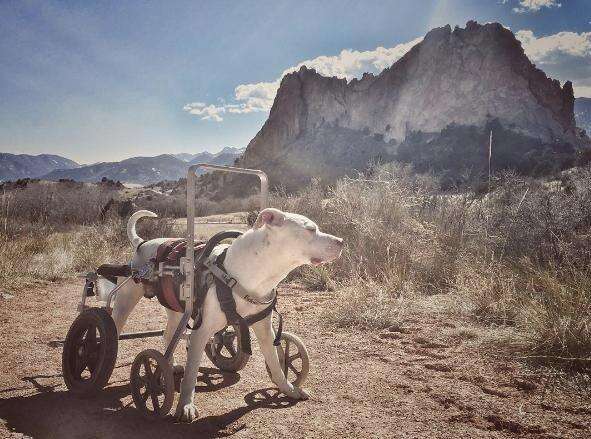 ... or what he can do.
"Rocks, mud, you name it he has rolled over or through it," Dilworth said.
Luckily for Mel's dad, he's not at all camera shy, and never seems to mind being the center of attention ...
... even when he's just kicking back, taking a break and enjoying his incredible life.