Shy Dog With A Sad Past Totally Nails Her Maternity Photo Shoot
"This is a special time for her, and we want her to feel appreciated and loved."
To see just how perfectly this sweet pregnant dog named Hazel is posing for her maternity photo shoot, you might never guess that she's totally new to the world of modeling.
You'd probably also never guess what a heartbreaking little life she's led - up until now.
Now, she shines.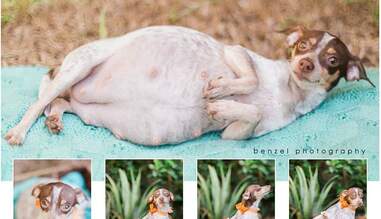 Benzel Photography
Hazel was just one of two dozen Chihuahuas rescued by the SPCA of Brevard this week from a dilapidated home in Central Florida. Owned by an apparent hoarder, the dogs had been forced to live in filth and squalor, rarely (if ever) being allowed to step outside in the sunshine.
Four of the dogs were soon-to-be moms in need of foster homes to deliver their pups.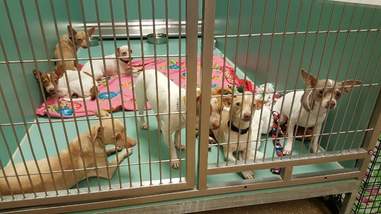 SPCA of Brevard Adoption Center
Among those touched by the dogs' sad situation was Melissa Benzel. Having fostered numerous pregnant dogs before, Benzel offered to take in the one who needed her expertise most. That's when she met Hazel, who had five or six puppies soon on the way.
Benzel offered Hazel a place in her home, and baby-watch began - then she had a beautiful idea.
"I happen to be a professional photographer, and I do maternity photos for humans," Benzel told The Dodo. "I thought, Hazel is pregnant, and she's part of our family for now, so I decided to give her some good pictures for her journey with us here."
Benzel Photography
Benzel described Hazel as being "very, very, very shy," but added that she really seemed to open up during the session.
"It looked like she was smiling," said Benzel. "She may have not have had any real connection with a person before, but she got more comfortable every second."
Benzel Photography
This isn't first time we've seen dogs sitting for maternity photo shoots, but in this case, the experience was far more than just having some pictures taken.
Benzel believes that Hazel may have never spent any quality time outdoors in her life before that - a fact reflected in the quiet happiness so visible in her eyes.
Benzel Photography
"This is a special time for her, and we want her to feel appreciated and loved," said Benzel. "We've fostered many, many dogs before, but there's something special about Hazel. We feel strongly about her."
Benzel Photography
Hazel is expected to deliver her puppies any day now, welcoming them into a world of love and happiness, a far cry from the one she knew before.
And though it's all quite new for her, too, she already fits in perfectly.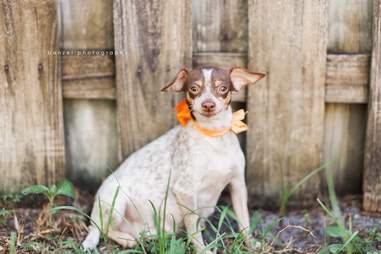 Benzel Photography