Vet Makes Cutest New Ears For Puppy Who Just Had Surgery
He's healing so well — and looking for a forever family
Cute, floppy ears are one of a lab puppy's most adorable attributes.
So when a dog named Remi developed a weird growth in one of his ears, his foster mom, Carlie Childres, was a bit alarmed.
Carlie Childres
"I didn't know what it was," Childres told The Dodo.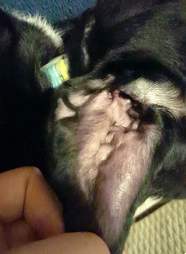 Carlie Childres
Childres is fostering Remi, and his brother, Cooper, for Lucky Lab Rescue and Adoption. The pair is part of a litter of seven puppies the organization saved from a shelter in Liberty County, Texas.
Carlie Childres
When the first lump popped up in Remi's ear, Childres called Lucky Lab right away and said, "I think we have a problem." Volunteers with the rescue asked her to send pictures of the lump. Then Childres found more bumps on his other ear.
Turns out they were hematomas. "They seemed to show up overnight," Childres said. The rescue consulted with its veterinarian in Austin, Lynanne Mockler, who recommended the lumps be surgically removed.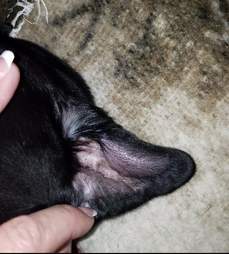 Carlie Childres
Not all hematomas need to be removed, but Remi needed help, stat, according to Mockler. "If it's a full hematoma, full surgery is recommended because you get cauliflower ear and it becomes wrinkled and scarred," Mockler told The Dodo. "That means down the road you can't clean it efficiently and you could end up with a dog with an infection that won't heal properly."
"If they shake their heads really, really hard they can burst a small vessel. It's basically a blood bubble in their ear," Mockler said. "I don't usually see them in a dog this young, and certainly not in both ears. The shaking is what caused it. The most important thing is to get the itch taken care of."
A surgery date was scheduled, but Childres worried about Remi, especially how she was going to keep a lab puppy calm post-op.
Carlie Childres
Remi, the bigger of the two rescue pups, is energetic and loves company. "He just wants to be right next to you, chewing on a bone sitting on a couch with you," said Childres. "He's got that puppy energy, but likes to sleep on the couch next to you."
Carlie Childres
"His brother Cooper is more of a wild man," Childres said. "Lots of energy and spunk." Cooper's temptation to play would certainly be a challenge after his surgery.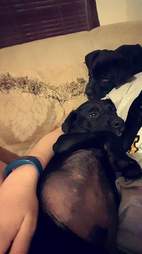 Carlie Childres
When the day arrived, Childres dropped off Remi for the operation with Mockler.
But when she came to pick him up after, Childres got quite a surprise - Remi had a new look.
Dr. Lynanne Mockler
Mockler didn't want to leave Remi without his finest qualities, so she made him temporary ears.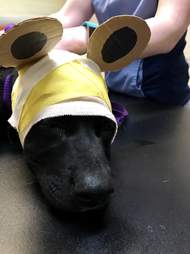 Dr. Lynanne Mockler
"He was cute! I was happy the vet took time to do something like that," Childres said. "[Mockler] really cared and tried to make him as happy as possible."
Mockler has seen all sorts of tragic situations as part of her job, from going into her office in the middle of the night to help dogs with broken legs, to making house calls on weekends to help struggling puppies. So, when she got a chance for a little humor, she took it.
"Remi didn't seem to mind," she said.
Carlie Childres
"The staff was looking at me like I was nuts," she said. "The ears were made from the cardboard that canned dog food comes in. That's how I traced the circles. I told everyone, 'Trust me, you'll love it when I'm done.'"
Carlie Childres