You know that feeling when you really, really like someone, but that someone - for whatever reason - doesn't like you back?
A rescue dog named Pippy knows this feeling all too well.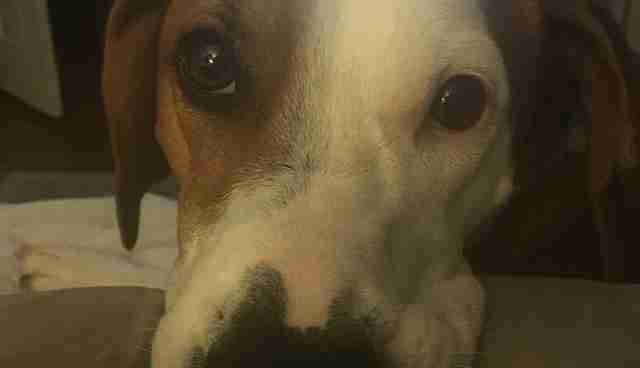 The object of Pippy's affection is a rescue cat named Pooh, who belongs to Pippy's human mom's sister, Stephanie Skinner. Pippy did everything to make Pooh notice her - following Pooh everywhere he went, nudging Pooh with her nose and barking at him. But for a long time, Pippy's love for Pooh was unrequited.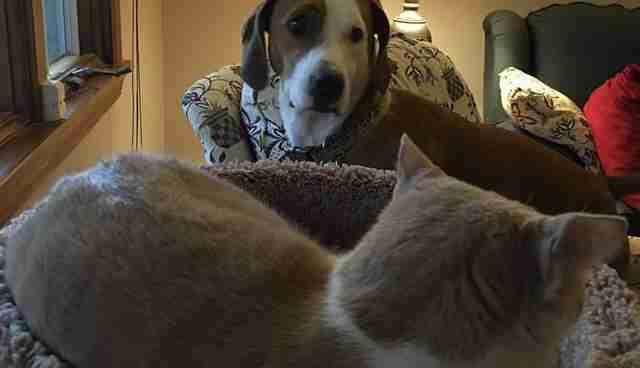 Before Pippy met Pooh, Pippy was an awkward-looking puppy with short legs and a long body. No one knew where she was born, but Pippy and her two sisters found themselves in a high-kill shelter in West Virginia. They would have been put down if Homeward Trails, a rescue organization in the Washington, D.C., area, didn't step in and save them.
Danielle Skinner met Pippy at an adoption day event. "One of the Homeward Trails volunteers, Giovanni, said to me, 'You have to see my foster dog. You'll fall in love with her,'" Danielle told The Dodo. "He led me to Pippy and told me to pick her up. She was pretty heavy for being only 5 months old. As I was holding her, someone driving by in a car yelled out the window, 'You're going to keep that one!'"
Danielle did keep Pippy, taking her home to live with her in Arlington, Virginia. Pippy loved her life with her new mom, but she struggled with anxiety issues. When on a leash, Pippy lunged at other dogs, and she was skittish around strangers.
Then, on a visit to Pennsylvania, Pippy met Pooh, a.k.a. the love of Pippy's life. But the first meeting didn't go so well. "I kept Pippy on the leash, and Stephanie held Pooh," said Danielle. "Pooh fluffed up and was terrified at the dog who was barking and jumping at him. She can jump pretty high for a basset hound mix with short legs, so Pooh being in Stephanie's arms wasn't far enough away for Pooh's comfort."
When Pippy realized she didn't make a great first impression, she tried another tactic: lying on the floor in front of Pooh, whining and staring at him.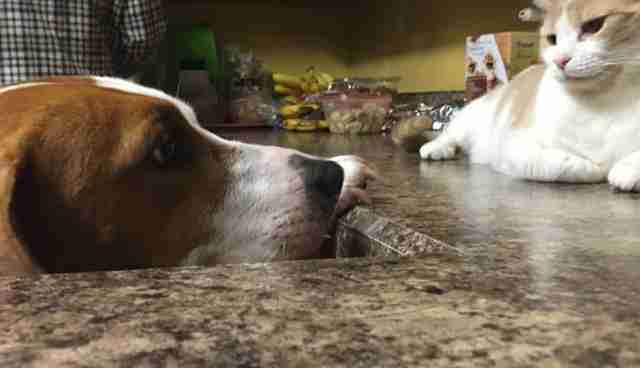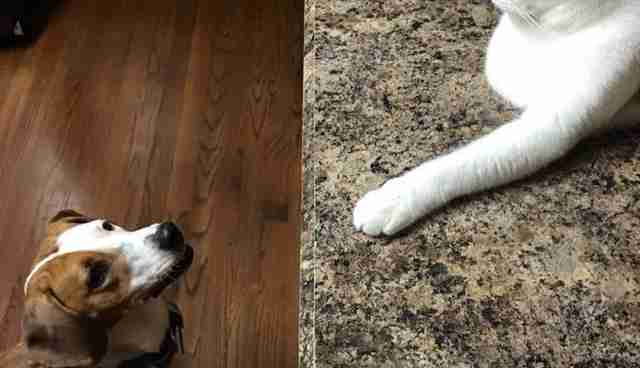 This worked better, but Pippy soon forgot her her self-control, and started chasing Pooh. "Just knowing Pooh was in the house drove Pippy crazy," Danielle said. "She was always stalking Pooh and waiting at the door when he was in another room. If Pooh entered a room, Pippy would fly after him, running into furniture and knocking things over in the process."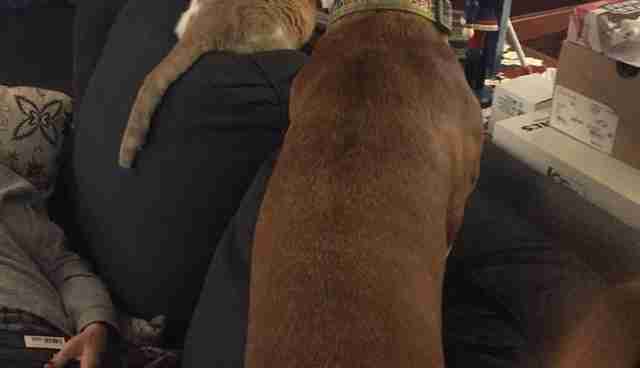 Pippy and Danielle went back to Virginia, but they visited Pennsylvania often to see Danielle and Stephanie's parents. Stephanie had started travelling for work, so she left Pooh in Pennsylvania in the care of her parents. This arrangement suited Pippy just fine - a Pennsylvania trip meant quality time with her beloved.
"Pooh's safe space is the basement and we usually keep the door closed so that Pippy doesn't annoy him," Danielle said. "If we accidentaly leave the basement door open, it is pretty much guaranteed Pippy will be down there stalking Pooh. She likes to know where he is and what he is doing at all times."
It might have continued like this forever: Pippy madly batting her doggy eyelashes and Pooh snubbing her. Then, two weeks ago, everything changed. "My mom couldn't find Pippy, but noticed the basement door was open, so it was pretty easy to guess where she was," said Danielle. "She went downstairs to find Pooh and Pippy sitting very still next to each other. Pooh went up to Pippy and they sniffed each other. Then Pooh rolled on his back, a sign he was comfortable with her. You could tell Pippy didn't know what to do, and didn't want to ruin the moment. She just sat very still and let Pooh make the moves!"
Now when Pippy visits Pennsylvania, Pooh allows Pippy to spend time with him ...
... and even seems to like it. In fact, according to Danielle, when Pippy doesn't pay enough attention to Pooh, Pooh instigates an interaction by meowing or parading a toy in front of Pippy.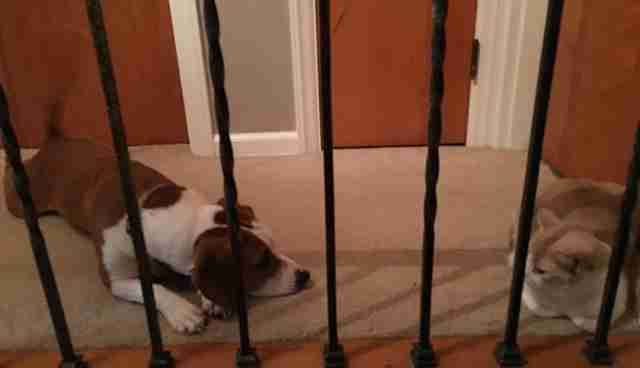 but Pooh still likes to show Pippy who's boss. After all, he is a cat.