Boy's Family Was Going To Buy A Puppy, Until He Met Hannah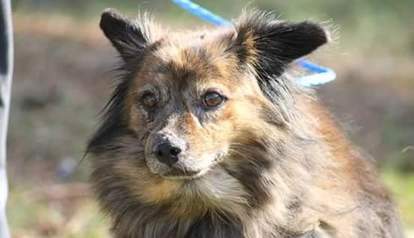 There are some stories that absolutely break your heart, and yet as sad as they are, something good comes out of them.
Hannah and her six puppies were found in the middle of a rainstorm, shoved into a tiny cat carrier and left out in the cold. After the puppies were all adopted, the woman who found Hannah adopted her, but Hannah's journey was far from over. After Hannah's mom became homeless, the sweet dog was was sent to a shelter - and then it was discovered that she had cancer.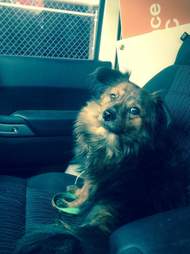 Kelcy Kimmerer
While she was rescued from the high-kill shelter and sent to a clinic that could treat her cancer, she never made it there due to travel issues and ended up in New York City in the hands of Second Chance Rescue.
Volunteers from the group who came to get her ended up taking her in, much to Hannah's delight. Unfortunately, her cancer has progressed and regressed since she made it to her new home, and she has also lost her eye because of the disease. Poor Hannah is quite the fighter!
Kelcy Kimmerer
Despite her struggles, Hannah's sweet demeanor has never changed - and she's even been able to change a few lives along the way.
Hannah now has a foster sister, Mama, and the two are basically inseparable. "Wherever Mama is, Hannah is right behind her," Kelcy Kimmerer of Second Chance Rescue told The Dodo. "They sleep together and are starting to be in tandem in the 'up to no good' department. The holistic vet thinks that Mama is a huge factor in Hannah's healing. Hannah is happiest when she is with Mama."
Kelcy Kimmerer
Hannah has since gone into schools to teach kids about humane education and rescue. After one visit, a parent contacted Second Chance Rescue to tell them about the way Hannah had affected one student, the rescue group told The Dodo. A 9-year-old boy heard his parents talking about buying a dog and, after having met Hannah, completely pitched a fit.
"They were going for a poodle but he wanted a shelter dog like the very soft and friendly Hannah," Kelcy told The Dodo. "They agreed and visited a few shelters out around the Hamptons and have now added a rescue pup to the family."
Kelcy Kimmerer
Now, whenever the little boy hears people talking about dogs, he won't stop ranting about how amazing adoption is and how wonderful his rescue pup, named Linda, is for him and his family. Hannah, a rescue dog who has hit struggle after struggle, brought this little boy and his own rescue pup together. Hannah helped rescue another dog just like herself.
Kelcy Kimmerer
Hannah's story is heartbreaking, but through it all, she is still changing lives every day. Hannah is still battling cancer, but so far she is winning the battle. Her struggle is far from over, but at least now she has people who love her and can help her through. "We will continue to fight the cancer battle with Hannah for as long as it takes," Kelcy said. "She has taught us so much."
Thank you for changing lives, Hannah. Our thoughts are with you!