When Roosevelt was surrendered to a shelter, his owner said he was giving him up was because he wouldn't hunt. Staffers at the Virginia shelter suspected that Roosevelt had been abused, as he was incredibly skinny and scared.
Roosevelt was pulled from the shelter by Northeast Coonhound Rescue, which specializes in rescuing coonhounds and beagles from shelters across the South. Many of the dogs this rescue takes in are former hunting dogs, like Roosevelt, who are left at shelters after the hunting season is over - or are just simply abandoned.
The sweet dog was quiet and shy when he was first rescued, but that didn't stop Noah Leavitt, Roosevelt's new dad, from seeing what a loveable dog he truly is.
"He was quiet at first, which is rare for a coonhound, but now he's very talkative," Leavitt told The Dodo. "He wanted to eat everything in sight, and explore and sniff every part of our house."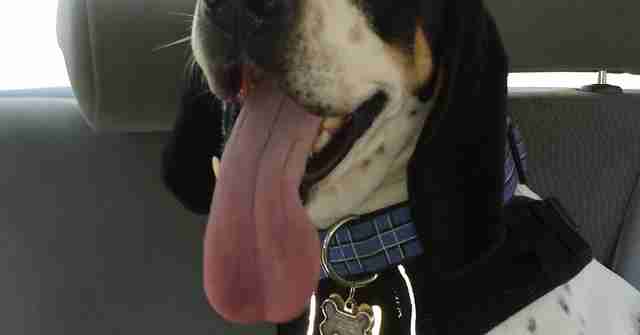 Roosevelt was so skinny when he arrived in his new home that he couldn't help himself from eating anything and everything he could find. He was so hungry that he even ended up eating one of his dad's lamps.
Since arriving at his new home, Roosevelt has gained a whopping 30 pounds, and is now incredibly healthy and happy. He's come so far from the days of being forced to hunt and deprived of food.
"He's goofy," Leavitt said. "So goofy. He definitely likes attention and loves being around people. He also thinks he's a lapdog. If I'm sitting on the couch he'll sometimes just jump right on top of me."
Roosevelt also loves to run and play outside, smelling and exploring everything in sight, and the best part is he's no longer forced to hunt. He can just enjoy the great outdoors with his new dad, loving every moment of his new life.