Alison O'Connor is a person who needs to help others - it's almost like an obsession.
During the day, O'Connor is a therapist for people with special needs. But it's not just people she likes to help - she has also taken a particular interest in dogs with special needs.
"My last dog Petey had dementia," O'Connor told The Dodo. "He required a lot of care. It was really heartbreaking and sad, but it sort of became my daily routine."
Petey died in 2014, leaving a gaping hole in O'Connor's life - she desperately wanted someone else to care for.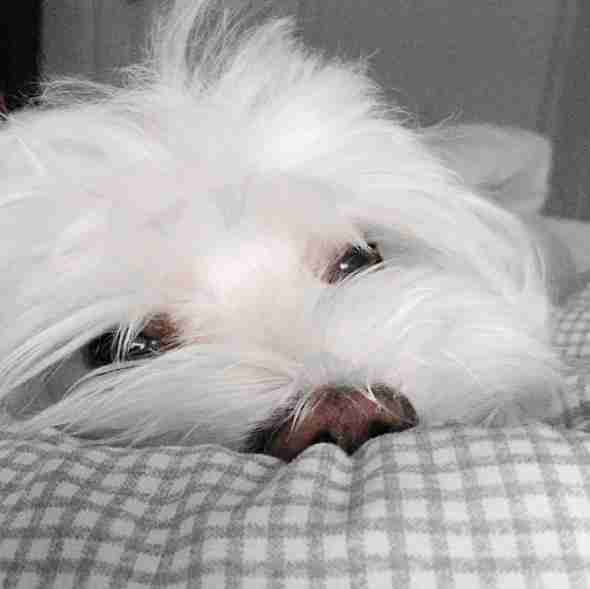 When a woman from the American Maltese Association Rescue (AMAR) asked O'Connor if she wanted to foster a dog who had kidney issues, O'Connor couldn't say "yes" fast enough.
"I hadn't even seen her yet," O'Connor said. "[The dog] needed to have surgery in a specialized hospital, which was only about 20 minutes from my house. The intention was to get her medically taken care of, then adopt her out. But I think I always knew I was going to keep her."
When O'Connor finally did meet the dog, who she named Pez, she noticed something unusual about her - Pez had a funny-looking snout with a row of snaggly teeth. O'Connor immediately fell madly in love.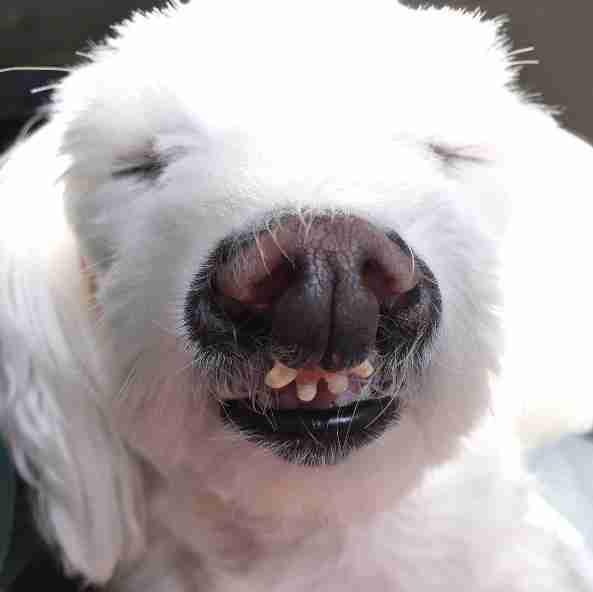 "It's sort of like a cleft palate, but the palate is actually closed," O'Connor said.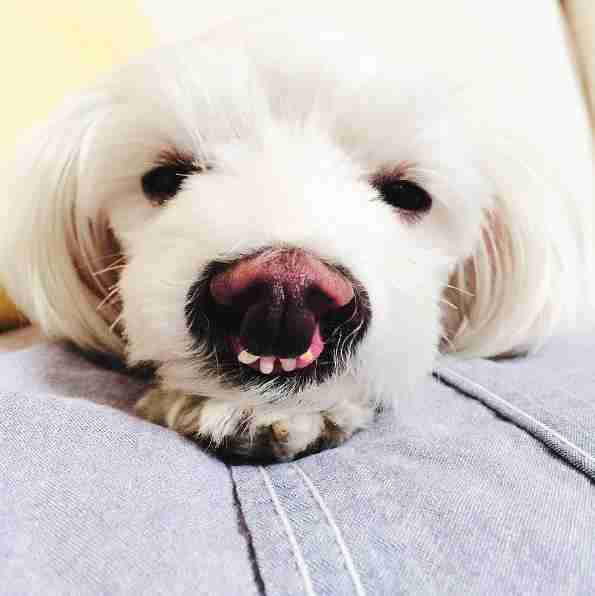 To O'Connor, Pez appears to be constantly smiling. "Literally every time I look at her, my heart explodes," she said.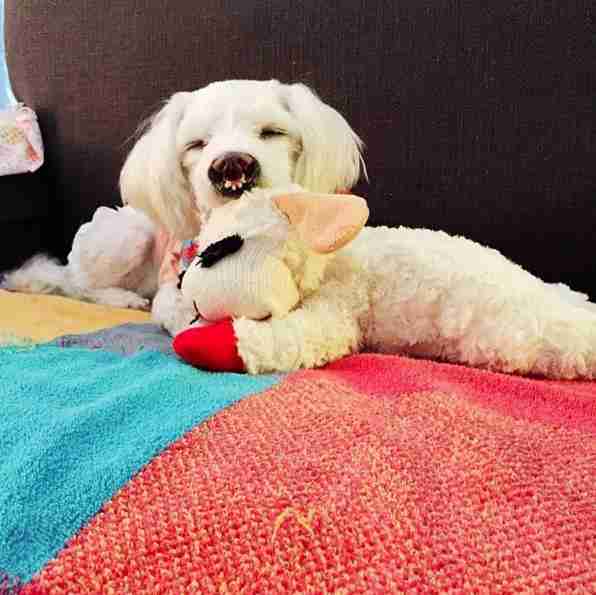 But Pez's rough start to life is nothing to grin about.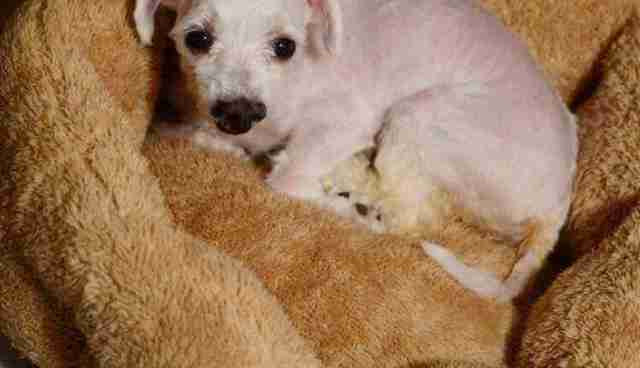 While O'Connor doesn't know everything about Pez's background, she believes Pez's previous owner abandoned her at a shelter when she didn't want to pay for the dog's medical bills. Pez ended up at a New York City shelter, and was slotted for euthanasia. But volunteers from the AMAR found Pez and saved her life by pulling her out of the shelter.
According to O'Connor, Pez's funny face is mainly cosmetic and it doesn't cause her any health problems. Pez's main issue is her kidneys, which aren't properly connected to her bladder due to a birth defect. Even though Pez has had surgery to try and correct this, she remains incontinent, so O'Connor keeps her in diapers most of the time.
Wearing diapers doesn't seem to phase Pez, and to O'Connor, it adds to her charm. "It's just like a quirk," she said. "I don't know what else to say besides that she's charming. I know that's a weird way to describe a dog, but she has a lot of spunk. She's constantly glued to you the whole time, and wants to be having a good time."
Pez might satisfy O'Connor's need to help others, but Pez has also helped O'Connor get through periods of depression. "I've been battling depression for more than 10 years, as well as eating disorders," O'Connor said. "It becomes really easy to hang out in your bed for long periods of time and not go out in the world. Pez gave me a purpose and [helps me] get out of my own head for a bit and help her out. You can't hang out in bed all day if you have to walk a dog and feed it, and take her to the park and become more present."
O'Connor even puts up with Pez's more questionable traits, like flinging dirty socks around the house and eating used tissues. "I blow my nose, and she's been sitting on my lap, and she's assaulting me to get this tissue," O'Connor said. "She's jumping on my face trying to grab it and bite it. If she doesn't get a tissue, she pulls one out of the garbage and shreds it into a million pieces."
O'Connor recently got another rescue dog named Pinky, and Pez is obsessed with her too. "Pez loves her dearly," O'Connor said. "She's constantly checking her out and giving her kisses. If Pinky goes out without her and then comes back, Pez goes wild as if she hasn't seen her in years. And Pinky's like, OK, get it over with.'"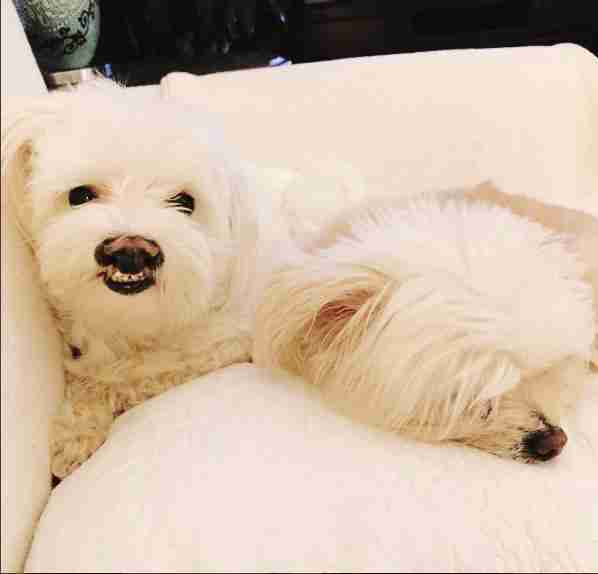 O'Connor's hoping to register Pez as a service dog so she can help her clients with special needs, too. "I find Pez to be so therapeutic because of her nonjudgmental acceptance and unconditional love," O'Connor said. "My clients, just like everyone else, are so deserving of that."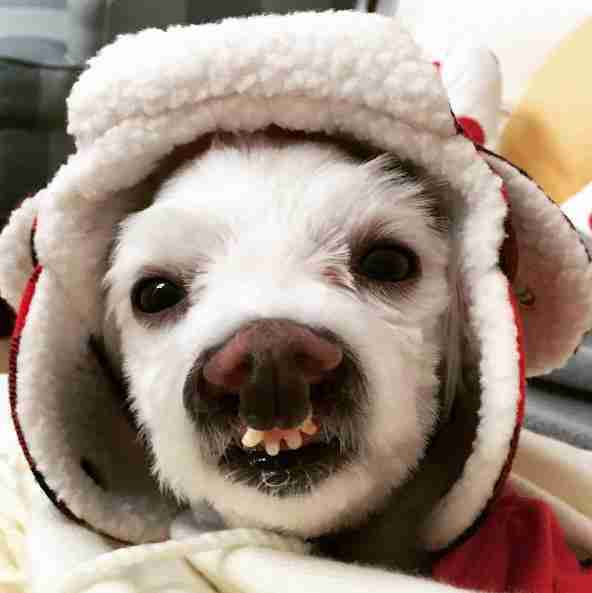 To see more photos of Pez's adorable grin, you can visit her Instagram page.