Boy Who Can't Walk Is Smiling For The First Time Because Of His Dog
"Johnny's face lit up — something we rarely see. I was in shock."
Before he got a dog, a 9-year-old boy named Johnny rarely laughed or smiled. "He always seemed down," Katherine Scandasis-Finn, Johnny's mom, told The Dodo.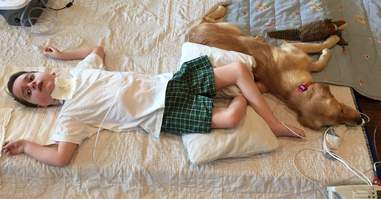 Katherine Scandasis-Finn
Johnny was born with severe quadriplegic cerebral palsy. He can't breathe without a special machine, and is unable to swallow or eat without assistance. He suffers from seizures and has no control of his body, according to his mom. Johnny also can't sit up for long periods of time, so he spends most of his day lying down, his body attached to various machines with tubes and cords.
Despite Johnny's physical limitations, his mom said he's cognitively aware. "He's trapped in his body," Scandasis-Finn explained. "He knows what is going on around him but cannot do anything about it."
Unable to do the same things as other children his age, Johnny was depressed for quite some time. But everything changed when he met a sweet golden retriever named Lexi.
Golden Beginnings
Lexi herself had a rough start to life. When her original owners surrendered her to Golden Beginnings Golden Retriever Rescue, Lexi was emaciated and covered in fleas. She was only 5 months old, and she'd spent her entire life outside on concrete.
Golden Beginnings
Thankfully, Lexi's foster mom helped her get better. "The first thing Lexi's foster mom did was bathe her," Lauri Neale, rescue coordinator for Golden Beginnings, told The Dodo. "The fleas literally poured off of her. Next stop was the vet. The vet discovered Lexi had intestinal worms and two lemon-sized seromas on her rear end. They were probably due to sitting on concrete all day and night. She was treated, vaccinated and microchipped."
Golden Beginnings
Once Lexi was on the road to recovery, her personality emerged. "As the foster mom got to know Lexi, she realized she was a special young puppy," Neale said. "She also realized that Lexi was thoughtful, sensitive and wise beyond her age. She decided Lexi needed a home where she would have lots of interaction."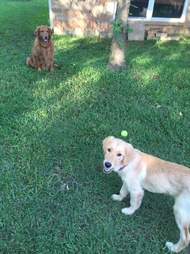 Golden Beginnings
When Scandasis-Finn applied to adopt a golden retriever for her son Johnny, Neale and the foster mom thought Lexi could be the perfect match.
The day Lexi arrived at Johnny's home in Houston, Texas, and she acted exactly like a normal 5-month-old puppy. "Lexi ran into our house, and she was extremely hyper and smelling everything," Scandasis-Finn said.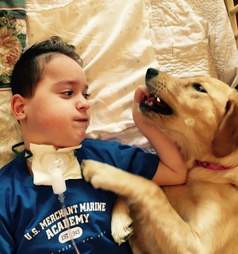 Katherine Scandasis-Finn
But when Lexi spotted Johnny lying on his bed in the living room, her demeanor changed. "She immediately stopped, calmed down and very gingerly stepped onto his bed," Scandasis-Finn said. "I just stood back and watched, and didn't say anything to her. She carefully stepped around him, being careful not to touch any cords or tubing, laid down right against Johnny's side and put her head on his shoulder."
Katherine Scandasis-Finn
It wasn't just Lexi who experienced a sudden change - Johnny did too. "Johnny's face lit up - something we rarely see," Scandasis-Finn said. "I was in shock. I'd never seen anything like it before."
Katherine Scandasis-Finn
The amazing thing is that Lexi had never been trained on how to interact with a medically fragile child. In fact, she'd never spent time with kids before. "Her reaction to Johnny was solely based on her amazing instinct," Scandasis-Finn said.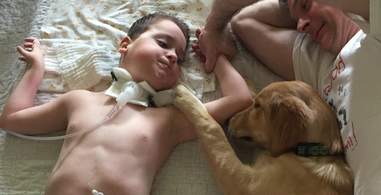 Katherine Scandasis-Finn
Since their first meeting, Lexi and Johnny have spent every minute of every day together. They take naps together, watch cartoons together and they've even figured out how to play together.
Katherine Scandasis-Finn
"Lexi and Johnny play fetch in the house," Scandasis-Finn said. "I throw the tennis ball and Lexi brings it back and places it on or near Johnny's hand. Then I throw it, and repeat. Lexi will put her toys by Johnny's hand until someone notices and helps them play tug-of-war together."
Katherine Scandasis-Finn
When Johnny does his physical therapy, Lexi is extremely helpful. "She keeps his mind occupied while the therapists stretch his muscles, which is painful for him," Scandasis-Finn said. "When Johnny pets Lexi, all of his muscles relax, making therapy less painful. Johnny will cry during therapy unless Lexi is next to him and he can pet her."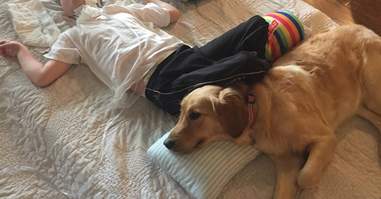 Katherine Scandasis-Finn
Lexi's bond with Johnny is so strong, she gets upset when Johnny's upset. "Lexi starts pacing the room if Johnny is crying or having a temper tantrum," Scandasis-Finn said. "She gives him a lot of kisses on his cheeks and licks his hands. It takes a lot for Johnny to laugh and smile, and it instantly happens when Lexi lies by him or they play together. His face lights up when he knows Lexi is with him."
Katherine Scandasis-Finn
Lexi has been with Johnny and his family for a year now, and Scandasis-Finn can't imagine life without her. "She's brought our family closer together because we know Johnny is happy that he has her, and she keeps him entertained while we are busy running Johnny's medical equipment and making sure he is medically stable," she said. "Johnny would be a very depressed boy without Lexi, I can promise you that."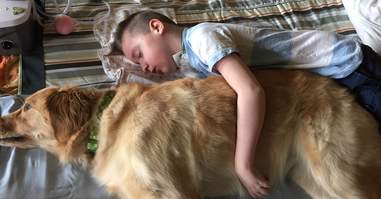 Katherine Scandasis-Finn
Golden Beginnings, the rescue group who rescued Lexi, is a finalist for the Petco Foundation 2016 Holiday Wishes campaign. You can vote for Golden Beginnings here.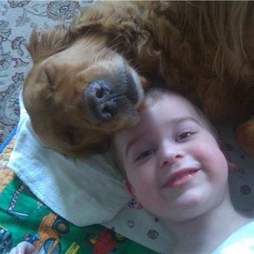 Katherine Scandasis-Finn