Mrs. Flans. The Flan. Dog with the bubble gum nose.
Whatever she's called, this chiweenie (cross between a Chihuahua and Dachshund) is quite a character.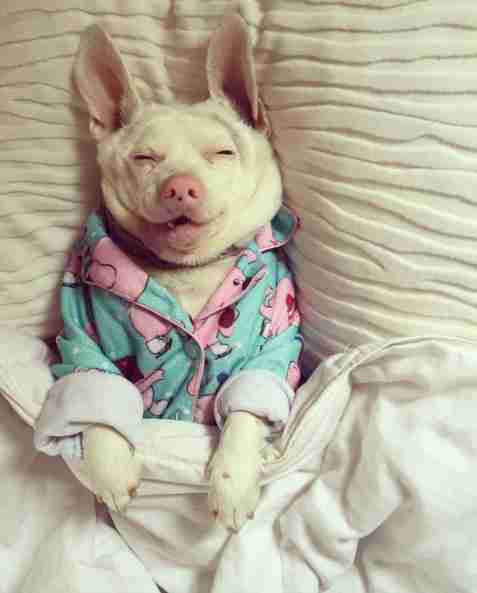 "I don't know if 'diva' is the best way to describe her, but she's full of personality," Linda Alvarez, Mrs. Flans's mom (or personal assistant, as she puts it), told The Dodo. "I basically have to do whatever she says."
Before Mrs. Flans came into Alvarez's life, she was someone else's pet. When the owner got pregnant, she decided she didn't have room for Mrs. Flans (formerly called Mimi) in her life anymore. She contacted Alvarez, who volunteers as a private rescuer in the Los Angeles area.
"The owner said she needed somebody to come and get her," Alvarez said. "Otherwise, she was going to put her out on the street."
The woman lived over an hour away, but Alvarez raced over to pick up the dog. When Alvarez arrived and knocked on the door, the owner walked out with Mrs. Flans wrapped up in an old towel.
"Her big ears were sticking out of this ugly old towel," Alvarez said. "And I was like, 'is that a bat?'"
She's not a bat, but Mrs. Flans is certainly an interesting looking creature.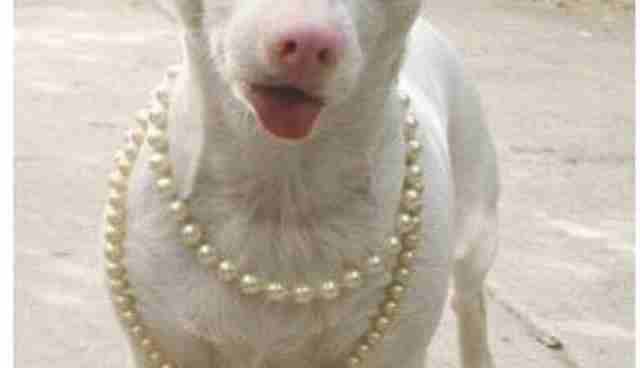 Besides her big pointy ears, she has a pink nose that looks like a wad of bubblegum, and a long tongue that doesn't quite fit inside her mouth. "She's got a Chihuahua snout and a Dachie tongue - that's what the vet said," Alvarez said. "Sometimes she has the little tip of it out, and sometimes it's like Mick Jagger - 200 feet of tongue hanging out."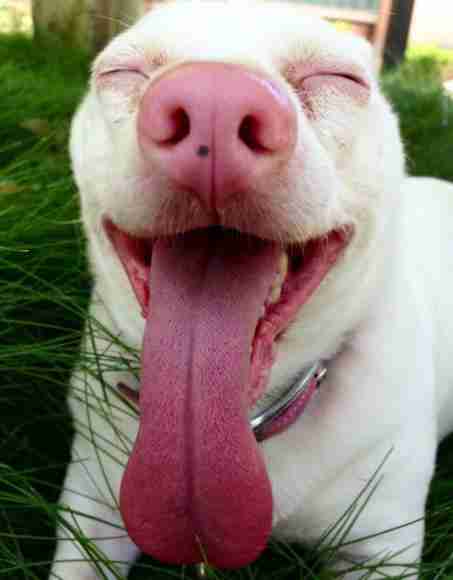 Mrs. Flans's funny appearance has a lot to do with the fact that she's the result of backyard breeding. Her parents had been siblings, and each litter they produced had genetic abnormalities. Mrs. Flans had a brother, but he died shortly after birth.
Mrs. Flans survived, but with serious issues. She's albino, deaf, blind in one eye and has Dog Shaker Syndrome, which causes seizures. Her previous owner used to laugh whenever Mrs. Flans had a seizure, saying it looked like the dog was "dancing." But Alvarez takes Mrs. Flans's seizures much more seriously. "She's not on medication, but we watch her very carefully," she said.
Alvarez had originally intended to find Mrs. Flans another home. She took some photos of Mrs. Flans in costume, hoping this would help get her adopted. But no one wanted her. After Mrs. Flans had been in Alvarez's home for several months, Alvarez realized she'd become part of the family - so she kept her.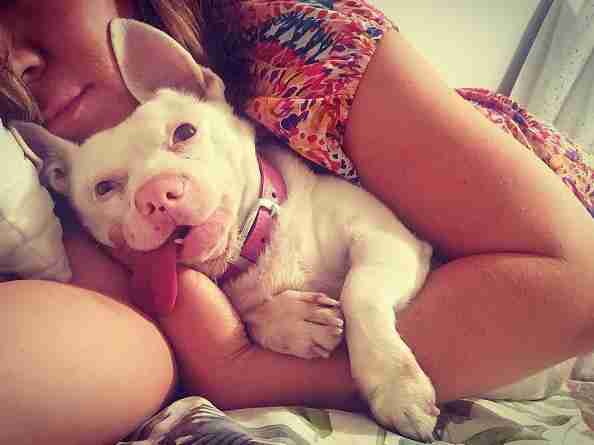 Now Mrs. Flans lives a full, happy and healthy life. One of her hobbies is letting Alvarez dress her up and take photos.
"I'd never do anything that makes her feel uncomfortable, and she will let you know if she doesn't like something - she gives dirty looks," Alvarez said. "But when I dress her up, she sits there, and literally poses, and moves her head in different directions, which is why it's so easy to get pictures. People say, 'it looks like she's posing,' and I'm like, well she is."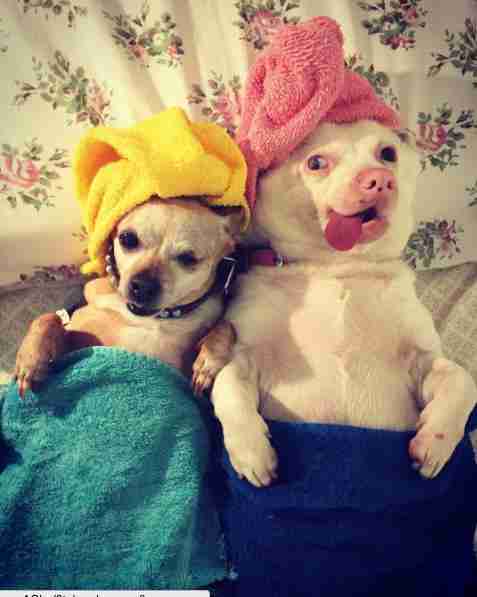 Besides being a ham for the camera, Mrs. Flans loves using her one good eye and her pink nose to sniff out food. She screams with excitement when it's time to go for a walk, and yelps at the bees and butterflies while lying in the grass.
'The Flans' has also assigned herself as chief welcomer to Alvarez's other rescues. "We always have fosters here, and she's kind of the welcoming crew," Alvarez said. "She's very, very outgoing, and very friendly. She doesn't bark necessarily, but she kind of screams. So she'll walk up to the dogs and start screaming, and they'll look at her like 'what the hell is this?' And she's like, 'AHHHHHHH!'"
According to Alvarez, Mrs. Flans is also very good at being stubborn. "I have a king size bed, and I'm be sleeping in the corner and she's completely spread out. She's not a huge dog, but when I move over in the middle of the night, she will scream and be like 'AHHHHHHHH. Don't touch me. I need my beauty sleep. You scoot over, this is my bed.'"
Alvarez might not get to stretch out in bed, but she couldn't imagine her life without Mrs. Flans. "She makes me happy on a daily basis," Alvarez said. "She's living the Flans life, and enjoying her life, and I get to witness this beautiful, amazing thing happening."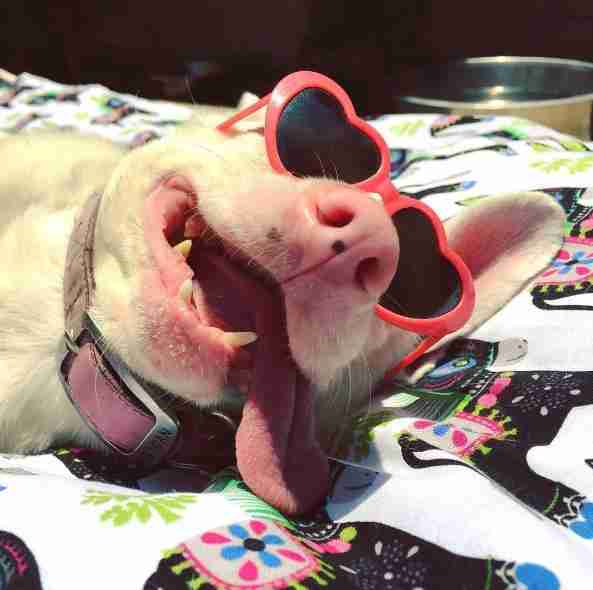 To see more photos of Mrs. Flans living the good life, you can follow her Instagram page.
And help put backyard breeders out of business - adopt, don't shop.