Rescue Dog Won't Kiss Anyone Except His Baby Sister
She needs a little extra care — and when she's sick, he runs to her.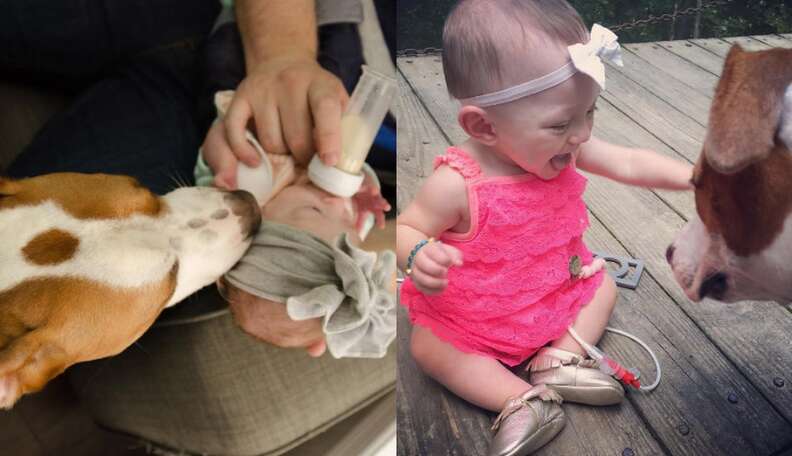 Before a rescue pup even met his family's new baby, they shared a special bond.
Jpeg was adopted from Pregnant Dog Rescue in Newfoundland, Pennsylvania, when he was just 12 weeks old. Soon after, when he was still a puppy, his little sister, Addie Belle, was born 14 weeks early, weighing in at 1 pound, 8 ounces.
Because she arrived much too early, Addie was kept in a neonatal intensive care unit (NICU) for 105 days, and spent eight months of her life in the hospital.
"His love for her started even before she came home," Stephanie Durfee, Addie and Jpeg's mom, told The Dodo. "When she was in the NICU, I would bring home her blanket that she was swaddled in that day, and he would get excited, smell it and sleep on it."
When Addie was finally able to go home, she was still very small. Today, she struggles with some as-yet-undiagnosed medical complications and has to use a feeding tube to eat - but somehow, Jpeg knows he needs to be careful with her.
"Jpeg was only 1 when we brought her home, and he was still very much a puppy," Durfee said. "The second we came home, he calmed down so much. He is beyond gentle."
From the very beginning, Addie and Jpeg have been inseparable. Jpeg lays in the doorways of any room Addie is in, and will put himself between Addie and any stranger that approaches them. He spends most of his time watching out for Addie, and Addie loves his adoration and attention.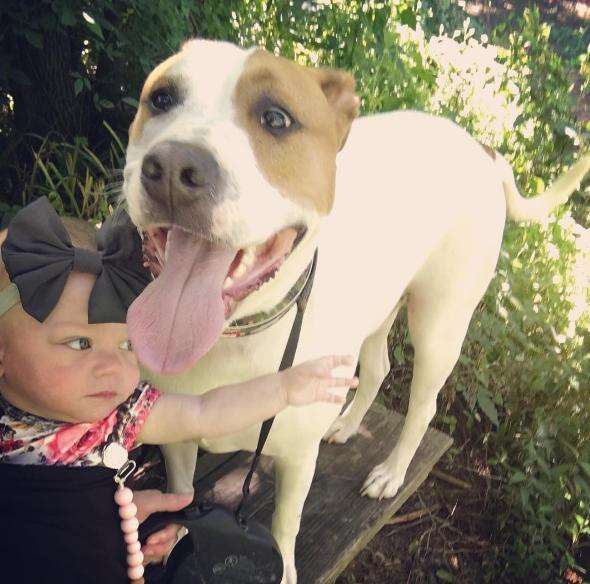 "He is the only one she reaches for," Durfee said. "When he comes near her, she smiles. She may have cerebral palsy, and one of the ways we do physical therapy is I have Jpeg lay a few feet from her, and we work on crawling toward him. When she reaches him, he covers her in kisses and she laughs. Jpeg is not a licker or kisser, except when it comes to Adeline."
Jpeg is the perfect dog for little Addie. He is an extremely happy pup, and is gentle and compassionate.
"At doggy day care, he runs with his friends every time they throw the ball, but never goes after it," Durfee said. "He's not very competitive."
Jpeg will be there for Addie as she grows up, every step of the way, and will always make sure she's happy and safe.
"When she gets sick, he runs over to her," Durfee said. "When she cries, he kisses her."