Rescued Chicken Loves Getting Pet So Much, She Sings
A couple of weeks ago, photographer Alexis Holloway noticed a shy, fluffy white chicken hanging around a feral cat colony she feeds, near her apartment in Brooklyn, New York.
"I threw her some food, she came for it right away," says Holloway.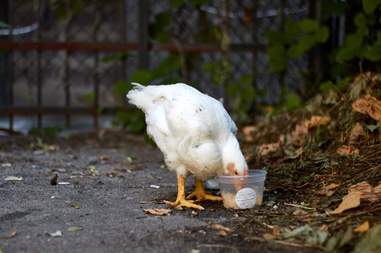 Alexis Holloway
There had been chickens before - from where, it's not clear. Perhaps escapees from a brutal and controversial religious ritual that takes place nearby, perhaps abandoned pets. One, Holloway had placed with a sanctuary in upstate New York. The others had left pretty quickly, seemingly of their own accord.
And while the colony is home to some raccoons, in addition to the cats, Holloway wasn't too worried about this chicken - until a couple of days into the chicken's tenure, when New York City's hot summer weather started getting swampy.
Holloway put out extra water for the bird, who was skittish at first. After a couple of days, the chicken - now named Camilla - let Holloway get closer.
By the end of the week, "she started following me and whenever I pet her, she would just plop down on the ground and start cooing," says Holloway. "Prior to living here, I hadn't ever touched a chicken. And prior to Camilla, I had never pet one! I didn't know they would be so receptive and loving."
Alexis Holloway
Holloway's concern for Camilla developed along with their relationship.
"I was totally in love with her and becoming more and more worried about the heat - there's very little shade," she says. "And the possibility of someone grabbing her. Also, every night I was extremely nervous the raccoons would get her."
Holloway reached out to sanctuaries, but none could help. Then she tried her network of animal rescuers - and through them, found Abbie Slaman.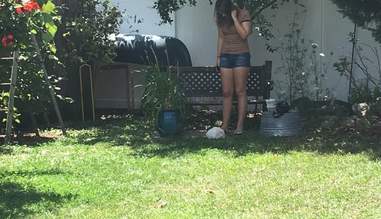 Meredeth Oliver
Slaman and her family live in New Jersey, where they were already growing a little flock.
"Three hens, raised together from hatchlings," she tells The Dodo. "My husband build a wonderful coop in our backyard in New Jersey for them. My daughter and I painted it and they have been happy pets."
It didn't take long for Slaman to say yes to making Camilla part of the family.
Meredeth Oliver and her boyfriend, Bill Wilson, offered to drive Camilla to the Slamans' house.
First, she spent a night with them in New Jersey - where the couple, in turn, found themselves smitten.
"She was so sweet," says Oliver. "When you stroked her back, she would plop right down, singing and just reveling in the caresses."
Oliver greeted Camilla the next day, before driving the last leg to her new home.
"I said 'Good Morning, Camilla,' and she started dancing around and singing," says Oliver.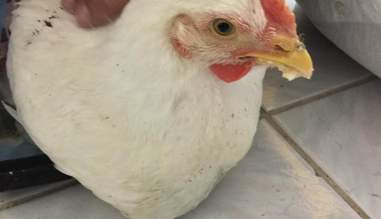 Meredeth Oliver
On Sunday, Oliver and Wilson and Camilla drove off together, to deposit the chicken with her new family.
Oliver was impressed with what she found - the careful, comfortable chicken enclosures; the teenaged daughter, Rebecca, who is deeply involved with the animals' care.
"It gives me hope that there are young people like this out there," says Oliver. "Bringing Camilla to Abbie's home was amazing."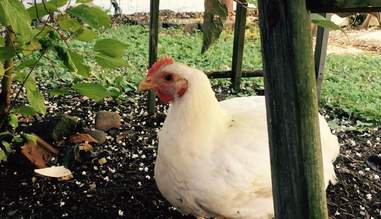 Abbie Slaman
Camilla's new name is Eliza - named for Alexander Hamilton's wife. She has been with Slaman and her family for about a week and a half now.
"We toasted her arrival," Slaman says.
Abbie Slaman
Slaman thinks Eliza may be very young still. She seems a little ungainly on her feet, and her comb isn't fully formed yet.
They're doing all they can to get her healthy and strong. And they're enjoying her just as she is, right now, this mysterious, charming little chicken who's come their way.
"I keep thinking of her as a helpless baby and she doesn't mind sitting on my lap and being petted. Then she starts singing and it's just so sweet," says Slaman. "She's just so sweet."
Alexis Holloway