Cat Whose Owner Died Loves Bossing Around His New Family
"He wants what he wants."
For most of his life, Benson (previously Killer) lived very peacefully with his loving owner - until that owner passed away.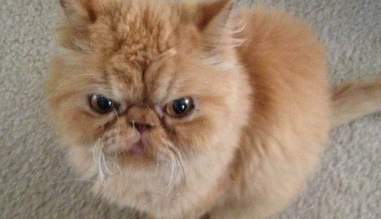 Krissy O'Conner
With Benson on the verge of being homeless, a neighbor of his former owner took him in. Unfortunately, after a year, the neighbor decided he no longer wanted Benson, and the search for a new home began again. That's when Krissy O'Conner came into the picture.
"I rescue and foster lots of animals and I was looking for an older cat to add to our permanent family," O'Conner told The Dodo.
The family members of Benson's original owner heard that O'Conner was a frequent animal rescuer in North Carolina and contacted her. She quickly agreed to adopt Benson. She was shocked, however, when she took him in and realized how little he had been taken care of in his most recent home.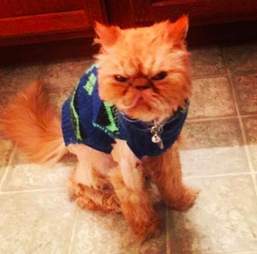 Krissy O'Conner
"He was in horrible condition, actually on his deathbed," O'Conner said. "When I got him, he smelled of urine and was so dirty and matted. I got him shaved down as much as possible and then we realized he was half the weight he should have been. He also wouldn't stand up all the way, even when walking, as if kept in a small space all the time."
O'Conner immediately rushed Benson to the vet, and the prognosis didn't look good. Benson had liver disease, an ear infection, a viral infection, eye infections and urinary infections, and was also extremely malnourished. The vet told O'Conner not to get too attached to Benson, because he was surely going to die.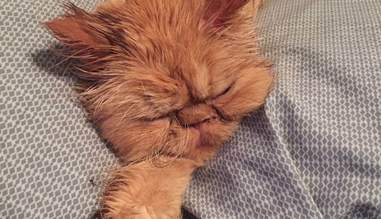 Krissy O'Conner
But Benson decided that wasn't going to work for him. Somehow, against all odds, Benson made a full recovery.
"Within three weeks he was standing right, eating good and starting to play," O'Conner said.
Krissy O'Conner
Now, Benson is 11 years old and the king of his new home. He has a permanently grumpy look on his face, but has totally earned it after all he's been through. He's actually a pretty happy cat ... for the most part.
"He is the sweetest," O'Conner said. "He is always next to me while I do anything. He is not a lap cat but he wants to make sure you are close by, while he silently judges you."
Krissy O'Conner
Benson also has three dog siblings now, and isn't fazed by them at all. He loves to lie with them on the porch and participate in a little group sunbathing.
Benson has lived in his new home for over three months now, and seems to love being the boss of his new family and getting spoiled rotten. He loves them all dearly ... as long as they do exactly what he says, of course.
"He wants what he wants," O'Conner said.
Krissy O'Conner