Newborn Cow Was So Scared The Day He Was Rescued
He's so happy now — and his best friends are lambs.
The newborn calf was terrified when he arrived at the sanctuary. You could tell by his eyes - they were wide and white.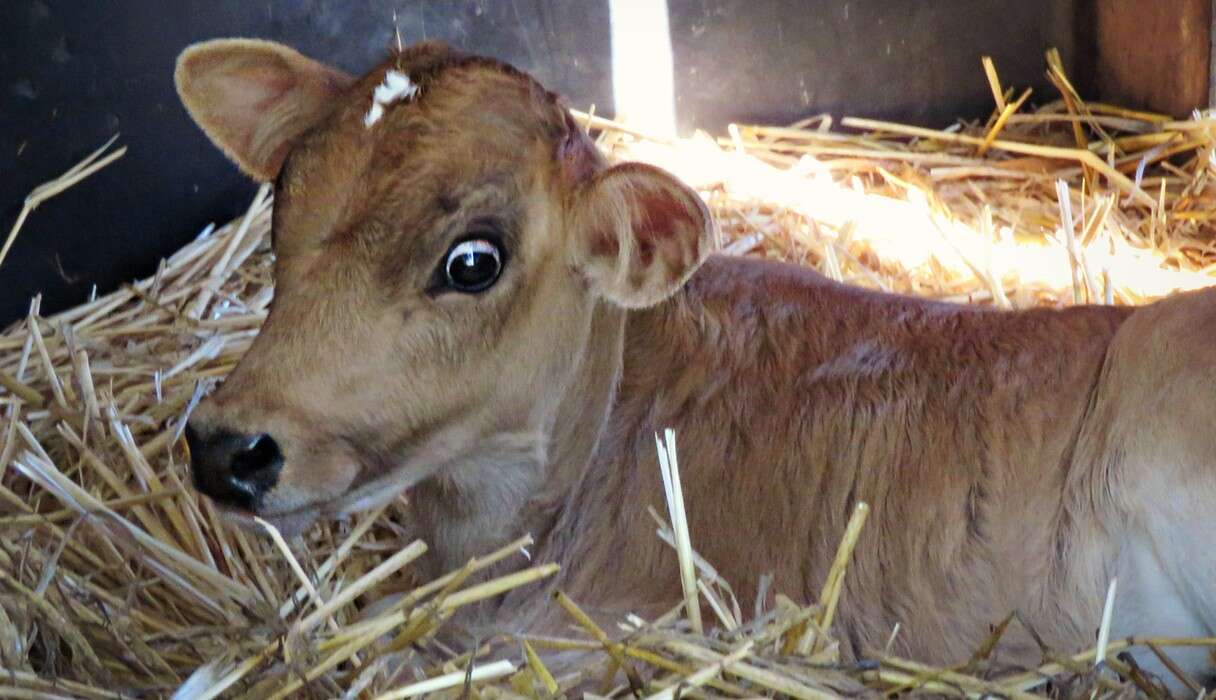 The calf - named Valentine - was born on a dairy farm in New South Wales, Australia. As a male calf, Valentine was considered a "waste product," because he could not produce milk. The farmer ripped him away from his mom when he was just a few hours old, so he could use the mother's milk for human consumption, and not "waste" the milk on the calf.
A neighbor had witnessed Valentine's birth, and his removal from his mother. She alerted Pearce, asking her to rescue Valentine. If Valentine wasn't rescued, the calf would have been sent to slaughter, which is a standard practice in the dairy industry for male calves, according to Animals Australia.
Pearce traveled to the farm and asked to adopt Valentine, but there was one problem: The farmer didn't know where Valentine was.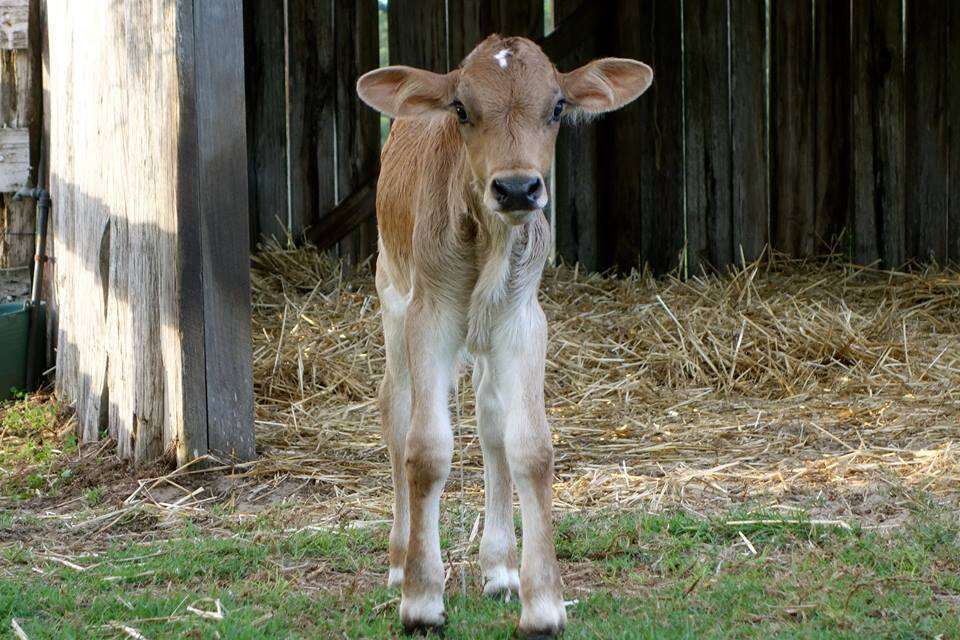 "The farmer said he'd wandered off," Pearce said. "So I went to look for him."
Pearce found Valentine huddled up with a group of female cows. It's possible Valentine got some milk from these females, but he was still weak and sickly without his mom.
Pearce wrapped Valentine in a burlap sack, carried him to her car and drove him to his new life at the sanctuary.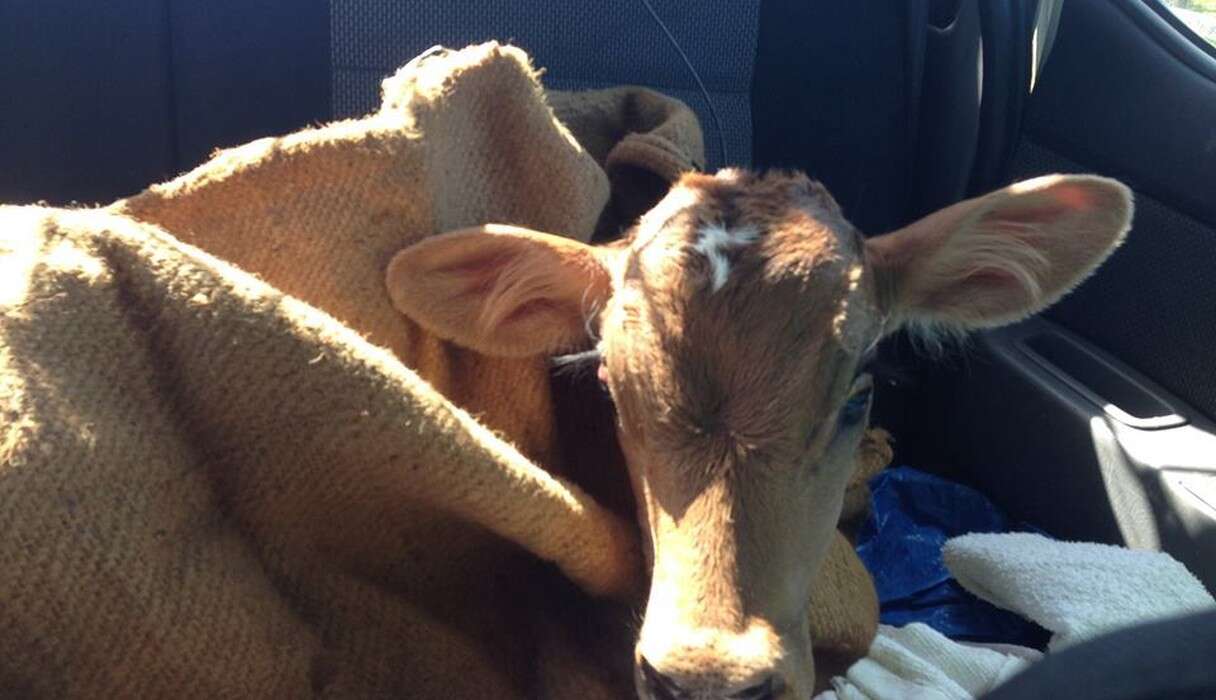 Valentine was safe now, but he didn't know it right away. For weeks, his eyes stayed wide and white.
"We spent lots of time with him," Pearce said. "The first few nights I spent with him in his shelter as he was very sick. We thought he might die."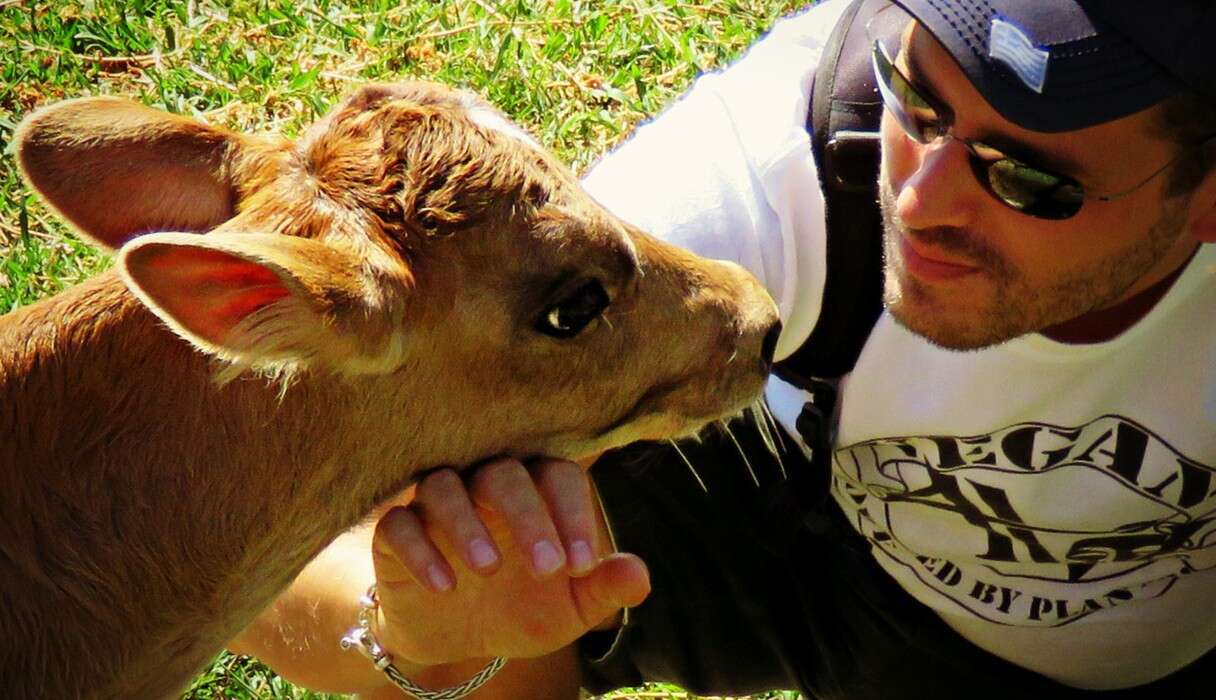 Valentine was sick because he hadn't gotten his mother's colostrum, a nutrient-rich milk that she produces when her calf is first born. Colostrum is full of antibodies that builds up the calf's immune system. Yet Valentine hadn't gotten any of this.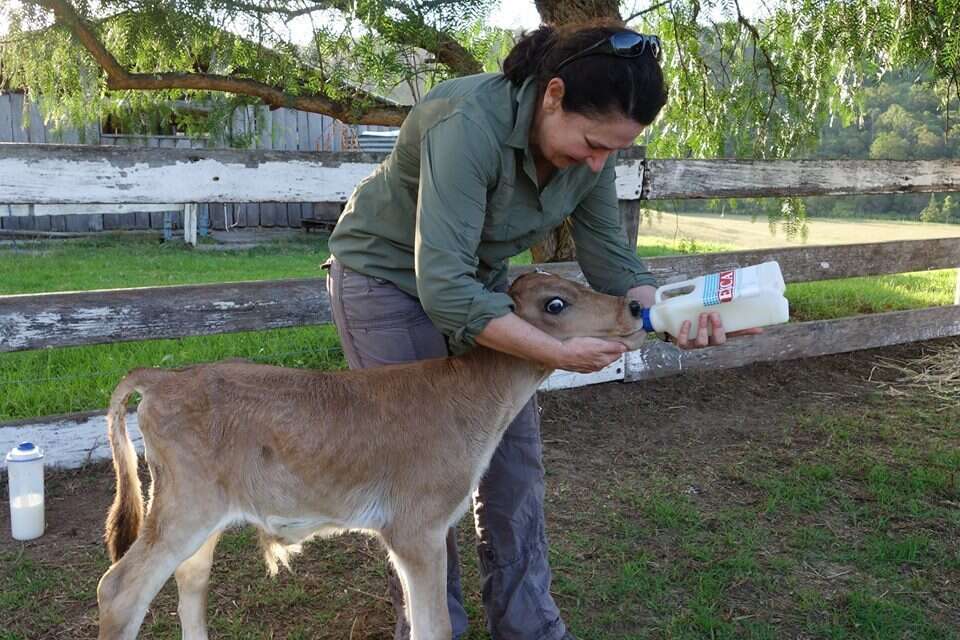 With Pearce's love, care and frequent bottle feeds, Valentine got strong and healthy ...
... and he settled into sanctuary life.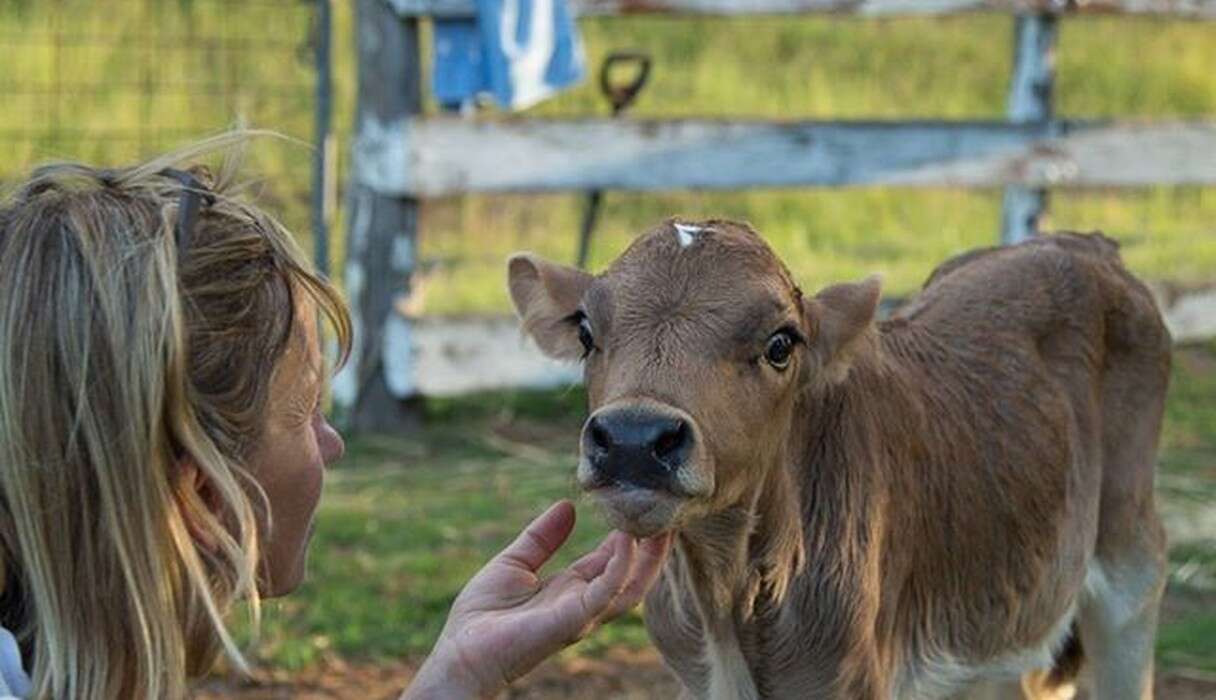 "Two orphan lambs, Coco and Sprout, arrived the day after Valentine," Pearce said. "They were bottle-fed all together and bonded strongly. They comforted each other. They remained best friends."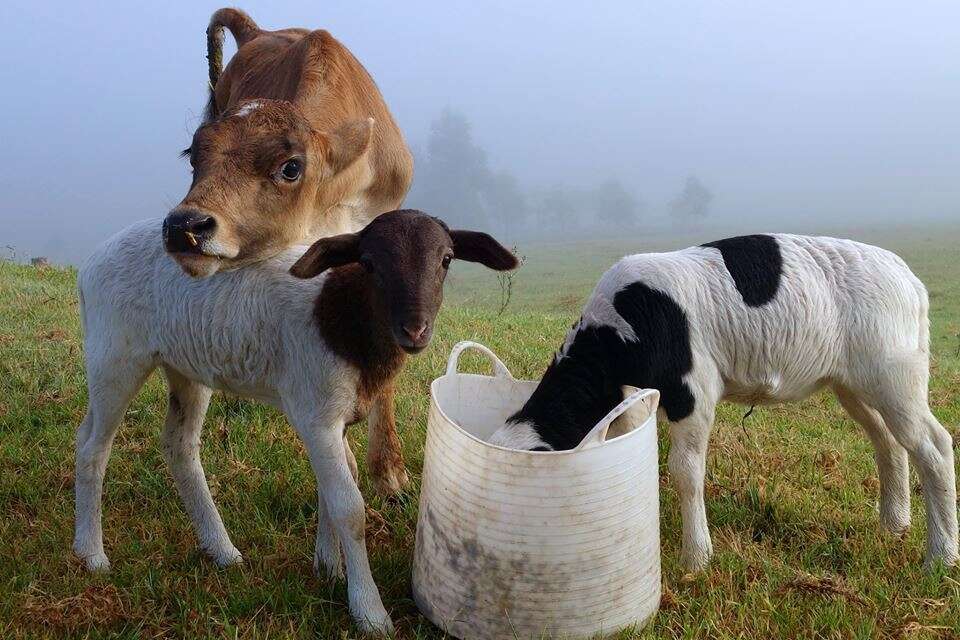 Now Valentine loves to steal the horses' hay and eat the apples Pearce gives him everyday. He also loves spending time with Coco and the other sheep. "Valentine doesn't like to stay with the other rescue cows for too long," Pearce said. "He stands at the gate and makes such a noise to be let back in the paddock where his lamb friends are. Valentine doesn't seem to think he's a cow. Not sure what he thinks, but he knows he is special."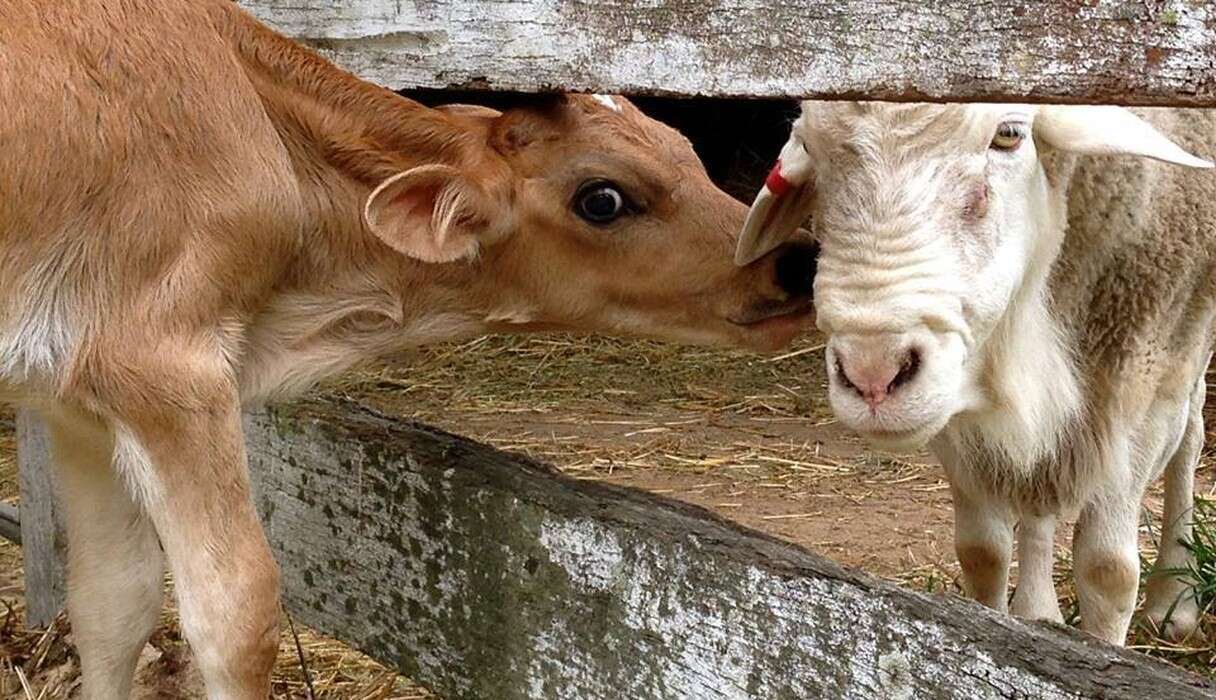 Another thing Valentine loves is spending time with people. "Valentine always greets us every morning," Pearce said. "He loves a morning cuddle. He knows his name and when we call him from afar he will come running to us."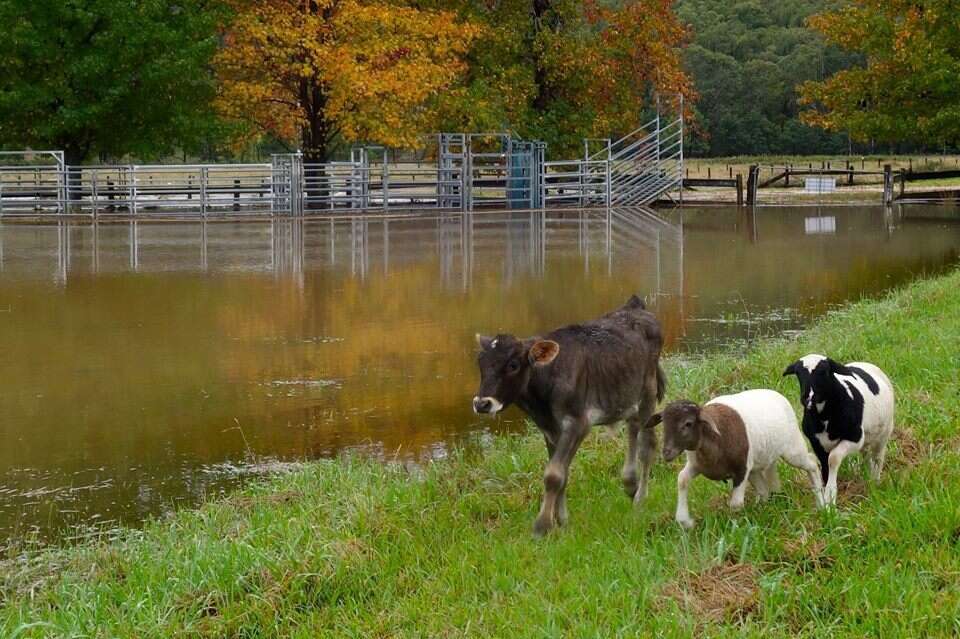 Valentine is older now - he'll be 2 in February - and his blonde coat has darkened to brown. But to Pearce, he's the same loveable calf who arrived nearly two years ago. "He's the sweetest, most gentle being," Pearce said.