Rescue Bunny LOVES Her Beach Vacation
Her previous family dumped her because "no one in the household was taking care of her."
Basil the rescue rabbit is the ultimate beach bunny.
Amelia Perez
Basil and her mom, Amelia Perez, went to the Delaware shore for a couple of weeks, with family.
Amelia Perez
There, Basil had two main activities. One, making people stop in their tracks and smile, as harness-wearing rabbits frolicking by the sea aren't so common.
And two, digging about a thousand holes in the sand.
"The excitement of digging holes was overwhelming almost," Perez tells The Dodo. "Basil would run in one direction, dig a hole, run again, dig another hole, and the cycle kept on going until she found a place where she thought it was appropriate to dig her final hole to lie down in."
Amelia Perez
These days, life is pretty fantastic for Basil back in the real world, too. Though things weren't always so great.
She was handed over to the Washington Humane Society/Washington Animal Rescue League, D.C.'s municipal shelter, this past the spring, because "no one in the household was taking care of her," spokesperson Alix John Tolley tells The Dodo.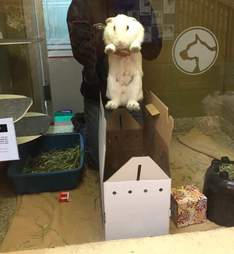 WHS/WARL
Perez had never had a rabbit companion before. A beloved guinea pig, Chester, introduced her to the joys of little companions. But Chester died last year of kidney stones.
"I loved having a small animal, so I inquired at my local shelter about their small animals," Perez says.
Amelia Perez
Basil came home in April. She was fearful at first, not used to being held.
Perez also quickly noticed that her new friend didn't run around much inside, so she thought: Why not try putting her on a harness and leash, and maybe she'd be more active with a change of scene?
A trip to the store yielded all the necessary supplies, and out they went.
"The first time I put her outside she just sat there, her ears were going in all sorts of directions so I could tell she was listening to everything around her," says Perez. "It took her about 10 minutes to get the idea to start hopping, but once she did she ran up my street."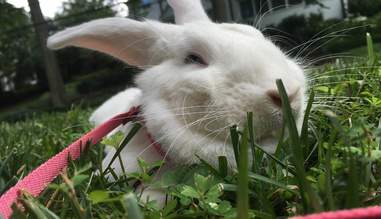 Amelia Perez
Basil now loves affection and attention - so much so, that she'll nip Perez's phone if she dares let it distract her during a cuddle session.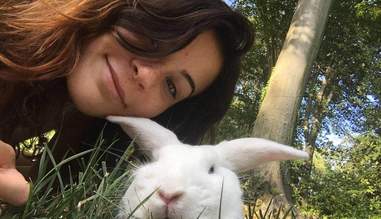 Amelia Perez
Perez and Basil regularly stroll/hop around the neighborhood, getting some exercise and showing off how great rabbits are.
Perez lets her little pal choose their direction and pace, and pretty much everything else, on these outings.
"I like to think of the time I walk her as her time to be a bunny, and hop wherever she pleases," Perez says.
Amelia Perez
The pair gets lots of questions - Perez hopes they lead to more bunnies being adopted and taken on adventures - and lots of people asking for pictures.
"I've had as many as 10 children come and pat her all at once," says Perez. "She just loves all of the attention and showed no signs of being afraid."
Amelia Perez
As terrific as things are at home, Perez is already looking forward to next summer's beach trip - getting to spend time with family by the shore, and knowing that Basil will dig it, too.