I never actually wanted my own animal rescue -- because I knew what a weight to bear that truly is – however, as a lover of animals and heavy metal, I loved the name "Motley Zoo". Before I knew it, I was running a rescue operation and finding myself backstage with world-famous musicians helping dogs and cats get adopted.
How did this happen?
My husband and I had been volunteering with some other rescues for a couple years. We fell into rescuing by accident (as I believe most rescuers do), when I believed our antisocial little Cujo could be helped through socialization with other dogs (which at the time, I didn't even know was a term or a common dog issue). I just hoped my little girl could be a "real' dog, and at least tolerate other dogs, if we fostered some dogs in our home. I knew too this would literally save the life of the foster dogs we worked with- and it seemed to be a situation in which there was no downside. I had no idea how much this chance encounter with rescue would change my life.
While this epiphany struck, so did the realization that I was actually unable to work with these groups any longer either. There were fundamental, irreconcilable differences I just couldn't come to terms with. So when it was apparent I would be moving on, the idea of a "new" rescue was more and more prevalent in my thoughts. However, I knew that this ideal couldn't exist either, until the right people came together- but I knew I would find them...
I love rock n roll, Motley Crue- and the name "Motley Zoo" had so many relevant meanings: from the colorful group of people I anticipated joining, to the many species of animals I would like to include. Any time I mentioned "Motley Zoo" to someone, they would laugh. My main thought was that if there were 10 grants on a grantors desk, and all of them had similar fluffy/ cute/ homegrown names, how would we distinguish ourselves? "Motley Zoo" seemed to stand out, and even be memorable. After some further brainstorming and a vote from the initial founders, Motley Zoo won out! It has truly been a critical key to our success.
That success has also come from clever branding and marketing beyond that of the name- not least of which is playing off the music industry theme and its terminology. The main one is that we name our adoptable animals "Roadies" while in our care- when they are adopted we dub them "Rock Stars". Each animal is then named after musicians, bands and their songs. In anticipation of the Rancid tour last year, I had a dream I took the Rancid named kittens to meet the band. As I was describing my "silly" dream to my husband and we were laughing about it, I suddenly blurted out, "I am going to do that!" My husband laughed, and then realized I was serious. He just said nicely, with raised eyebrow, "Good luck with that". Guess who was thrilled when I called and told him we were on the guest list for the concert, and I had spent half an hour backstage with Rancid, taking pics and shooting the breeze? They were so nice, and really cool. Yes, indeed, this was a genius idea, and I was going to keep on with it- see where it could go next! I set my sights on The Cult, Snoop Dogg/ Lion, Doyle & Danzig...
[Ryan Lewis, holding a rescue cat.]
At first we didn't have contacts, or appointments, I was just literally showing up with pets and hoping for even a glance from anyone, at what was in the crate- but we have been fortunate enough to earn the respect and admiration of some local venues, who not only help us make these meet and greets happen, but who are really supportive of our cause. Really, who doesn't want to see kittens and puppies when they show up at work? The staff all clamors to see who tonight's special furry guest is- especially when they know it makes the talent much more relaxed and happy, in what can be a stressful setting. In honor of The Showbox and its employees in particular, helping us get this whole idea started, we have actually named the adoptable cat room at our new studio after their historic venue!
Through this whirlwind, backstage tour, we ran into a local experimental radio dj, Hannah Levin (Seek & destroy, KEXP: http://kexp.org/programs/SeekAndDestroy) who really loved what we are about. She showed up backstage at Slayer to interview Kerry King, and there were 4 kittens running around! We were quickly taken under her wing, and many of the meetings since, have been due to her diligence. We also befriended Hannah's good friend Niffer Calderwood (https://www.facebook.com/NifferCalderwoodPhotography), who is a concert photographer- so not only do we have the professional hook up, but also a pro, roving photographer to document these awesome meetings! Hannah also organized a Swami Records Tribute benefit show. Bands like Minus the Bear, These Arms are Snakes, and Helms Alee (plus others) got together and learned the songs of other bands like Rocket from the Crypt, Pitchfork and Drive Like Jehu (and others). We were so honored that everyone got together to not only play, but to learn new songs and honor Swami Records bands- while helping raise more than $1,000 for our rescue pets.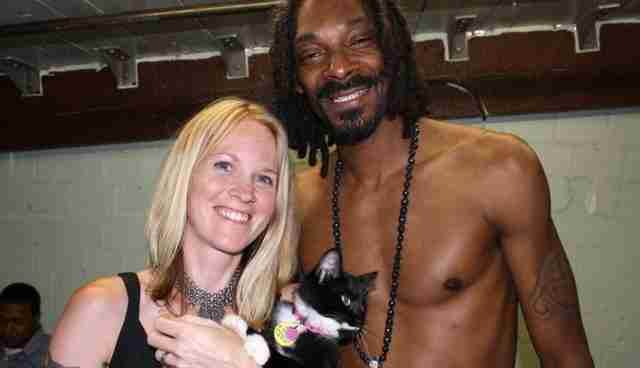 [Snoop is all smiles for the camera.]
In all, this project which quite literally came from a dream has been an amazing ride for Motley Zoo and our pets. I have been honored and amazed to meet so many musicians and bands, especially legends like Snoop; and relative newcomers, at the very height of their career, like Macklemore and Ryan Lewis! Then there's the classic guys like Doyle, from the Misfits (that I have actually known for nearly 20 years) who is very supportive, and wears our "Ace of Spays" shirt at most of his signing events and during interviews! Nothing makes me smile more than someone tagging us on a pic of Doyle sporting our shirt.
I truly believe that there is so much more to come for Motley Zoo and this celebrity support project, I can hardly contain myself. I am amazed at the likelihood of such a dream coming true, and I am filled with even more sheer determination to continue to pursue these opportunities to save the lives of pets in need. We make rescue cool!
Motley Zoo's coverage of this project can be seen published in a variety of locations currently, as listed on our website here: http://motleyzoo.org/about-us/press-news/. More pictures of our celebrity run-ins can be seen on our website also, here: http://motleyzoo.org/category/celebrity-encounters/