Rescue and Refuge: A Love Story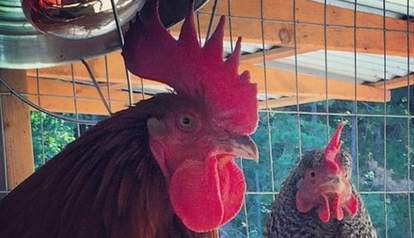 Purchased in a group of chicks intended for the use of egg production in a backyard, Robby was deemed as unwanted after being discovered that he was a rooster. Upon this discovery, a few of the people keeping Robby suggested slaughtering him for meat since he could not produce eggs. However, one individual cared deeply for Robby and refused to see his life cut short. This compassionate woman contacted Piedmont Farm Animal Refuge (The Refuge) and it was from this call that Robby became the sanctuary's very first rescue.
Rescued in the Piedmont of North Carolina from a cruelty case, Esmerelda lived without shelter or an adequate food source. Lacking the protection of housing, Esmerelda and her flock were extremely vulnerable to predators. Esmerelda fell victim to her vulnerability and suffered a possum attack when she was young. Upon her rescue, Esmerelda made a full recovery. Esmerelda now calls The Refuge home, a home she shares with her Rooster, Robby.
From their first introduction, Robby and Esmerelda shared an undeniable connection. Robby spent nearly an hour building nests in the straw for Esmerelda and Esmerelda graciously tested each one. Even after all their time together, Robby still builds nests for Esmerelda, by getting into the nest box and rearranging the straw for her.
The two are inseparable, they can be found in the pasture looking for seeds and grass bugs, or they may be spotted snuggled up on the roost. In the mornings, Robby stands guard while Esmerelda eats breakfast, letting her choose from the offering of seeds and grains before he eats. Robby is gentle with his love, Esmerelda, and ensures that she never has a feather out of place. These two have found the perfect balance in their relationship. Meet Robby and Esmerelda, two rescues that found love at The Refuge.
Piedmont Farm Animal Refuge (The Refuge) is a non-profit organization that provides lifelong sanctuary to farm animals in need, educates the public about the cruelties of factory farms, and promotes veganism by offering knowledge, support, and community to people interested in living cruelty-free lifestyles. Visit their website to learn more: http://piedmontrefuge.org