SeaWorld Should Be Held Accountable For Depleting Orca Populations, Activists Argue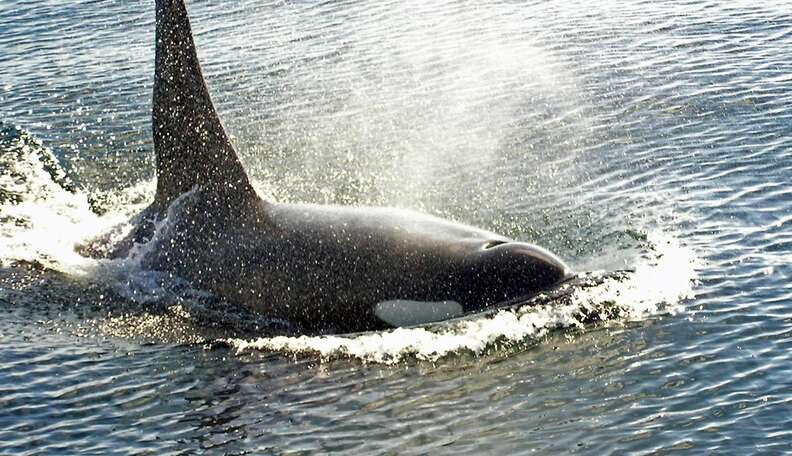 <p><a class="checked-link" href="http://upload.wikimedia.org/wikipedia/commons/a/af/Bull_orca_victoria.jpg">Wikimedia</a></p>
Dodo Contributor: David Kirby is a freelance writer and author of "Death at SeaWorld: Shamu and the Dark Side of Killer Whales in Captivity."
There is no question that the fragile Southern Resident killer whale population of the Pacific Northwest is in trouble. Pollution, ship traffic and declining salmon stocks are among their current woes. But in the 1960s and 1970s, they faced another dire threat: removal from their habitat by hunters working for SeaWorld and other marine-themed parks.
A new petition, posted this week at Change.org, is demanding that SeaWorld pay reparations for the damage the company inflicted on the now-endangered whales.
"We are demanding that SeaWorld of Florida, LLC, pay reparations to the State of Washington for the death and destruction of the Southern Resident Orca population caused by the capture and removal of orcas, in order to fund expenses incurred by the State to restore the population to previous levels," the petition states.
The petition was posted by Candace Calloway Whiting - a marine mammal biologist and author who once worked with captive seals, dolphins and orcas. "Captive orcas and other captive cetaceans were the property of the American people, they are now the property of the marine parks," the petition states. "We demand reparations on behalf of the descendants of the orcas killed and captured by SeaWorld. SeaWorld was built with and continues to enjoy the benefits of the captured orcas and their descendants."
Between 1964 and 1976 in Puget Sound, hundreds of orcas were captured, of which between 36 and 45 individuals were taken into captivity and at least 11 were killed. Washington State filed a lawsuit against SeaWorld in 1976, alleging that the company violated the terms of its capture permit. In fact, a Seattle district court subsequently demanded that SeaWorld relinquish its permit to collectkiller whales off Washington but they never paid a fine. After the suit, SeaWorld and other companies turned to Iceland to acquire orcas. But the damage had been done: The Southern Resident population was placed on the U.S. Endangered Species List in 2005. Their numbers have continued to dwindle. This year alone, four members of the Southern Resident community disappeared or were found dead, including the most recent victim, J-32, a pregnant female otherwise known as Rhapsody.
Meanwhile, no surviving calves have been added to the population since 2012 which is why Rhapsody's death inspired Calloway Whiting to launch the petition. "The loss of J-32 put a huge hole in the container of hope that I've felt about the Southern Residents, going back decades," she told The Dodo. "I went into a rage, didn't like being angry, and worked on just letting it all go. Then I fell asleep peacefully that night, and woke up with the idea, fairly complete, in my head." Calloway Whiting obtained population data from Whale and Dolphin Conservation, consulted with other supporters of orca habitat conservation and fashioned the document around similar petitions.
So far, the petition has received nearly 2,300 supporters. "I hope the idea will continue to resonate, and that people will find a way to make SeaWorld financially responsible for the damages," Calloway Whiting said.
SeaWorld did not respond to a request for comment.
"I think at the very least the idea is out there, and in light of how other industries are forced to pay for damages, it's only a matter of time before legal action is taken," Calloway Whiting said. "What I am hearing repeatedly is, 'Why didn't anyone think of this before?'"
Animal-welfare activists applauded the petition. "I can't remember feeling more satisfied signing and sharing a petition," said Lindie O'Brien, an activist in Ontario, Canada. "If something isn't done to make SeaWorld pay for their malignant past, and they move their devastating business model overseas, what's to stop them from decimating more wild orca populations?"
Howard Garrett, co-founder of the Washington State-based Orca Network, said he hopes the petition will motivate a legal effort to bring the issue to court. "It seems a bit novel to actually win in court, but I'm not an attorney," he said. "SeaWorld has been horrifically detrimental to these whales and has not acknowledged that fact."
If SeaWorld and other parks had not captured so many whales - nearly all of them juveniles - in the 1960s and 1970s, Garrett contended, "there would be more Southern Resident orcas now, including many more reproductive-age adults who would have been helping to keep the community more stable."
It may be impossible to force SeaWorld to make reparations, but it's worth a try, according to Matthew Liebman, senior attorney at the Animal Legal Defense Fund. "I think it's a good idea, it certainly seems fair that the burden of restoring the population ought to fall on the people responsible," he said. "It's more fair than having it fall on taxpayers." Liebman said there were cases where companies who destroyed habitat have been ordered to pay compensation, but that required a legal ruling from a court.
SeaWorld has pledged to provide $10 million for orca-habitat restoration, "But that doesn't let them off the hook," Liebman added. "This is an interesting approach, and I'm curious to see what, if anything, comes of it. It's certainly effective in the court of public opinion."