Baby Lamb Who Lost Her Leg Loves To Run And Jump Now
She was born at a high school where she broke her leg — and nobody helped her.
When Regina broke her back leg, her owners should have helped her - immediately. But they didn't. Instead the little lamb was forced to drag her broken leg behind her, using her other back leg as a crutch.
Farm Sanctuary
Regina had been born into a high school agriculture program, meant to teach kids about farming and animal husbandry. While the school's identity has remained a secret, Alicia Pell, the Southern California shelter manager for Farm Sanctuary (the animal refuge where Regina eventually ended up) believes the students were learning how to get lambs to latch - that is, to nurse from their moms.
But Regina had a hard time nursing. She was one of three triplets, and the runt at that. While her siblings managed to feed from their mother, Regina's tummy was often empty.
Without her mother's milk, Regina grew thin and weak and malnourished. Then she broke her leg.
Farm Sanctuary
"We were told that the mother broke her leg," Pell told The Dodo. "If the mother had rejected her, and Regina was trying to feed from her, the mother could have kicked her off with her back leg. But it's hard to know honestly. The person who gave me the information got it secondhand."
In addition to getting vet care, Pell believes that Regina should have been isolated. Yet the school administrator didn't remove Regina from the pen that she shared with her mother, siblings and a few other ewes.
"It was perilous to keep her in there," Pell said. "She was undoubtedly neglected."
Farm Sanctuary
To make matters worse, the students banded Regina's tail, which is a cruel practice of tying a rubber band around the base of a lamb's tail to deliberately cut off the blood supply and cause the tail to fall off.
When Regina's health deteriorated, the school decided to euthanize her. But when a student's mother found out what was planned, she knew she had to save the lamb's life.
"She convinced the school supervisor to place Regina with us instead of euthanize her," Pell said.
On November 30, volunteers from Farm Sanctuary took Regina into their care, and rushed her to an animal hospital, where she finally got the care she needed.
Farm Sanctuary
Once Regina's condition was stable, the vet team took X-rays of her broken leg. "They were originally pretty hopeful that they could go on and put in some pins," Pell explained. "They said they'd had success with similar breaks that had been untreated for awhile."
Farm Sanctuary
But when it came time to operate, plans changed. "The breaks were more extensive than they expected, and it just wasn't possible to salvage the leg," Pell said. "One of the breaks was very high up on the femur, almost up on the hip bone. They ended up having to amputate the leg by dislocating the femur entirely from the leg."
Farm Sanctuary
Since Regina's leg was amputated so high, she couldn't wear a prosthetic. Then again, she doesn't seem to need one.
Farm Sanctuary
"She was on really high doses of pain meds right after the surgery," Pell said. "But she was up and standing and walking within a few hours. By the next day, she was running. They were pretty astounded by her recovery!"
Farm Sanctuary
At the sanctuary, running and jumping quickly became Regina's two favorite activities.
"I have to shuffle to make sure that I don't trip over her because she beats me to the other side of the enclosure almost every time," Pell said. "She plays really hard, then crashes pretty hard, kind of like a puppy or kitten. She will keep running and running and running. I kind of know it's time to go in when she's not beating me to the other side of the enclosure."
Farm Sanctuary
When Regina tires out, she goes inside and snoozes in a dog bed with her stuffed animals.
Farm Sanctuary
"She has a real fighting spirit, and I think that's due in part to having to live the way that she did with that leg broken," Pell said. "We are all deeply in love with her."
Farm Sanctuary
Pell also said hopes that the students in the high school agricultural program find out where Regina is now living.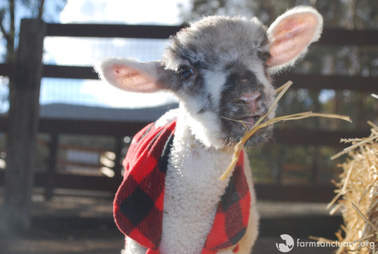 Farm Sanctuary
"I hope that they learn that she's with us, and learn that she's doing well," Pell said. "I also hope they come see her, and see how she has rebounded with the appropriate care."
Farm Sanctuary
To help lambs like Regina - as well as the pigs, horses, goats and other farm animals who live at Farm Sanctuary - you can make a donation here.