It's even worse than we thought. Beaches further south than the admitted oil spill reach are soiled with black goop, thanks to Plains All American Pipeline's massive failure to protect the environment they are exploiting for profit. The CEO, Greg Armstrong, came out here to apologize, telling reporters, "Sorry isn't enough."
"How about he gets on his knees to clean up his own mess," said one animal rescuer. "That billionaire sure looks smug in his clean shirt. The animals are covered in oil and dying."
Officials from Plains All American Pipeline scrambled today to excavate a broken section of their oil pipeline that ruptured along the California coast near Santa Barbara, spilling 105,000 gallons of crude oil and leaking about 21,000 gallons of oil into open waters. Conservationists on the scene contend the damage to wildlife is being underreported.
Two of the sea lions being treated by Sea World are said to have died.
The LA Times reported that Plains Pipeline, the large Texas-based company responsible for the pipe that ruptured in Santa Barbara County, has accumulated 175 safety and maintenance infractions since 2006, according to federal records. Data from the Pipeline and Hazardous Materials Safety Administration shows Plains' rate of incidents per mile of pipe is more than three times the national average.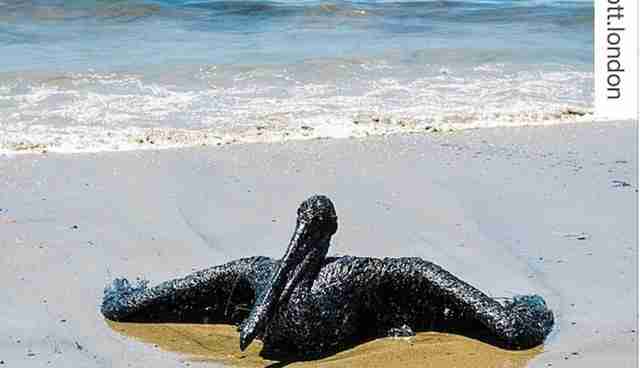 "CNN reported 8 or 9 animals were affected. Yesterday, in the press conference, with reps from Plains Oil Pipeline, from the state park department and the coast guard, they reported numbers totaling about 30 animals affected or dead. So they're lying a little less. It's gone from 'minimal to no impact on local wildlife' with 8 or 9 animals to today, they are releasing information that it's around 30. People as far south as Oxnard are finding dead animals. I'm talking to people who say the numbers are way higher."
"I was about to go home but since there's one of the largest oil spills in US history, I will be here in Santa Barbara. I'm working on building a team who will do beach clean-up, will patrol coastal areas for injured wildlife, patrol the coast line to determine the true impact of the spill. They're lying about it. They initially said 4 miles then they changed it to 8.7miles. I have found oil on the beach 15 miles south of the southern most point of the official 8.7 miles they admit to being affected. There are reports of oil much further south than that. In a press conference today, the authorities admitted that there is a 10 mile long black oil slick. It's very thick and very dangerous. It's floating off the coast and ocean models predict it will float ashore much further south."