Refugio oil spill: Oil company spinning the story as animals suffer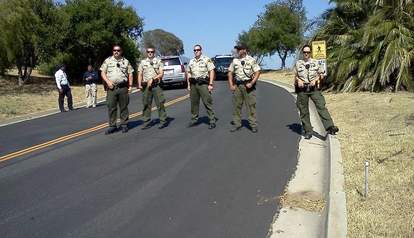 <p> Officials turned activists away </p> <p> <br> </p> <p> Photo Credit...Julia Orr </p>
It's even worse than we thought. Beaches further south than the admitted oil spill reach are soiled with black goop, thanks to Plains All American Pipeline's massive failure to protect the environment they are exploiting for profit. The CEO, Greg Armstrong, came out here to apologize, telling reporters, "Sorry isn't enough."
"How about he gets on his knees to clean up his own mess," said one animal rescuer. "That billionaire sure looks smug in his clean shirt. The animals are covered in oil and dying."
Officials from Plains All American Pipeline scrambled today to excavate a broken section of their oil pipeline that ruptured along the California coast near Santa Barbara, spilling 105,000 gallons of crude oil and leaking about 21,000 gallons of oil into open waters. Conservationists on the scene contend the damage to wildlife is being underreported.
Two of the sea lions being treated by Sea World are said to have died.
The LA Times reported that Plains Pipeline, the large Texas-based company responsible for the pipe that ruptured in Santa Barbara County, has accumulated 175 safety and maintenance infractions since 2006, according to federal records. Data from the Pipeline and Hazardous Materials Safety Administration shows Plains' rate of incidents per mile of pipe is more than three times the national average.
"The initial response from Plains all American Pipeline and the government agencies was definitely focused on aggressive containment of the truth instead of containment of the oil," said Tim Rusmisel, a conservation and social justice activist currently in Santa Barbara. "They are underreporting the number of animals affected or dead," he said.
Rusmisel, who lives in Costa Rica in a small tent on the beach, does conservation work for endangered sea turtles, anti-poaching patrols and coastal rehabilitation. He happened to be in Santa Barbara when the oil spill occurred. With his org, Proyecto Huella, he is looking for volunteers to contact him through his website.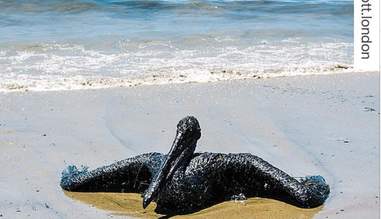 "CNN reported 8 or 9 animals were affected. Yesterday, in the press conference, with reps from Plains Oil Pipeline, from the state park department and the coast guard, they reported numbers totaling about 30 animals affected or dead. So they're lying a little less. It's gone from 'minimal to no impact on local wildlife' with 8 or 9 animals to today, they are releasing information that it's around 30. People as far south as Oxnard are finding dead animals. I'm talking to people who say the numbers are way higher."
"I was about to go home but since there's one of the largest oil spills in US history, I will be here in Santa Barbara. I'm working on building a team who will do beach clean-up, will patrol coastal areas for injured wildlife, patrol the coast line to determine the true impact of the spill. They're lying about it. They initially said 4 miles then they changed it to 8.7miles. I have found oil on the beach 15 miles south of the southern most point of the official 8.7 miles they admit to being affected. There are reports of oil much further south than that. In a press conference today, the authorities admitted that there is a 10 mile long black oil slick. It's very thick and very dangerous. It's floating off the coast and ocean models predict it will float ashore much further south."
Rusmisel is calling for the coast guard to commit in a binding fashion that they promise to not use chemical dispersants.
"This morning they stated they would not use dispersants," said Rusmisel. "That is a result of the environmental activists' push."
He is also calling for an expanded cleanup effort because "they keep repeating that the spill is contained. And this is a lie."
"We need more diversity and oversight in the cleanup effort," he added. "As it stands now, the only people involved in the clean up are government agencies that have a history of being corruptible and the oil company responsible for the spill. This is a mistake that has been made in the past and this is why we are calling for county officials to be allowed to be involved-community members, county officials, environmental advisors and other people with experience in oil spill response."
"I'm pretty sure Malibu will see oil and injured or dead animals."
Cathy, of the California Department of Fish and Wildlife was fielding calls today from animal rights activists who have been excluded from the clean-up for lack of proper training and equipment. When asked today about the many volunteers who want to help, she replied, "Which spill? I'm in Sacramento and there have been over 300 spills so far this year in the state." "Refugio," said this reporter. "I'm still waiting for instructions after having filled out their on-line form two days ago."
According to other animal rights activists trying to help in Santa Barbara, the Plains Oil company is not only lying about the gravity of the situation; they are doing everything possible to prevent volunteers from helping and they are actively preventing journalists from being able to cover the story objectively.
Environmental activists and animal protection volunteers have been pushed aside, prevented from speaking to the press and turned away for "lack of proper training," says Julia Orr, a Glendale animal rights activist and publicist who organized a group of volunteers to go to the oil spill site in order to help rescue dying animals.
"When we do the clean-ups, we will have the proper coverall suits, gloves and respirators. Unlike the workers we saw on site yesterday," said Julia Orr. "Plains all American had workers handling dangerous toxins without breathing protection and the fumes are extremely thick."
"We drove to the press conference organized by All Plains oil company and there was a row of cops, we weren't allowed in. We joined a protest that was outside the press conference. We were protesting the cover-up of the oil spill. We packed the car with rubber boots, gloves, carriers for animals. We were turned away from Refugio Beach. It was completely blocked off by men in white overalls. They wouldn't even let you stop. We stopped at each beach south of Refugio and those were also blocked off, this time by cop cars. Parks and recreation officers were telling people 'it's blocked off, you can't go down there.' We were able to get onto a beach 8 miles south of the spill. We saw massive globs of black oil on the beach. This was farther south than what the oil company admitted to. All along , from Refugio down to Santa Barbara, the only sign of any cleanup going on was at Refugio. There was no where near enough clean-up going on. This is not an accidental spill, it's because they didn't have a shut-off valve on that pipe-line. Wouldn't it be nice if humans did the right thing, just once? People dismiss the lives of the animals affected. They are so disconnected that they don't consider the life of one sea lion or one dolphin or their suffering, what they go through covered in oil. They are all family members. It is a devastating loss of life."~ Julia Orr In the latest update this afternoon via text from Tim Rusmisel, he stated that several times during today's meeting, various representatives from the Joint Command at the oil spill listed damages and losses caused by the spill. "Tax dollars, tourism revenue, property damage, human health were all mentioned but wildlife was left off of their lists."
Meanwhile, in a cruel irony, animal rights activists hoping to help injured animals must apply for training from the very government agency which makes its revenue selling licenses to kill animals.
Written by Carole Raphaelle Davis, author and West Coast Director of The Companion Animal Protection Society @Caroleraphaelle on Twitter