This Could Be The Last Red Wolf You'll Ever See
There are only about 45 left in the wild — here's how you can save them.
With just 45 or fewer of them left in the wild, the most endangered wolf on Earth needs help to survive.
But in September, the U.S. Fish & Wildlife Service (USFWS) announced it was stopping the Red Wolf Recovery Program, which sought to save the last wild red wolves, who live in North Carolina. Instead USFWS suggested rounding up the animals and putting them in zoos.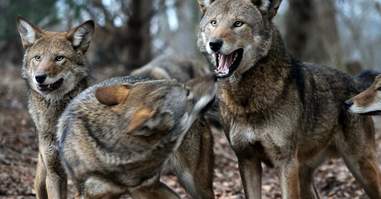 A family of red wolves

| Wolf Conservation Center
But 30 scientists just submitted a letter to the USFWS, urging it to reconsider. Rather than reducing the area where the wolves can roam, some conservationists want the USFWS to recommit to releasing the red wolf into the wild and establishing new places in the wild forests of the Southeast where the red wolves can live.
"Unfortunately, in 2014 when USFWS halted all key management activity including captive-to-wild releases, the wild red wolf population plummeted to its lowest level in decades," Maggie Howell, executive director of the Wolf Conservation Center (WCC), told The Dodo. Howell explained that the data the USFWS used to make the decision to halt the program was misinterpreted. Scientists are saying that the government's new plan "will no doubt result in the extinction of red wolves in the wild."
This is why WCC is trying to get people to take action and speak up for the animals.
The center recently posted a video of one of their red wolves involved with the Red Wolf Species Survival Plan, a national initiative whose primary purpose is to support the reestablishment of red wolves in the wild. "With less than 45 red wolves remaining in the wild, he might be the last one you see," the group wrote.
"The Red wolf in the video ... is one of 8 red wolves that call the WCC home," Howell said. "M2119 represents the WCC's active participation in an effort to save a species from extinction ... Red wolves are an American icon that makes our country's wild lands whole and healthy."
Now it seems that, after three decades, the government is giving up on having red wolves survive in the wild, depending on the 200 red wolves in breeding facilities to sustain the species in captivity.