Last month, a woman noticed something strange.
She saw a fallen bird in her horse pasture. It didn't take her long to realize that the bird, a red-tailed hawk, was struggling - clearly unable to fly. Knowing that she couldn't simply leave him, the woman chased down the bird with gloves on and a towel in her hands.
Once she scooped him up into her arms, she immediately took him to the Sonoma County Wildlife Rescue, based in Petaluma, California.
"For rescues of raptors we would normally send a trained rescue volunteer as they can pose a danger to a person and themselves if handled improperly," Danielle Mattos, animal care director at the rescue, told The Dodo. Mattos said that, thankfully, the woman had volunteered at The Bird Rescue Center previously, and had the experience needed to transport the hawk safe and sound.
Following an X-ray and medical examination, the upsetting reason behind why the hawk couldn't fly was made crystal clear: He had been shot, and still had a pellet embedded in one of his wings, leaving damaged bone in its wake.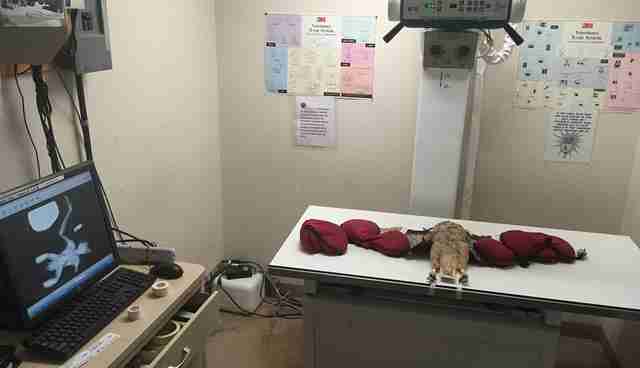 "Unfortunately these injuries are all too common, and such pellets are not traceable or prosecutable," the rescue wrote on Facebook.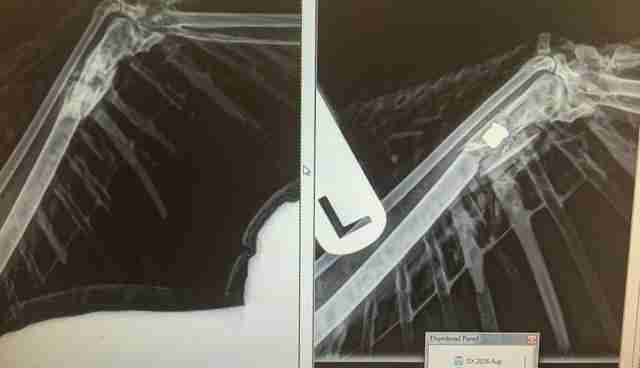 Of course, the hawk's rescuers couldn't resist giving him a bit of flair as he heals, and wrapped up his injured wing in the cutest bandages. The hope is that once the hawk fully heals, he'll be able to return to the wild, and more importantly, be able to fly freely once again.
Want to help Sonoma County Wildlife Rescue continue doing good work for animals in need? Consider making a donation here.
Watch this video about a seagull who fell into a vat of curry: