Pig And Pit Bull Are Obsessed With The Family's New Dog
"The three of them love chasing after one another and running around."
Tori Trovato and her boyfriend Michael weren't looking to take on any more animals. They already had Bo, a pit bull mix they'd gotten as a puppy, and Peaches, a pig they'd adopted from a local farm.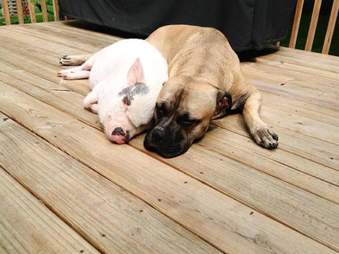 Peaches and Bo - the original duo

| Tori Trovato
But everything changed when Trovato was driving one morning, and a red-furred dog dashed in front of her car. She almost hit him.
"I turned around and went back a few blocks to see if I could find him and help him get back home," Trovato told The Dodo. "I eventually found him and called him over. He jumped right into my passenger seat."
Red, the dog Trovato nearly hit with her car

| Tori Trovato
The dog - who'd later be named Red - was in bad shape. He was scrawny, covered in flea bites and missing patches of fur. They'd also discover that Red had severe separation anxiety, so much so that he'd tear apart furniture when left alone.
Red had a plastic collar around his neck, though no ID tags, so Trovato assumed he belonged to someone. She drove around her neighborhood to ask if anyone knew where Red had come from. No one had any answers.
Trovato took Red back to her home in Syracuse, New York, but she continued her search. She contacted the police. Then she and her boyfriend looked at Craigslist, and that's when they came across Red's photograph.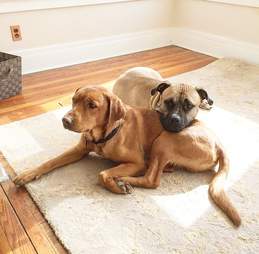 Tori Trovato
"His previous owners had posted a 'free dog' ad," Trovato explained. "They were basically trying to rehome him before they moved. It was evident they couldn't find him a home so they just let him out the front door to fend for himself. We contacted his previous owners, who admitted they abandoned Red ... and we found out Red was, for the most part, chained outside all day and had no previous vet care."
Tori Trovato
Trovato and her boyfriend were heartbroken for Red, and they wanted to do everything they could for him. Still, they didn't plan to keep him. Their original plan was to foster him.
Tori Trovato
But their dog Bo quickly fell in love with Red, and they realized it'd be hard to separate the two of them. "Bo is a goofball and was all excited he had a new friend," Trovato said. "He would follow Red all over the house and wanted to be Red's best friend. Those two instantly clicked and got along great."
Tori Trovato
Peaches the pigs, on the other hand, wasn't too sure. "Peaches was only used to Bo and didn't have much interaction with other dogs," Trovato said. "She was basically like, 'Who is this guy in my house?' She was very curious about him. Red was the same way - I don't think he knew what Peaches was."
Tori Trovato
Curiosity eventually led to acceptance, and acceptance led to adoration. Soon enough, Peaches loved Red as much as Bo did.
Bo spending quality time with Peaches

| Tori Trovato
Now the three of them are inseparable. They snuggle together, hang out on the couch together and play together. "Michael owns a gym with a large open turf area and after hours we're able to bring the three of them in and let them run around," Trovato said. "The three of them love chasing after one another and running around."
Tori Trovato
Trovato and Michael had grown attached to Bo, too. They'd actually had a meeting with a potential adopter lined up, but they canceled it. "When it came down to it, we fell in love with him and couldn't give him up," Trovato said.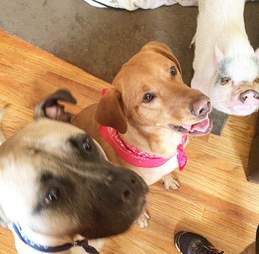 Tori Trovato
"Having Red is a blessing for all of us," Trovato said. "We are just glad that we could give one more dog the loving home he deserved. He's definitely filled a missing piece to our family's puzzle and it is a great feeling knowing you're coming home to someone who thinks the world of you."
Tori Trovato
Since rescuing Red, Trovato and her boyfriend plan on rescuing more animals. "We're looking for a new house to help accommodate these rescues and we're attempting to save up funds to properly support as many animals as possible," she said. "We believe we will not only be rescuing dogs but pigs, goats and other farm animals."
Tori Trovato
To follow the adventures of Red, Bo and Peaches, visit their Instagram page.