Many of the canine victims rescued after the second-largest dog fighting bust in U.S. history have happy new homes - and now they have justice.
Hundreds of dogs were rescued in 2013 from an Alabama-based ring, and now the criminals involved will be reminded monthly "of their crime and the animals' suffering when they send a payment," Stephanie Twining of the Humane Society told The Dodo.
Two months after the "kingpin" behind the dog fighting ring was sentenced to eight years in prison - the longest ever handed down for dogfighting - U.S. District Judge Keith Watkins ordered that the convicted dogfighters must pay a record-breaking $2 million in restitution to the Humane Society and the ASPCA, who rehabilitated the dogs involved.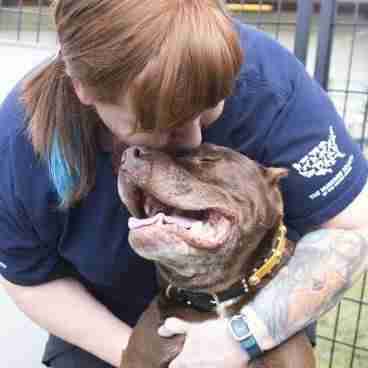 "In terms of the actual funds, this judgment sends a very strong message to dogfighters, though we don't expect to recoup all the money," Twining said.
She explained that the defendants' monthly payment plans start after their prison sentences are served and it may take decades for some to pay off their debts, if they are ever able to.
Twining said that the money will be used to fund other animal rescues throughout the country, adding that the future is already looking bright for many of the animal victims in this case.
"So many of the dogs have happily found their forever homes - we have found placement for more than 100 so far," she said.
The adoptive owners of the rescued dogs have formed a community of sorts, sharing images and stories on a Facebook page called 367 Rescue Family, named for the number of dogs who were rescued (though sadly, many had to be put down). The Huffington Post recently profiled the survivors, telling their inspiring stories.
It's hard to tell from these dogs' smiling faces that they knew nothing but suffering in their former lives.
In 2013, federal agents conducted raids on several high-stakes dog fighting operations across Alabama, Georgia and Mississippi, leading to more than a dozen arrests - including that of the ringleader, Donnie Anderson, who was later sentenced to eight years in prison.
That may not sound like enough punishment for putting these dogs through the unimaginable, but Anderson's sentence is the longest ever handed down in a federal dog fighting case – and more than four times as long as the 23 months Michael Vick got in 2007. And the $2 million restitution is the largest for dog fighting in U.S. history.
Federal prosecutor Clark Morris said he hopes the stiff consequences for dog fighting will "send a message" discouraging others from the cruel practice.
"We are pleased to see the Department of Justice recognize the perverse and monstrous nature of dog fighting," ASPCA's Tim Rickey proclaimed in a statement, adding he is pleased to see the criminals will be held "responsible for the suffering and death they've inflicted on hundreds of dogs."