Rare Tigers Play Fight In Heartening First-Ever Footage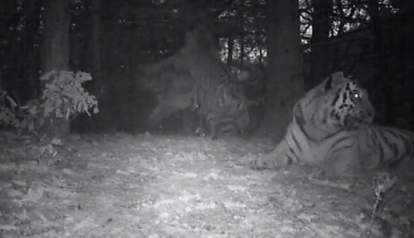 <p> <a href="https://www.youtube.com/watch?v=mEgunhg8r58">YouTube/World Wildlife Fund</a> </p>
For the very first time, footage has emerged showing a family of Amur tigers living deep in the jungles of China - bolstering hopes for the species' return after decades of absence.
Camera traps in the Wangqing Nature Reserve captured images of a mother tiger with her two cubs frolicking in the background. Conservationists from the World Wildlife Fund say this is proof the big cats are reproducing in a place where they were once wiped out.
The little tigers appear to be about as rambunctious as you might expect, play fighting while mom's head is turned.
"These images show that Wangqing Nature Reserve has now become a breeding site for Amur tigers," conservationist Wang Fuyou told WWF. "Seeing these positive outcomes from our efforts greatly strengthens our confidence that wild Amur tiger populations can be restored."