The pod was photographed from the vessel Bob Barker by members of the conservation group, Sea Shepherd, who were in pursuit of a toothfish poaching ship in the South Indian Ocean. Images of the animals were later sent to an expert from the Natio­nal Oceanic and Atmospheric Administration who confirmed the orcas were of a type known as "Ecotype D."
Since being discovered in 1955, this group of killer whales native to southern waters, had been seen only a dozen times - though this thirteenth sighting is by far the most vivid.
"I don't think they have ever been filmed alive," says NOAA orca expert Robert L. Pitman.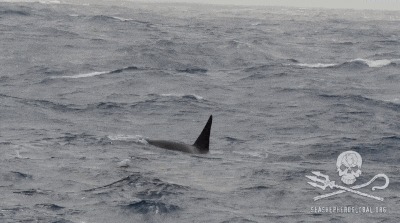 Chief Engineer aboard the Bob Barker, Erwin Vermeulen, describes the remarkable scene in a statement released on Monday:
"The crew watched in awe as the 13 killer whales, including a small juvenile and a large male, used the six-metre swell to surf across the bow. For almost an hour the surf-show continued and was accompanied by bow riding, tail-slaps and breaches."
Check out the entire video below: