People Find Tiniest Kitten In Street — But He Isn't What He Seems
He was born just a few hours before.
A family in Thailand looked out the window this week and saw a tiny kitten lying all alone in the street.
On closer inspection, the family started to suspect that the little kitten wasn't a normal house kitten. They decided to call a wildlife rescue organization for help.
Rescuers from Wildlife Friends Foundation Thailand (WFFT) came and picked the little guy up. They realized that the kitten was actually part of a species that's headed for extinction: the rare "fishing cat," a species of wild cat that lives in Southeast Asia.
"We were rather suspicious as to why the kitten had been found without its mother," WFFT said. "Upon arrival we were surprised to find a tiny fishing cat kitten that was clearly only born a few hours ago."
It turned out the family who spotted the kitten was familiar with the rare type of cat. "We were told that the mother of the fishing kitten was actually a released rescued animal, that they had found in a rice field next to the house while working a few years ago," WFFT said. "They raised the cat into adulthood and then released it back to the wild."
But because the cat felt so safe with the family, she would occasionally return to their house for a visit. And rescuers believe that she felt safe enough to have a litter of babies near their house. When the family saw her this week, she was spotted moving a litter of her just-born kittens across the yard to a safe spot.
"While moving the kittens she had dropped this particular one in the road," WFFT said.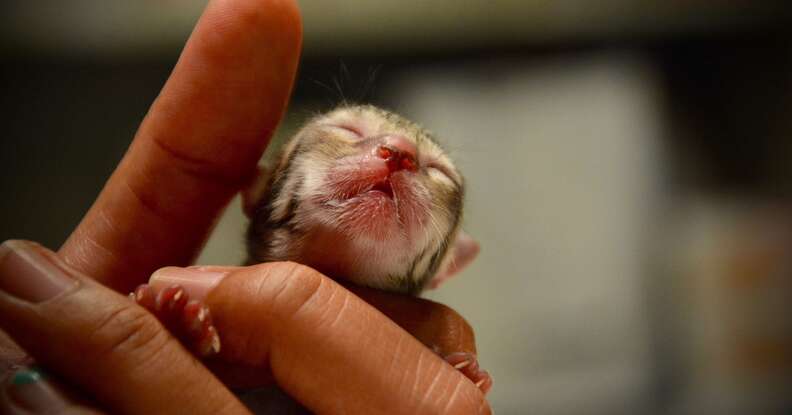 The family waited to see if she would come back for him, but it's thought she had her paws full with the other kittens and must have forgotten - she was nowhere to be found.
Rescuers found the kitten "very cold and in urgent need of some milk," so they brought him back to the WFFT Wildlife Hospital. A veterinarian held the tiny guy close to his chest to keep him warm.
They named the rare kitten Simba.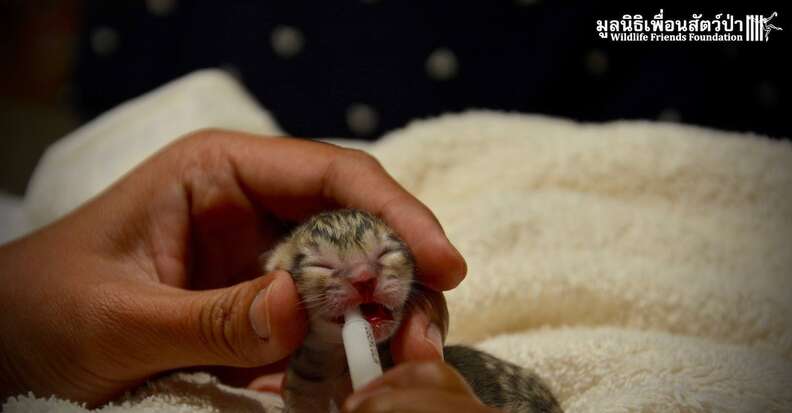 It's really important that Simba survives, for his own good and for the good of his species.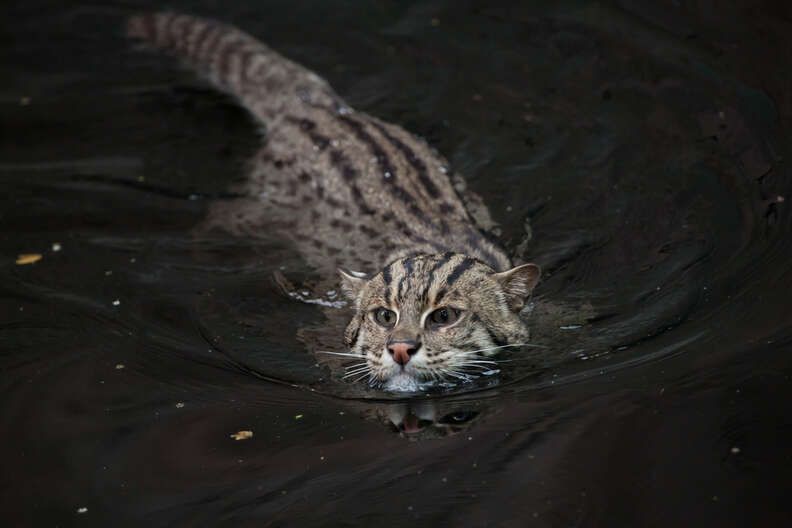 "The Fishing Cat faces a high risk of extinction throughout its range and is thought to be amongst the most vulnerable of the small and medium-sized cats in Southeast Asia," WFFT said. And in Thailand specifically, the population of these rare cats seems to have plummeted in recent years. Of fishing cats who were being monitored through radio collars, 84 percent were killed or died, apparently because of hunting and habitat destruction, in over just three years.
But Simba, who is now just over two days old, appears to be quite the little fighter.
"For now, he is under round the clock care from our vet team, spending his time in a special incubator that creates a perfect environment where his special needs can be met," WFFT said. "For now, he is good, we will have to wait and see what the coming days will bring."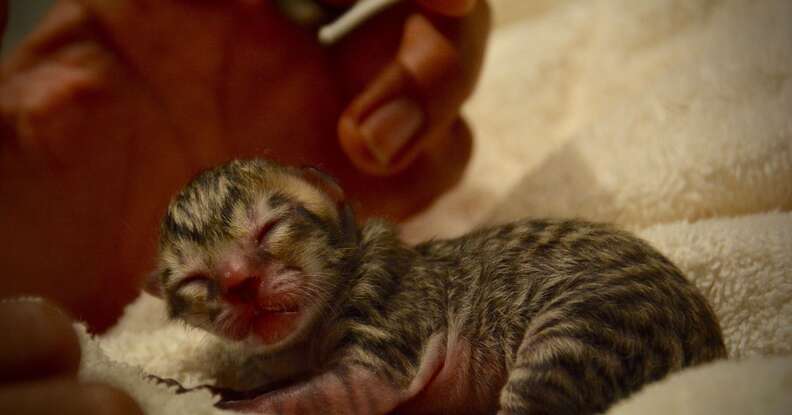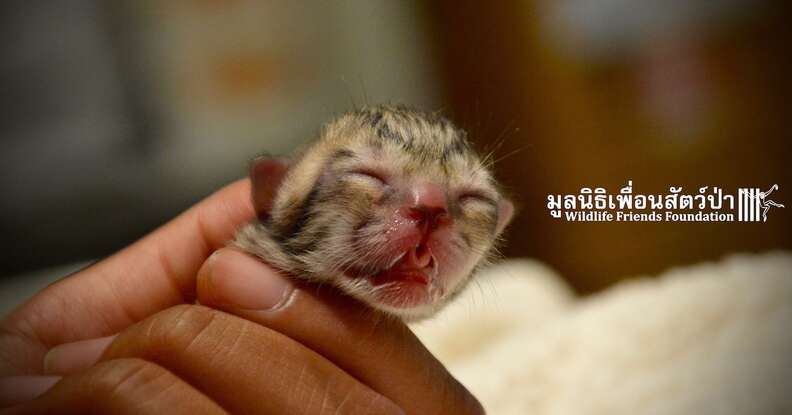 To help WFFT rescue animals like Simba, you can make a donation here.