Another Rare Albino Dolphin Captured By Taiji Fishermen, Destined For Life In Captivity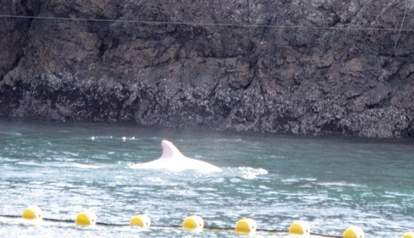 <p><a class="checked-link" href="https://www.facebook.com/ricobarrysdolphinproject">Ric O'Barry's Dolphin Project/Facebook</a></p>
The fifteenth pod of Risso's dolphins was slaughtered during the annual dolphin hunt in Taiji, Japan over the weekend - one rare albino Risso's dolphin was taken for captivity in a marine park. But while the albino dolphin was being captured, his family was killed for meat.
Activists watched from the shore as the pod was driven into nets towards the infamous cove, the site of the 2009 documentary with the same name. Fishers killed 11 dolphins under covered tarps and brought three juveniles out to sea in slings for release. Calves are often released in this manner after losing the members of the pod from the hunt - their survival rate is very low.
Activists from the group Sea Shepherd captured this photo of the animal being brought to the pen:
(Sea Shepherd Cove Guardians)
The albino dolphin can now be seen swimming around in the pen from shore, report activists from The Dolphin Project, also on the ground in Taiji.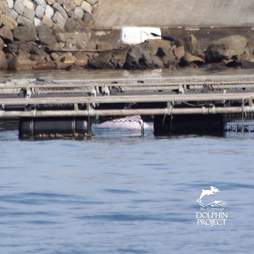 (Ric O'Barry's Dolphin Project/Facebook)
This isn't the first albino dolphin to be caught in Taiji. Just last year, a young albino dolphin was captured in the cove and transferred to the Taiji Whale Museum, where she is today. It was thought that the dolphin would've been bought by another marine park but so far, no park has come forward.
For this year's drive hunt, the Japanese government set a quota of 1,938 total dolphins and whales of seven different species. Activist Ric O'Barry, who appeared in "The Cove," is urging zoos and marine parks not to support the Taiji captures on his website The Dolphin Project:
"An extremely rare albino dolphin was brutally captured in Taiji, Japan. We are appealing to the inter zoo's and aquarium industry and asking them to stop doing business with Taiji. Do not buy this albino from Taiji. To do so is to reward the dolphin hunters for their bad behavior."
See this post for everything you can do to stop Taiji's annual dolphin hunt.