One Year Ago, This Elephant Was Weeping In Chains
<p><a href="https://www.facebook.com/wildlifesosindia/photos/pb.47398783525.-2207520000.1435865084./10153008645643526/?type=1&theater" target="_blank">Facebook/Wildlife S.O.S.</a></p>
Raju was born more than 50 years ago, but this week he's celebrating a first birthday of sorts - marking the one-year anniversary of when he was freed from a lifetime of unimaginable suffering.
The sweet Asian elephant was saved in 2014 after spending his entire life chained up and abused on the streets of India. Footage of Raju's rescue by the U.K.-based animal charity, Wildlife SOS, last year touched hearts around the world for its poignancy. As volunteers slipped the shackles from his tired feet, Raju was seen weeping what seemed to be tears of joy and relief.
"Raju was in chains 24 hours a day, an act of ­intolerable cruelty. The team was astounded to see tears roll down his face during the rescue," Pooja Binepal of Wildlife SOS said at the time.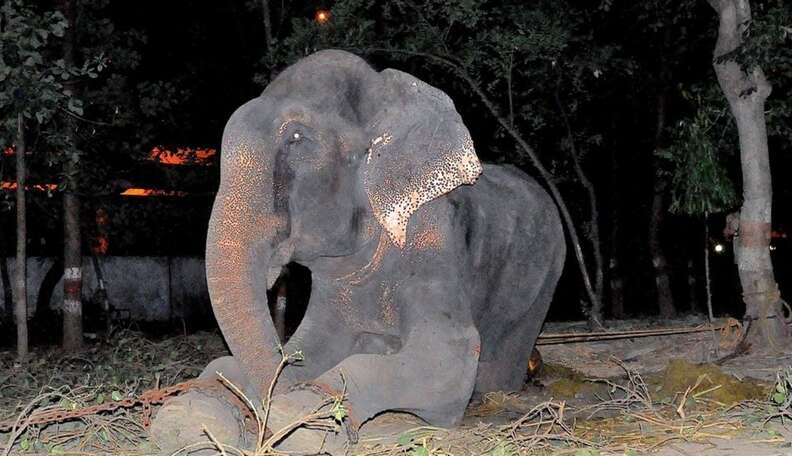 Following the rescue, Raju was transported to Wildlife SOS's Elephant Conservation and Care Centre 350 miles away to start the process of healing, and to live out his days in peace among freed elephants like him. It wasn't long before the downtrodden Raju seemed to blossom in his new setting, making friends with the sanctuary's other residents.
Twelve months later, things have only gotten better for Raju as both the physical and emotional scars of those many years of mistreatment fade, eclipsed by the brighter future he's now been afforded by his rescuers.
"Raju has come so far over the past year, and we credit much of this growth to his incredible capacity to forgive the reprehensible treatment he suffered for 50 years," Nikki Sharp, Wildlife SOS USA executive director, said in a release.
To mark the happy occasion, caregivers at the sanctuary prepared a cake made of Raju's favorite food, offering it to him as he happily splashed about in his pool.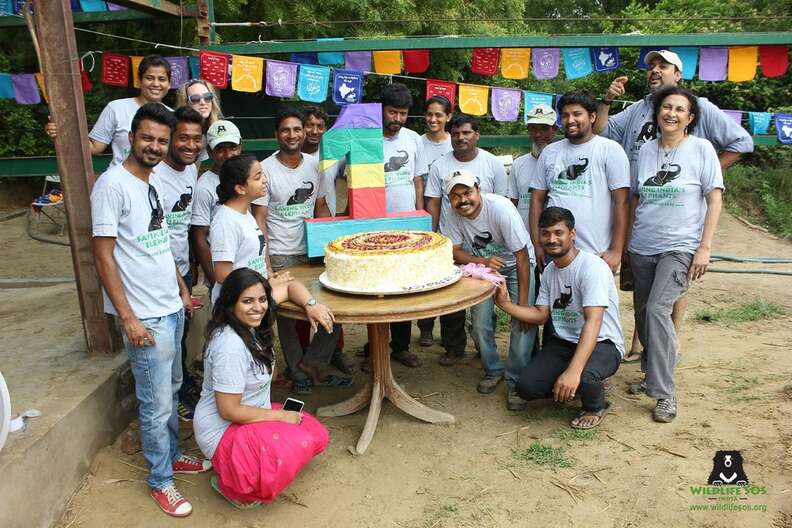 Raju clearly appreciated the tasty gesture.
Sadly, while Raju's wounds have healed and the tears in his eyes have dried, freedom is out of reach many others trapped in the world of suffering he was rescued from - elephants like Mohan, still kept in chains.
"Raju's story has a happy ending, however there are still thousands of Asian elephants chained, abused and in need of rescue," Sharp said. "We want his story to inspire and compel supporters to get involved and help save these amazing and endangered creatures."
To learn how you can help, visit Wildlife SOS's website here.