A man was cutting down a tree with a chainsaw when he noticed that the blade had sliced into a nest of baby raccoons. Three of the babies were unscathed, but one had been killed. Another baby raccoon was severely injured, one of her front legs mangled and three toes cut off. The babies were also young - their eyes hadn't even opened - and the man knew they couldn't survive on their own.
He didn't think the injured raccoon had much of a chance, but he called animal control for help. The officer who arrived brought all four babies to Antler Ridge Wildlife Sanctuary, a rehabilitation center in Warren County, New Jersey.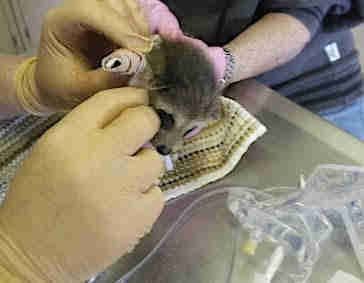 Kelly Simonetti, the director of Antler Ridge, and her team of volunteers got straight to work. They cleaned the baby raccoon's wound and sewed a big gash that ran from her shoulder to wrist. They also bandaged her mangled foot and administered antibiotics. The raccoon was a model patient, and didn't complain about any of it. Inspired by the raccoon's fighting spirit, they named her Patience.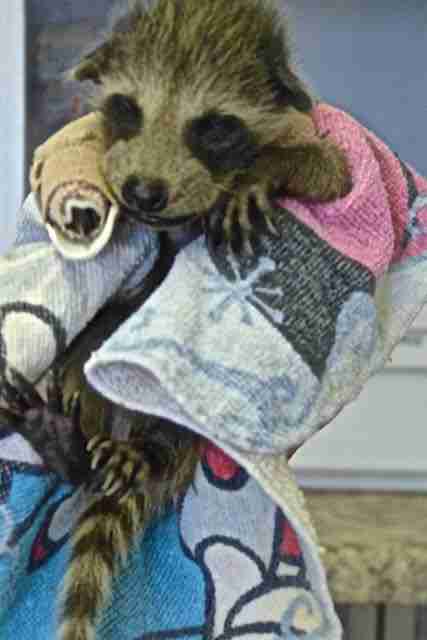 Simonetti and her team expected Patience to survive, but they weren't sure if she'd be able to be released back into the wild. Her injured front paw would have to be fully functional, able to grasp and manipulate items.
The bandage needed to stay on for five weeks, but Patience didn't make her caregivers' job easy. "At first she left it alone," Simonetti tells The Dodo, "but then she'd chew the bandage off. Then she learned just to chew the end so she could slide it off."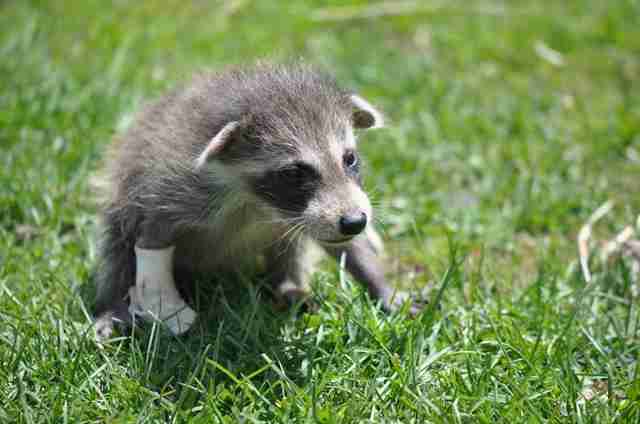 The volunteers had to redo the bandage several times a day. The raccoon's rambunctious spirit prompted them to stop calling her Patience, and refer to her as Two Toes.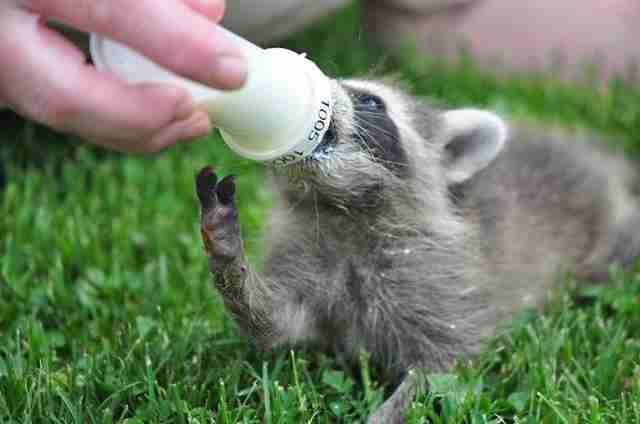 Two Toes also loved to wrestle with her siblings, touching as many objects as she could in the rehabilitation center. According to Simonetti, she even stretched her injured paw up like she was proudly displaying it.
But would Two Toes be able to be released with her siblings? The team at Antler Ridge watched her carefully, and assessed the situation. Two Toes could walk normally, so this was a positive sign. She could also grasp her milk bottle with her injured paw, which was another great step.
Then Two Toes did what they thought was impossible - she used her mangled paw to climb up a tree. "We were elated!" says Simonetti. "Now Two Toes just needed to grow up, and she'd be released back into the wild, along with her siblings."
Not only did Two Toes pass every test, but after awhile, the team at Antler Ridge found it impossible to distinguish her from her siblings.
Three months later, Two Toes and her siblings were released. The volunteers opened the box, and the four raccoons wandered out. According to Simonetti, Two Toes stopped to sniff a purple wildflower before disappearing into the woods with her siblings.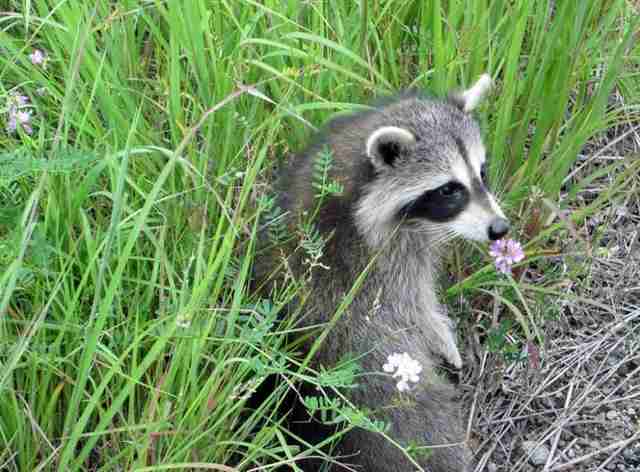 "We're so proud of our little raccoon, and proud of our volunteers who worked so tirelessly to care for our injured baby," says Simonetti. "Two Toes's success was everyone's success. She didn't let a handicap keep her from freedom."
Antler Ridge Wildlife Sanctuary relies entirely on public donations to care for thousands of animals each year. To help raccoons like Two Toes, you can send a check to Antler Ridge Wildlife Sanctuary, 52 County Road 661, Newtown, NJ 07860.