Rescue Cat Can't Stop Grooming And Cuddling Her Rabbit
"They are like sisters."
When Giverny Forbes first saw Bella in a New Zealand shelter, she knew she had found a special cat, but what she didn't know was that Bella would eventually fall head-over-heels in love with a rabbit, too.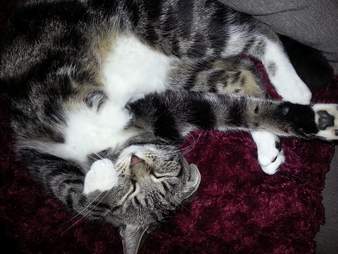 Giverny Forbes
"From day one Bella was the friendliest cat I had ever met." Forbes tells The Dodo. "She was smooching up to the glass, already wanting to say hello."
Bella gets along with just about everyone - people, dogs, other cats. So when Forbes brought home a tiny rabbit nine years later, it was no surprise that Bella befriended her, too.
Giverny Forbes
The rabbit - named Poppy - is a Flemish Giant mix. Despite the name of her breed, Poppy was tiny and small - so small, Forbes worried that Bella might accidentally hurt her, but Forbes quickly realized she had nothing to worry about.
"Bella's first instinct was to groom Poppy," Forbes says. "Poppy seemed a little bit stunned by what happened."
It didn't take long for Poppy to trust Bella ... and for Forbes to trust Bella with Poppy.
Giverny Forbes
"They are like sisters," Forbes says. "Every day Poppy demands licks from Bella, so you can tell it's one of her favorite things."
Giverny Forbes
Bella grooms Poppy three to twenty times a day, Forbes estimates.
Giverny Forbes
"Poppy sometimes grooms Bella, but only if she wants Bella's attention," Forbes adds.
Giverny Forbes
Grooming. Licking. Then, of course, there's cuddling. This is what defines Bella and Poppy's days, Forbes says.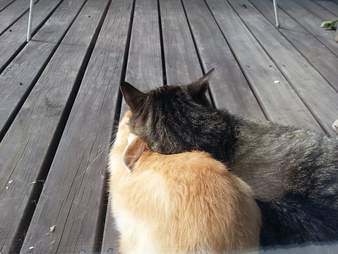 Giverny Forbes
"They usually start the day with a groom from Bella and a cuddle," she says. "Then after breakfast, they hang out together again before they go to do their daily activities - Bella sleeping and Poppy roaming the house and garden. Some days they'll lounge around together, sometimes they sit in the garden together, and then on other days, we all go on an adventure together."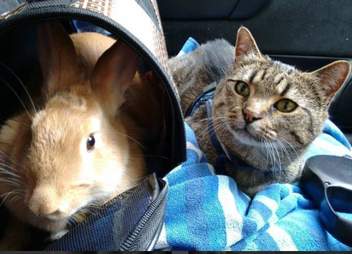 Giverny Forbes
For Poppy and Bella, adventure days mean beach trips and visits to Forbes' grandmother's house.
They also go to the vet together, although Forbes doesn't think Bella would think of this as an adventure.
Giverny Forbes
"Bella hates the vet," Forbes says. "One time I took her and Poppy at the same time, and Poppy put her head over Bella, and Bella hid under her. So Poppy definitely helps to comfort her."
Like most sisters, Bella and Poppy occasionally have disagreements, Forbes says.
Giverny Forbes
"Now and then they have disagreements when Poppy is being too annoying or Bella isn't giving Poppy enough attention," Forbes says. "But they always make up really quickly, just like sisters."
Giverny Forbes
Most of the time, Bella and Poppy get along famously - better than Forbes could have imagined a cat and rabbit ever would.
Giverny Forbes
"Seeing them cuddle together and Bella groom Poppy - I still can't get over how cute it is," Forbes says. "Sometimes I think I'm going to die of cuteness overload. My favorite is when they fall asleep together in a cute position."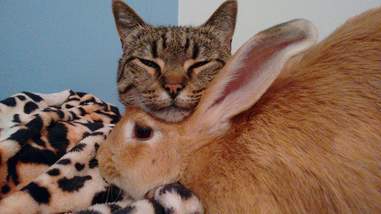 Giverny Forbes
If you want to get a good dose of cuteness yourself, you can follow Bella and Poppy's adventures on Facebook and Instagram.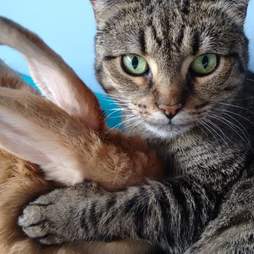 Giverny Forbes