Rescuers Find Very Sad Surprise Inside Abandoned Purse
"She willingly let our vet staff remove the awful chain from her waist."
Staffers at the Laos Wildlife Rescue Center (LWRC) didn't know how long she had been in there.
"Dropoffs are not a rare occurrence at our center," the rescue wrote on Facebook. "In fact, as our name starts to become more well known not only internationally but also with people in Lao PDR we see a high increase in animals being brought in directly by their owners."
Purse, as she was later named, was one of those animals.
"Purse was handed to a member of our administrative staff at the entrance of our center," Michelle Walhout Tanneau, managing director of LWRC, told The Dodo. "This member of staff asked for papers as we require official identification of people who would like to leave their animal at our center."
The person who dropped the monkey off told the staff that they had to retrieve the paperwork from their car, but then made an escape before an officiated handover could be completed.
"As such we have no information about her background, but her chain and kind demeanor have us believe that she has been chained up at someone's house or garden and kept as a pet," Walhout Tanneau said.
As soon as the bag was received, it was taken to the rescue's wildlife clinic. Staffers didn't know what they would find inside - but what they were ultimately greeted with was saddening.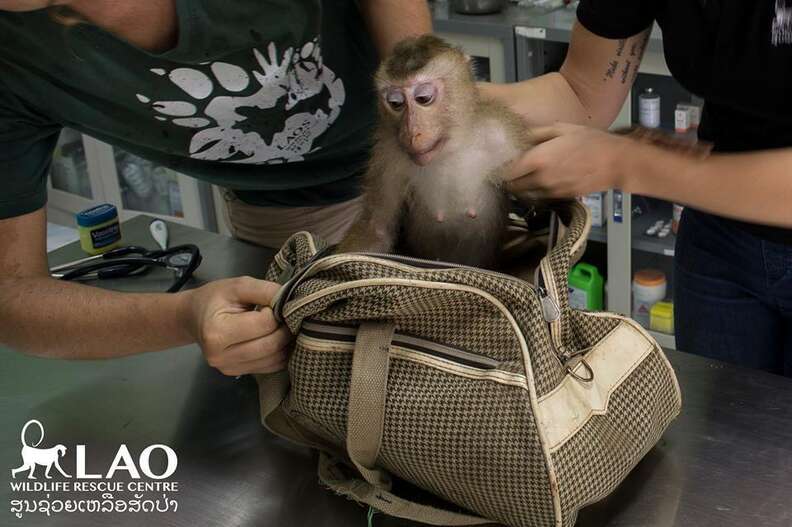 "Skinny and suffering from severe hyperthermia and dehydration we found shy 'Purse' inside," LWRC wrote. "She willingly let our vet staff remove the awful chain from her waist and give her the first medical care she was in need of."
Purse is a pig-tailed macaque, which is listed as a vulnerable species. Hunting for food and the wildlife trade pose a strong threat to this species, particularly in Laos, Cambodia and Vietnam.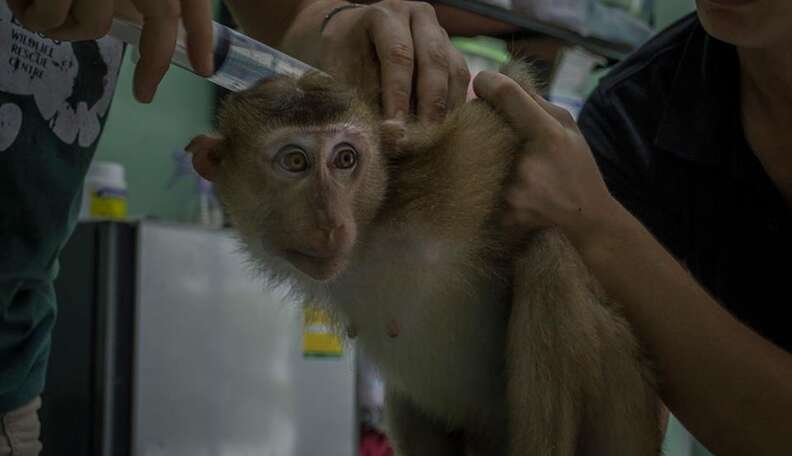 "Purse is currently recovering in our quarantine area," Walhout Tannaeau said. "She is underweight but is gaining strength every day so we are hoping that we can move her outside to our primate forest field in a couple weeks."
Although it is unknown what type of situation Purse came from or what else she might have endured in the past, what matters now is that she's finally in the care of people who have nothing but her best interests at heart.