Hope runs in Harley's veins. In fact, he got it from his mother.
She used to live at a dilapidated animal shelter in Israel.
Simona was among hundreds of ailing dogs brought to Canada this year to find new lives at Dog Tales Rescue and Sanctuary. When she arrived, as part of the final contingent of rescued dogs from Israel, not even her rescuers knew she was pregnant.
"It was a miracle that Simona did not give birth to her puppies while in Israel, as they likely would not have survived," Clare Forndran of Dog Tales tells The Dodo.
Among those babies was another kind of miracle named Harley.
Harley wasn't as eager as his sister Stella to explore his new world. He was having trouble moving around.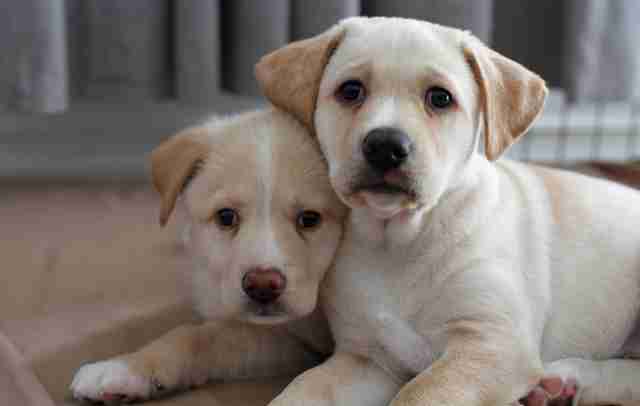 "After a great deal of testing we learned that Harley had a defect in his spine that prevented him from controlling his back end," Forndran explains. "We were told that Harley was not a candidate for corrective surgery, and that ordering him a wheelchair would be the best way to allow him to experience being a dog."
But the wheelchair took time to arrive at the shelter. So Harley could only watch his sister Stella grow stronger by the day, finding fresh adventures in every corner of the Ontario property.
Harley had his mother's patience. And his toys.
"While Harley cannot wag his tail due to his disability," Forndran says, "we always said we could tell when he was wagging his tail 'with his eyes.' He was a happy and hopeful puppy."
He would need all that hope and patience. Because, unlike most puppies at shelters who have people lined up to adopt them, Harley's special situation made him virtually invisible to potential families.
While Stella quickly found her forever home, days passed and not a single adoption form was filled out for her brother - even though staff and volunteers at Dog Tales were charmed by this plucky puppy's mighty heart.
He didn't seem fazed by the fact that, once again, he couldn't follow his sister's footsteps toward a brand new life. Harley was all about patience.
"We knew that he would need an extra-special home," Forndran says. "While everyone who met Harley instantly fell in love with him, nobody felt prepared to take on the extra responsibility that comes with a special-needs dog."
And then, the best kind of reward for patient puppies paid him a visit.
When Jill Peters visited the sanctuary, she didn't see Harley as a special "responsibility" - just a very special dog.
Harley's patience was rewarded this week when Peters took him home to her family in Barrie, Ontario.
"Harley's disability did not scare Jill away, and, in fact, it was something that made her feel especially connected to him," Forndran says. "She felt that she understood exactly what it was that Harley needed, and would be able to provide all of that, and more."
And his mother Simona? The sanctuary's founders - Danielle Eden and Rob Scheinberg - fell so in hard for her this ultimate survivor, they decided to adopt her themselves.
Simona got to watch both of her babies leap into their new lives in Canada - even if one had to hold on to hope just a little bit longer.