Dog Dumped Like Trash Is So Grateful To The Woman Who Saved Her
At first she just curled up in a ball, but now she's learning to be a puppy.
You can't blame Callie for taking a little while to get her shine back.
Someone did the unthinkable to her.
Earlier this month, in Anderson County, South Carolina, Callie was thrown out of a pickup truck.
Animal control officers picked her up the from the road. And not long after that, Callie found her safe place. Right there. Under Heidi Schermerhorn-Wagner's chin.
"I was sent her picture and wanted to pick her up that day," Schermerhorn-Wagner, founder of Boxer Butts & Other Mutts, tells The Dodo. "But even though witnesses saw her being tossed out like a piece of trash, she had to stay at the shelter on a five-day stray hold."
But in that moment, Callie went from brutally unwanted to the center of Schermerhorn-Wagner's universe. Now all her rescuer had to do was wait for the rest of Callie's brutalized body to catch up.
She had a severe skin infection. Her body was riddled with deep wounds.
"Our vet said it was the worst case of mange he had ever seen," Schermerhorn-Wagner says. "She was way too thin and her little spirit was broken."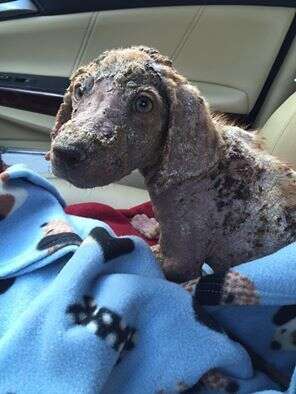 Callie seemed painfully aware of her condition.
"At first all she wanted to do was lay curled up in a ball," Schermerhorn-Wagner says. "She would just shake. Even when holding her, she did not want to look at you. She would cower when you went to pick her up."
Medical care, still an ongoing process, saw to her body - while Callie's seemingly broken spirit found some traction.
"She is learning to be a puppy," Schermerhorn-Wagner says. "She loves, loves, loves toys. Now that she can walk better because she is not in so much pain, she can run and run she does."
Feeling wanted is potent medicine indeed.
And as for that shine? Its coming back, one patch of soft, new fur at a time.
It will be at least four months before Callie is ready for adoption. She still needs time to recover and get full medical clearance.
But when she's ready, Schermerhorn-Wagner says, "she is going to be a huge blessing to some lucky family."
Think that could be you?
Follow Callie's adventures in puppyhood on the Facebook page for Boxers, Butts & Other Mutts.
And if you would like to support the group's mission to save countless dogs like Callie, consider making a donation here.