This Puppy Was Born With A Selfie On Her Ear
"We couldn't believe it."
All dogs are perfect in their own unique way, of course — but there's something particularly special about this pup named Lucy.
She has people seeing double.
Lollypop Farm
It was recently brought to the attention of staffers at New York's Lollypop Farm (the Humane Society of Greater Rochester), where Lucy was born to a rescued stray dog last year, that the puppy's left ear has markings which bear an uncanny resemblance to the young pup herself.
"Looking at her every day, no one here even noticed Lucy's special ear until it was pointed out to us by a very observant visitor to our website!" Paige Doerner, a spokesperson for the shelter, told The Dodo. "We couldn't believe it when we looked closer at the picture."
You might say Lucy was born with a selfie (and here's a side-by-side comparison to support that claim).
Lollypop Farm/The Dodo
More than just being a charming coincidence, however, Lucy's self-portrait has proven to be something quite serendipitous.
Within two hours of posting news of its discovery online, a kindhearted person came into the shelter to invite Lucy to be a part of their family.
"The attention that was brought in by her special ear over social media is wonderful, both for Lucy, and for the other rescued pets here at Lollypop Farm who are looking for new homes," Doerner said.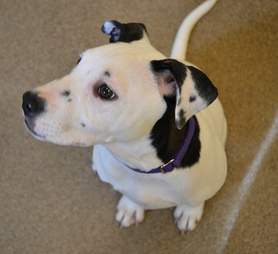 Lollypop Farm