Puppy Returned To Shelter ... Just For Being A Puppy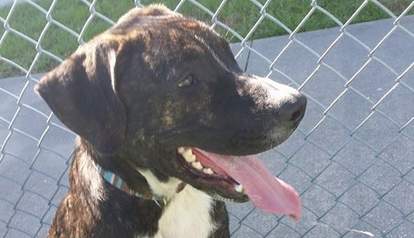 A little puppy named Luis waited patiently at the shelter for someone to finally realize how amazing he is. Very recently, Luis was adopted after being in the shelter for much too long ... but it turns out, it wasn't the happy ending he thought it would be.
Luis arrived at Hillsborough County Animal Services in Florida at the end of September, and volunteers immediately took a liking to him. In a Facebook post about him on Rescue Me Tampa – Shelter Dogs, a volunteer wrote, "Luis is certainly a precious young boy. His notes repeatedly mention his sweetness. Personality + Hound dog eyes? Watch out!"
Aida Perez
Aida Perez
Luis is only 8 months old, and was originally brought to the shelter as a stray. He's a puppy, and just wants someone to play with and love him. "Luis loves the water, and a close second is playing fetch," Aida Perez, a volunteer at the shelter, told The Dodo. "But his most favorite would have to be playing with other dogs. I love watching him in playgroup."
Perez met Luis while volunteering at the shelter, and immediately requested to foster him. As Luis's foster mom for a little while, Perez got to experience what an amazing dog he is. "When I fostered him he had structure and routine. He had direction and freedom to explore. I got to see the great companion that he can be," Perez said.
Aida Perez
Aida Perez
All Luis wants is a family to love him, and at one point everyone thought that he had found that. Luis was adopted - and then returned the very next day. The family said that Luis was rough with their grandchild, but Luis was likely just being a puppy, trying to be playful and let out his pent-up energy from being stuck in the shelter. "I am sure that everyone there had only good intentions for both the child and Luis. Things like this happen all the time," Perez said.
If more time and structure had been allowed for Luis to get used to how to play with children, he probably would have made a wonderful pet for the family. "Some time to allow the dog to decompress and get comfortable should always be given," Rescue Me Tampa wrote about the incident.
Aida Perez
Aida Perez
"We do send them home with instructions but people are not really listening. We do offer guides when they call but no one wants to do the work," Perez said. "It is easier to find fault with the animal and then get rid of it. That is why the shelter is full of beautiful animals."
Luis is now back at the shelter, and probably very confused as to why his new forever life was taken away from him so quickly. He has his whole life ahead of him, and shouldn't have to spend even one more day of it in a shelter.
If you or anyone you know would be interested in adopting Luis, you can contact the shelter at 813-744-5660. His animal ID number is 29351411.