Puppy Born Without Back Feet Gets Little Red Boots Instead
<p><a href="https://www.facebook.com/bestfriendsanimalsociety/videos/10154023499911425/">Facebook/Best Friends Animal Society</a><span></span></p>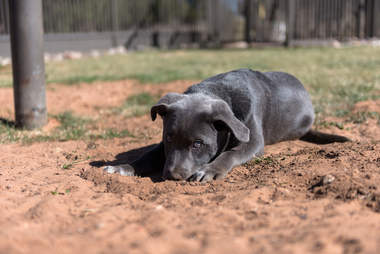 Best Friends Animal Society/Kurt Budde
Justin's mother probably got a fatal infection due to complications during birth, according to RJ Owens, president of Pet Allies, a rescue group that works with the Best Friends Animal Society.
Justin's mother picked the perfect place to have her babies, however, because the owner of the house where Justin was born took him in along with his puppy siblings and bottle-fed them until they were about 7 weeks old.
Pet Allies
Then, she contacted Arizona's Pet Allies, to see if the rescue group would be willing to take in the three puppies, noting that one of them was missing his back feet, more than likely due to a birth defect, Owens told The Dodo.
Owens agreed and said the first thing she noticed upon Justin's arrival was his sadness.
"He was depressed," she said. "We could tell."
After all, the stubs of Justin's back feet were irritated, with skin cutting into the bone whenever he tried to walk.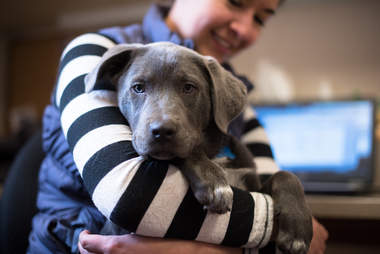 Best Friends Animal Society/Kurt Budde
"It was painful for him, so he wasn't interacting like a normal puppy," Owens said. But all that changed after Justin went to the vet and got medication to help manage his pain. Doctors also wrapped gauze around the stubs of his back legs, which helped him move around a little more easily. He was eventually placed into a foster family, where he shared a home with four children, three other dogs and 10 cats.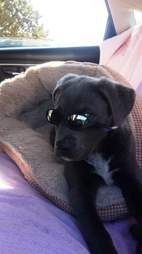 Pet Allies
"He played a lot with the cats," Owens said. "We were saying he thought he was a cat because he was being raised by all these cats." Justin started to develop into a more outgoing, happy pup given the newfound company - and, of course, his stroller walks.
Justin's life got a little easier when he received a special pair of supportive red booties to help him walk ...
But best of all, Justin recently found a forever home in sunny California and he's currently getting all settled in.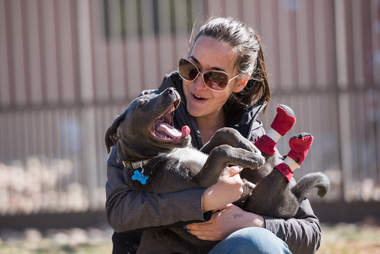 Best Friends Animal Society/Kurt Budde
As for his next big move?
Best Friends Animal Society/Kurt Budde
"The lady who adopted him said he's going to become a therapy dog at a children's hospital," Owens said. "I've seen it before where dogs with missing limbs are great therapy dogs for children who are like them."
Best Friends Animal Society/Kurt Budde
See Justin's incredible journey here:
Want to help Pet Allies and Best Friends Animal Society continue doing good work for rescue animals? Consider making a donation here and here.
Check out this video about another dog who got a new pair of legs and just couldn't stop wagging his tail in joy: